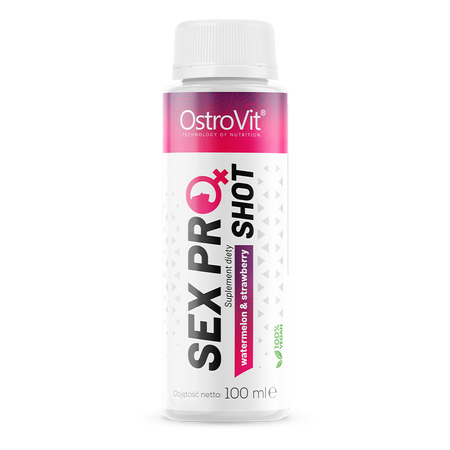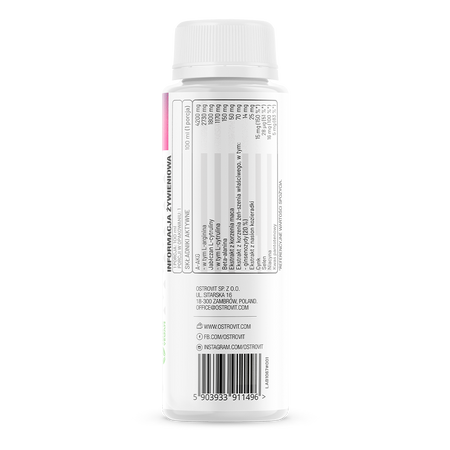 OstroVit Sex Pro Women Shot 100 ml
1,10 €
OstroVit Sex Pro Women Shot 100 ml
OstroVit Sex Pro Women Shot is a set of as many as ten active ingredients in the form of a shot with a delicious, juicy flavor of watermelon with strawberry. It is dedicated to the fair sex - this is our next preparation from the OstroVit series of shots, containing, among others, zinc, selenium, B vitamins, amino acids and an extract of ginseng, fenugreek and maca root. Are you looking for a dietary supplement whose ingredients can help maintain the level of libido and overall sexual performance at the right level? Try our OstroVit Sex Pro Women Shot 100 ml - the perfect dietary supplement for all women with vitamins, micronutrients and the highest quality plant extracts in one bottle!

delicious, fruity taste - the pleasure of supplementation
100 ml is one ready-to-drink shot serving
the highest quality combination of up to 10 active ingredients
specially developed formula for women
What is libido and can women also influence its level?
Libido is the sex drive, i.e. arousal aimed at satisfying sexual needs. Its level depends on a number of factors, including proper hormonal balance. The causes of reduced libido may include, among others, lack of physical activity, inadequate diet and insufficient sleep, and most of all stress. In the world of dietary supplements, there is no shortage of preparations designed for use by men, but a much smaller portion is dedicated to women. We also thought of them and developed a formula for a concentrated shot that can supplement your daily diet with:
A-AKG or L-arginine alpha-ketoglutarate - shows a strong effect on increasing the production and release of nitric oxide, which contributes to improved blood flow.
L-citrulline malate - similarly to L-arginine, it contributes to the improvement of blood flow, supports the body in the synthesis of arginine and ornithine, thanks to which it can contribute to the regulation of blood pressure and increase muscle strength during exercise.
Beta-alanine - shows the ability to buffer muscles, which causes the delay of fatigue during high-intensity exercise.
Maca root extract - it is believed that Maca can positively affect the level of libido and maintain sexual function.
Ginseng root extract - a source of valuable ginsenosides, which, like arginine, increase the synthesis of nitric oxide, contributing to the improvement of blood flow. Numerous sources also report positive effects on psychophysical performance.
Fenugreek seed extract - Fenugreek seeds have been used in medicine for many years due to their content of mucilaginous substances.
Zinc - helps maintain normal fertility and reproductive functions, participates in the process of cell division, supports the maintenance of healthy skin, hair and nails.
Selenium - helps maintain healthy hair and nails, supports proper functioning of the immune system and thyroid gland.
Niacin - Vitamin B3 - helps maintain healthy skin condition, supports the work of the nervous system, thus contributing to reducing feelings of fatigue and tiredness.
Pantothenic acid - Vitamin B5. Among other things, it contributes to the proper synthesis and metabolism of steroid hormones, vitamin D and some neurotransmitters. It also supports normal energy metabolism and nervous system function.
Suggested usage
Drink 1 bottle (100 ml) once a day, about 30 minutes before sexual intercourse. Sediment is a natural phenomenon. Shake before use. After opening, store in the refrigerator, consume within 24 h.
Do not consume if you are allergic to any of the supplement's ingredients. Do not combine with alcohol. The product is not recommended for children, pregnant women, breastfeeding women. The dietary supplement should not be used as a substitute (replacement) for a varied diet. A balanced diet and healthy lifestyle is recommended.
Store in a dry, cool place at 2-25°C. Protect from sunlight and frost. Keep out of reach of small children.
Nutritional information
Ingredients
Water, L-arginine alpha-ketoglutarate (A-AKG), apple juice from apple juice concentrate 20%, L-citrulline malate, flavors, beta-alanine, ginseng root extract (Panax ginseng C. A. Meyer) standardized to 20% ginsenosides, zinc picolinate (zinc), preservatives: potassium sorbate, sodium benzoate; maca root extract (Lepidium meyenii Walp. ), fenugreek seed extract (Trigonella foenum-graecum L.) DER 4:1, sweeteners: sucralose, acesulfame K; inositol hexanicotinate (niacin), L-selenomethionine (selenium), calcium D-pantothenate (pantothenic acid).
The product may contain milk (including lactose), soybeans, peanuts, other nuts, sesame seeds, cereals containing gluten, eggs, shellfish, fish.
Nutrition Facts
| Active ingredients | Per serving 100 ml | % RI* |
| --- | --- | --- |
| A-AKG, of which: | 4200 mg | - |
| - L-arginine | 2730 mg | - |
| L-citrulline malate, of which: | 1800 mg | - |
| - L-citrulline | 1170 mg | - |
| Beta-alanine | 150 mg | - |
| Maca root extract | 50 mg | - |
| Ginseng root extract, of which: | 70 mg | - |
| - ginsenosides (20 %) | 14 mg | - |
| Fenugreek seed extract | 25 mg | - |
| Zinc | 15 mg | 150 %* |
| Selenium | 28 μg | 51 %* |
| Niacin | 16 mg | 100 %* |
| Pantothenic acid | 5 mg | 83 %* |
*RI - REFERENCE INTAKE
Product reviews
0
opinion
Questions and Answers
Add a question about this product