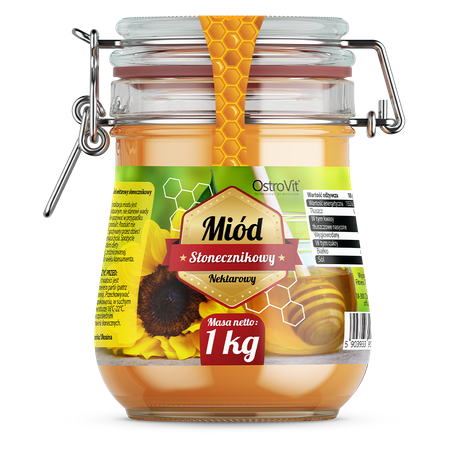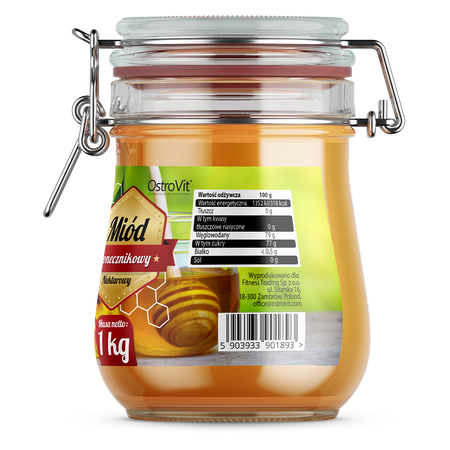 OstroVit Sunflower Honey 1000 g
6,99 €
OstroVit Sunflower Honey
OstroVit sunflower blossom honey comes from late honey harvesting whose undoubted majority is pollen from sunflower blossom. The honey is purely natural and contains a large number of active ingredients which contribute to good health and mood. The product is known for its sweet flavor and aroma, thanks to which it does not dominate other meal ingredients it is served with. Its color is vivid yellow, and consistency dense, which makes it ideal for pouring and adding to various dishes. The product is also suitable for vegans and vegetarians.

Sunflower honey - properties
OstroVit sunflower blossom honey belongs to the group of rapid-crystallization honeys. Its state of dense liquid changes into solid body after about 10 days. Still it is very easy to apply because it does not get hard and no unpleasant lumps emerge. This is a natural process which proves high quality of product.
In view of its composition rich in vitamins, minerals as well as micro- and macro-elements, the sunflower honey is used in natural medicine as a multidimensional agent. The natural sunflower honey has the following unique properties:
Supports oxygenation of the heart and the functioning of the circulatory system
Reduces cholesterol (LDL)
Has a choleretic or choleretic effect, which helps to take care of liver health
It is a great source of energy for the body and mind
Can be used in the form of compresses for burns, preventing the formation of blisters
OstroVit Sunflower Honey – perfect supplement to diets
The positive influence of sunflower honey arises from abundance of simple sugars in the form of glucose, fructose and other polysaccharides, as well as essential oils, organic acids, flavonoids, enzymes, vitamin A, B2, C and PP. All you need to do is add a bit of honey to your drink, e.g. tea, isotonic drink or some of your meals to take the most of its outstanding properties. Include OstroVit Sunflower Honey in your daily diet and make sure your meals are natural and healthily sweet!
The most important features of our honey:
100% NATURAL - OstroVit Sunflower Honey is made solely in natural honey generation process and contains no additives or preservatives.
JUST DELICIOUS - Soft and sweet flavor of sunflower honey is a very safe choice for various tastes.
INHERENT EVERY DAY - Breakfast, dinner, supper, IF or 5 meals a day - honey is perfect for any kind of meal and performs well in diverse eating habits.
HANDY PACKAGING - A glass jar lets you safely store and conveniently apply honey at all times.
Crystallization of honey:
Honey has the consistency of a thick liquid in liquid form, and after crystallization - medium-grained. Crystallization takes up to several months after opening, so it is honey that keeps its liquid form for a long time. Honey crystallization is a natural phenomenon, it does not affect the quality and properties of the product.
Suggested usage
Consume depending on your needs.
Honey crystallization is a natural process and is not a product defect. Do not eat if you are allergic to the product. The product should not be consumed by children under 12 months of age. Consumption in accordance with the principles of a balanced, varied diet, adapted to the consumer's age.
Nutritional information
Ingredients
Sunflower nectar honey.
Country of origin: Ukraine
Nutrition Facts
| Nutritional values | Per 100 g |
| --- | --- |
| Energy value | 1352 kJ/318 kcal |
| Fat | 0 g |
| - including saturated fatty acids | 0 g |
| Carbohydrates | 79 g |
| - including sugars | 77 g |
| Protein | < 0.5 g  |
| Salt | 0 g |
Product reviews
0
opinion
Questions and Answers
Add a question about this product