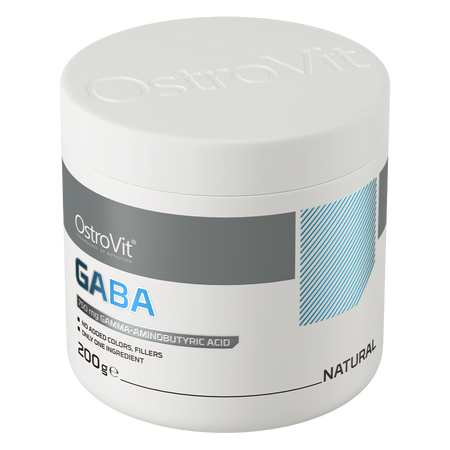 OstroVit Supreme Pure GABA 200 g natural
8,74 €
OstroVit GABA 200 g
OstroVit GABA is a top-class supplement that contains only pure gamma-aminobutyric acid. Ideal bioavailability of the product is advantage that are so much sought after by consumers in recent times. Micronization in this preparation was carried out at the highest level, creating a product of exemplary quality.

200 g of gamma-aminobutyric acid in the package
As many as 266 servings in the package
One serving of only 750 mg
One ingredient, no unnecessary fillers
Gamma-aminobutyric acid
Gamma-aminobutyric acid is an organic chemical compound belonging to the group of amino acids. It plays an extremely important role as a powerful neurotransmitter regulating communication between brain cells. It acts as a blocker of excessive pulse production in our cortex. By regulating the work of neurons, it has a relaxing effect, as a natural "quilt" on our brain.
Properties of the ingredients contained in OstroVit GABA:
It can help increase the production of growth hormone! It is a key hormone for building our musculature
Research shows an increase in the rate of fat loss
Ideally supports regeneration, improves the quality of sleep and the process of falling asleep itself
It can act pro-cognitive - better focus, better concentration, better memory
Improves your well-being
It lowers the level of cortisol - a stress hormone that has catabolic effects on our muscle cells
The product shows strong hygroscopic properties (strongly absorbs humidity). The formation of clumps or a homogeneous (solid) consistency is not a sign of loss of product properties. In this case, grind the product anew.
Laboratory-proven quality
Out of concern for the health of our customers, our products are regularly tested in an independent accredited laboratory to ensure and maintain the highest quality.
Suggested usage
Dissolve a single serving of the product 750 mg (1 flat scoop) in 100 ml of water or juice in a shaker. Please use the measuring cup included in the package (1 ml). Consume one serving 30 minutes before bedtime.
Do not exceed the recommended daily dose. Do not use the product as a substitute (replacement) for a varied diet. Recommended are a balanced diet and healthy lifestyle. Do not ingest if you are allergic to any of the ingredients. Children, pregnant or nursing woman must not take the product. Keep out of the reach of children.
Nutritional information
Ingredients
100% Gamma-aminobutyric acid.  
The product may contain milk (including lactose), soya, peanuts, other nuts, sesame seeds, oats, eggs, crustaceans, fish.
Nutrition Facts
| Active ingredients | Per 100 g | For a portion |
| --- | --- | --- |
| Gamma-aminobutyric acid | 100 g | 750 mg |
Product reviews
0
opinion
Questions and Answers
Add a question about this product