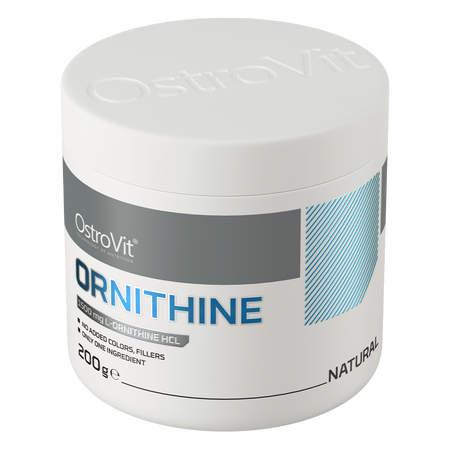 OstroVit Supreme Pure Ornithine 200 g natural
15,45 €
OstroVit Ornithine 200 g
OstroVit Ornithine is a supplement containing only one amino acid, which is L-ornithine. The ideal bioavailability and the highest level of micronization of the product has been developed by the best for the best. Fillers, stuffers or aromas are deliberately omitted here. In this case, less is more.

200 g L-ornithine in the package
It contains 133 servings in one package
1 serving is only 1.5 g
Only one component, no unnecessary fillers
OstroVit L-Ornithine
Organic chemical compound non-protein (amino acid basic subgroup) – L-ornithine is one of the three amino acids involved in the urea cycle, along with L-arginine and L-citrulline, which makes it extremely important for the ideal functioning of our body.
Properties of the ingredients contained in OstroVit Ornithine:
L-Ornithine is a supplement appreciated by many athletes. During the production of urea, it effectively reduces the level of the toxic ammonia compound, which is often observed during long and strenuous physical exertion. Here are the rest of the basic properties of this compound:
Initiates the release of growth hormone in the body, which can result in the loss of extra kilograms
Acts as the main decontaminant of ammonia, which is harmful to our body
Improves liver function and has a protective effect on it
There are studies on the correlation of ammonia concentration in the blood and a decrease in fatigue
Suggested usage
Add 1.5 g (3 scoops) in 100-150 ml of water or juice. Please use the measuring cup included in the package (1 ml). Consume once a day.
Do not exceed the recommended daily dose for consumption. Dietary supplement can not be used as a substitute (replacement) of a varied diet. A balanced diet and a healthy lifestyle are recommended. Do not eat if you are allergic to any of the ingredients in the product. The product should not be used by children, pregnant women and nursing mothers. Keep out of reach of small children.
Nutritional information
Ingredients
L-ornithine HCL
The product may contain milk (including lactose), soy, peanuts, other nuts, cereals containing gluten, oats, eggs, crustaceans, fish.
Nutrition Facts
| Active ingredients | Per 100 g | For a portion |
| --- | --- | --- |
| L-ornithine HCL | 100 g | 1500 mg |
Product reviews
0
opinion
Questions and Answers
Add a question about this product