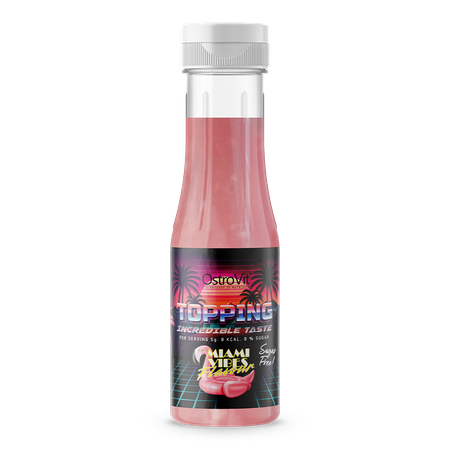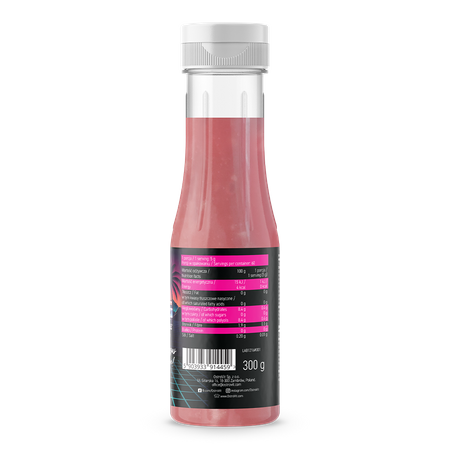 OstroVit Topping 300 g Miami Vibes
2,24 €
OstroVit Topping 300 g Miami Vibes
OstroVit Topping is an exceptionally delicious topping with a fruity, refreshing Miami Vibes flavor. It is a product without added sugar, which will satisfy the need for sweetness among people who comply with dietary restrictions and will be great as an addition to pancakes, desserts or low-energy snacks.
No added sugar - The product contains low-energy sweeteners, such as erythritol or sucralose, which contribute to reducing the calorific value of the product.
Delicious, refreshing, fruity taste of Miami Vibes.
1 serving = 5 g of product.
Efficiency - The product package contains 60 servings of sweet topping
An excellent alternative to high-calorie additives - A portion of toppings does not provide the body with a single calorie and is great as a complement to various types of desserts and snacks.
OstroVit Topping with Unique Taste of Miami Vibes - perfect addition to low-energy snacks
It is difficult to overcome the need to reach for "something" sweet, especially being on a diet. Luckily we have a way! Topping with a fruity Miami Vibes flavor is an addition to dishes that you can use without remorse! One serving of incredibly delicious toppings does not provide the body with a single calorie and contains traces of carbohydrates. It is a product completely free of sugar, which will not destroy your diet, but will provide it with bamboo fiber, which is a valuable source of insoluble fraction of dietary fiber. OstroVit Topping with Unique Miami Vibes Flavor is an excellent alternative to high-energy toppings. Use the product as an addition to pancakes, desserts, porridge or diet pastries and enjoy the full taste without unnecessary calories!
Laboratory-confirmed quality
For the sake of our customers' health, the products we manufacture are regularly tested in an independent accredited laboratory to ensure and maintain the highest quality.






Suggested usage
Consume depending on the demand.
Do not consume if you are allergic to any of the ingredients of the product. Excessive consumption may have a laxative effect.
Store in a cool, dry place. After opening, store in the fridge for a maximum of 1 month. Shake well before use.
Nutritional information
Ingredients
Water, sweetener: erythritol; bamboo fibre, thickener: xanthan gum; acidity regulators: lactic acid, citric acid; flavourings, black carrot concentrate in powder, salt, preservative: sodium benzoate; sweetener: sucralose.
Product may contain milk (including lactose), soybeans, peanuts, other nuts, sesame seeds, cereals containing gluten, eggs, crustaceans, fish.
Topping with fruity flavour. With sweeteners.
Nutrition Facts
| Nutritional value | Per Portion | Per 100 g |
| --- | --- | --- |
| Energy value | 1 kJ / 0 kcal | 15 kJ / 4 kcal |
| Fat | 0 g | 0 g |
| - including saturated fatty acids | 0 g | 0 g |
| Carbohydrates | 0.4 g | 8.4 g |
| - including sugars | 0 g | 0 g |
| - including polyols | 0.4 g | 8.4 g |
| Fiber | 0.1 g | 1.9 g |
| Protein | 0 g | 0 g |
| Salt | 0.01 g | 0.20 g |
Product reviews
0
opinion
Questions and Answers
Add a question about this product