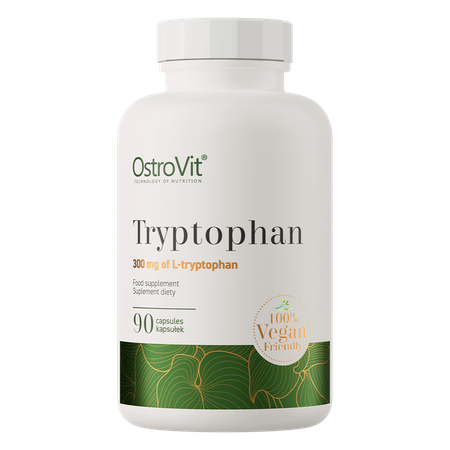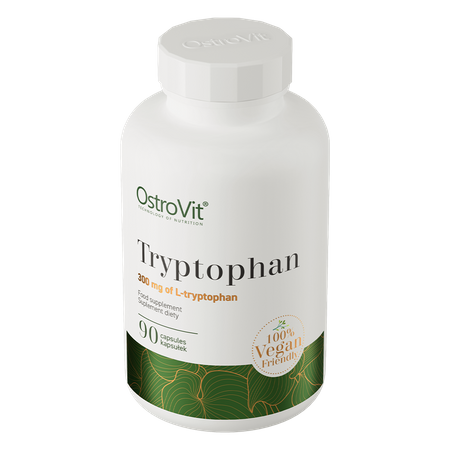 OstroVit Tryptophan VEGE 90 caps
4,26 €
OstroVit Tryptophan VEGE 90 caps
OstroVit Tryptophan VEGE is a dietary supplement based on the amino acid L-tryptophan. The product was created in the innovative OstroVit 100% VEGE CAPSULES product line, which is dedicated to vegans and vegetarians. Product was made without the addition of any substances or animal compounds.

300 mg L-tryptophan in one capsule
90 servings in the package
1 serving = 1 HPMC capsule
Tryptophan
Tryptophan is an organic chemical compound from the group of exogenous amino acids. Our body cannot synthesize it on its own. o ensure its proper level in the body, it must be supplied with food or by supplementation. As a protein amino acid it occurs in most of them. It is a precursor of serotonin, a neurotransmitter (found in organs of the whole body) necessary to regulate appetite, sleep, mood or pain. It is also responsible for the clotting of platelets.
Properties of the ingredients contained in OstroVit Tryptophan VEGE:
Tryptophan helps fight sleepless nights through melatonin synthesis processes
Restores willingness to act, motivation and broadly understood work
It can directly support the fight against addiction (e.g. smoking)
It will provide protection and natural regulation of our nervous system
Restore the optimal level of serotonin - the hormone of happiness
By participating in the production of growth hormone, it directly contributes to the increase in our muscles
Products from the VEGE CAPSULES line were developed using only vegan ingredients. Due to the company's high-security policy and the fact that the production plant uses ingredients with an allergenic effect, hence the information on the possibility of the occurrence of cross allergens on the label. For more information, please contact us by email.
Laboratory-confirmed quality
For the sake of our customers' health, the products we manufacture are regularly tested in an independent accredited laboratory to ensure and maintain the highest quality.






Suggested usage
Take 1 serving (1 capsule) daily.
Do not exceed the recommended daily dose. Do not use the product as a substitute (replacement) for a varied diet. Recommended are balanced diet and healthy lifestyle. Do not ingest if you are allergic to any of the ingredients. Do not ingest if you are allergic to any of the ingredients. Do not consume the product by children, pregnant or nursing women, persons receiving treatment with antidepressants or who suffer from kidney failure. Keep out of the reach of children.
Nutritional information
Ingredients
L-tryptophan, capsule shell (bulking agent: hydroxypropyl methylcellulose).
The product may contain milk (including lactose), soy, peanuts, other nuts, sesame seeds, oats, eggs, crustaceans, fish.
Nutrition Facts
| Active ingredients | 1 capsule  |
| --- | --- |
| L-tryptophan | 300 mg |
Product reviews
0
opinion
Questions and Answers
Add a question about this product