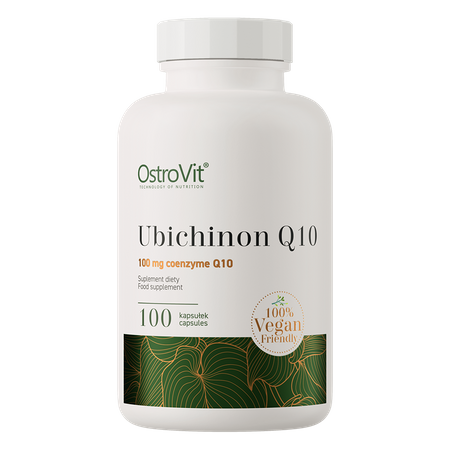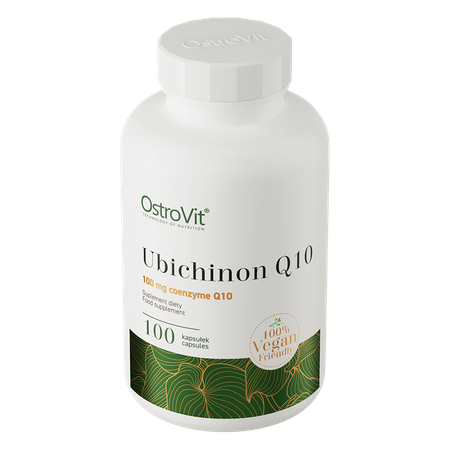 OstroVit Ubichinon Q10 VEGE 100 caps
11,89 €
OstroVit Ubichinon Q10 VEGE 100 caps
OstroVit Ubichinon Q10 VEGE is a vegan dietary supplement with a high content of valuable coenzyme Q10 in the oxidized form. The coenzyme supports operation of all body cells and secures them against harmful impact of free radicals.
Although ubiquinone occurs naturally in any organism, there are a number of factors that can lower its levels. The most important of them include old age, smoking, living in a polluted environment and regularly performing intense physical exertion. For this reason, the elderly, smokers or athletes should regularly take supplements with coenzyme Q10.
What is ubichinon and who should take it?
The ubichinon, that is an oxidized form of coenzyme Q10, is a compound which occurs naturally in all body cells. Its main task is to produce energy. Additionally, it may also stabilize cell membranes, regulate pressure, encourage the immunity system to act, as well as increase mobility of spermatozoon. If ubichinon level is too low, you may experience chronic fatigue, lack of appetite, lower immunity and impaired functions of your organism. It may also lead to chronic diseases. To raise its quantity in your organism, you ought to go on a diet rich in spinach, broccoli, fish, oils and wholegrain products, or a dietary supplement which a high content of this ingredient.
Properties of the ingredients contained in OstroVit Ubichinion Q10 VEGE:
VERSATILE OPERATIO - The coenzyme Q10 supports operation of the entire organism. It participates in production of cell energy and stabilizes cell membranes. It is responsible for transferring electrons in the respiratory chain.
EFFECTIVE ANTI-OXIDANT - Ubichinon serves as an anti-oxidant in the organism. It protects cells against oxidative stress and prevents diseases caused by free radicals.
PRODUCT FOR ATHLETES - People who practice professional sports are at risk of coenzyme Q10 deficiency. Regular supplementation of this ingredient helps you counteract fatigue and allows you to keep proper health of your organism.
VEGAN FORMULA - OstroVit Ubichinon Q10 VEGE is free from animal-origin ingredients, so it can be freely used by vegans or vegetarians.
Suggested usage
Consume 1 serving (1 capsule) daily.
Do not exceed the recommended daily allowance. A dietary supplement cannot be used as a substitute (replacement) for a varied diet. A balanced diet and a healthy lifestyle are recommended. Do not eat if you are allergic to any of the ingredients of the product. The product should not be used by children, pregnant women and nursing mothers. Keep out of the reach of small children.
Nutritional information
Ingredients
Inulin, ubiquinone (coenzyme Q10), capsule shell (bulking agent: hydroxypropyl methylcellulose).
Product may contain milk (including lactose), soy, peanuts, other nuts, sesame seeds, gluten-containing cereals, eggs, shellfish, fish.
Nutrition Facts
| Active ingredients | Per portion |
| --- | --- |
| Coenzyme Q10 | 100 mg |
Product reviews
0
opinion
Questions and Answers
Add a question about this product