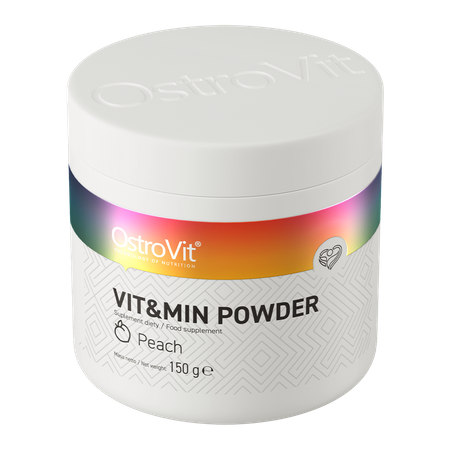 OstroVit VIT&MIN Powder 150 g peach
5,31 €
OstroVit VIT&MIN powder 150 g
OstroVit Vit&Min Powder is a composition of vitamins, minerals and other active ingredients which support general health of your organism. Thanks to a convenient form of powder, the product is easy to use and suitable for persons who have difficulties in swallowing pills and capsules. If you are looking for a set of vitamins which can help you supplement deficiency of nutrients, try OstroVit Vit&Min Powder - a powdered supplement.

Why is it worth choosing OstroVit VIT&MIN Powder?
If you regularly take vitamins and minerals, you can be sure your organism is provided with all ingredients required for proper functioning. Thanks to OstroVit Vit&Min Powder dietary supplement, which contains as many as 19 vitamins and minerals, you don't need to use a few preparations at a time anymore.
Properties:
OstroVit Vit&Min Powder multivitamin product includes ingredients which support operation of numerous organs and system. Check what are its most important properties:
MINERALS COMPLEX - Minerals included in the supplement support operation of the immunity system and nervous system, give energy and let you take care of a beautiful look.
SET OF REQUIRED VITAMINS - The product is rich in vitamin C, D, E, A, B6 and B12 which take part in numerous reactions in the organism.
UNIQUE FORMULA - The dietary supplement comes as a powder. One box is enough for a month-long supplementation.
COMFORT OF USE - Just dissolve 5 measures of the product in water or juice. Forget about swallowing pills and capsules.
Active ingredients in the supplement
Insulin. - It serves as a probiotic. It performs well in prevention of various diseases.
Potassium. - It allows proper operation of muscles.
Magnesium. - It can prevent extensive fatigue and improve resistance to stress.
Vitamin C. - It encourages the organism to defend against diseases. It can support iron assimilation.
Niacin. - It participates in sex hormone synthesis. It fosters metabolism. It secures neurons.
Vitamin E. - It is known for its anti-oxidant properties. It eliminates free radicals and hinders aging process.
Thiamine. - It supports nervous system.
Riboflavin. - It may improve immunity. It secures eyesight.
Zinc. - It has an impact on immunity system and participates in production of testosterone.
Iron. - It fosters operation of the vascular system.
Pantothenic acid. - It lets you keep looking healthy.
Vitamin B6. - It takes part in aminoacid transformation.
Manganese. - It is support to nervous system. It answers for strong bones.
Copper. - It is involved in production of red cells, connective tissue and nerve fibers.
Vitamin A. - It has a positive impact on healthy look - skin, hair and nails.
Folic acid. - It is part of the synthesis of neurotransmitters.
Biotin. - It makes the skin healthier, while hair and nails - stronger.
Chromium. - It supports the organism in breakdown of carbohydrates and fats.
Vitamin D. - It influences the immunity. It lets you keep your bones and teeth healthy.
Vitamin B12. - It may increase muscle immunity as well as support cardiovascular system.
Suggested usage
Dissolve a single serving of the product 5 g (5 scoops) in 150 ml of water or juice in a shaker. Do not pour hot water. Take 1 serving daily, preferably during a meal. Please use the scoop included in the package (1 ml).
It is advisable to perform a 25-(OH)D blood test and consult the doctor or pharmacist before use. The product is intended for adults.
Do not exceed the recommended daily dose. Do not use the product as a substitute (replacement) for a varied diet. Recommended are balanced diet and healthy lifestyle. Do not ingest if you are allergic to any of the ingredients. Children, pregnant or nursing woman must not take the product, people taking anticoagulants containing vitamin K antagonists (e.g. warfarin and acenocoumarol). Keep out of the reach of young children.The product is not intended for people with renal or renal stone disease.
Nutritional information
Ingredients
Inulin, potassium citrate, magnesium salts of citric acid, aroma, acidity regulator: citric acid; L-ascorbic acid, DL-alpha tocopheryl acetate, zinc picolinate, iron (II) diglycinate, sweeteners: sucralose, acesulfame K, nicotinic acid, riboflavin, thiamine hydrochloride, calcium D-pantothenate calcium, cholecalciferol, manganese bisglycinate, retinyl acetate, copper bisglycinate, pyridoxine hydrochloride, chromium picolinate, pteroylmonoglutamic acid, D-biotin, cyanocobalamin.
Product may contain milk (including lactose), soybeans, peanuts, other nuts, sesame seeds, cereals containing gluten, eggs, crustaceans, fish.
Nutrition Facts
| Active ingredients | Per portion | % RI* |
| --- | --- | --- |
| Inulin | 1.9 g | - |
| Potassium | 300 mg | 15 |
| Magnesium | 108 mg | 29 |
| Vitamin C | 80 mg | 100 |
| Niacin | 16 mg | 100 |
| Vitamin E | 30 mg | 250 |
| Thiamine | 15 mg | 1364 |
| Riboflavin | 15 mg | 1071 |
| Zinc | 15 mg | 150 |
| Iron | 14 mg | 100 |
| Pantothenic acid | 12 mg | 200 |
| Vitamin B6 | 2 mg | 143 |
| Manganese | 1.8 mg | 90 |
| Copper | 1 mg | 100 |
| Vitamin A | 800 µg | 100 |
| Folic acid | 400 µg | 200 |
| Biotin | 150 µg | 300 |
| Chromium | 150 µg | 375 |
| Vitamin D | 30 µg | 600 |
| Vitamin B12 | 10 µg | 400 |
*RI- Reference intake
Product reviews
0
opinion
Questions and Answers
Add a question about this product