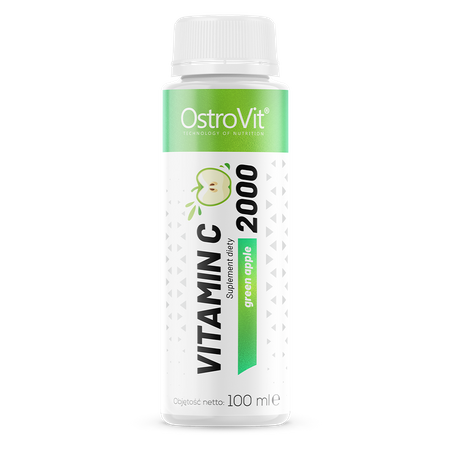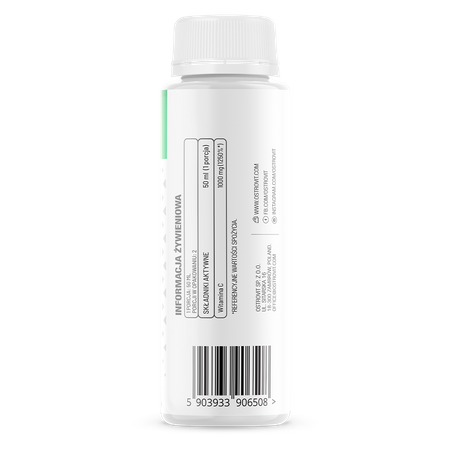 OstroVit Vitamin C 2000 Shot 100 ml green apple
0,65 €
OstroVit Vitamin C 2000 Shot 100 ml
OstroVit Vitamin C 200 Shot is a dietary supplement which can help you restore a suitable amount of vitamin C. The product is an easy-to-use liquid based on water and apple juice with a high content of active ingredient – one bottle of the supplement represents as many as 2000 mg of vitamin C.

Dietary supplement OstroVit VITAMIN C 2000 SHOT in the form of a small apple drink loaded with a high dose of vitamin C is one of the most convenient forms in which L-ascorbic acid is present. After unscrewing the bottle, the shot is ready to drink - you don't have to sip it or mix it with water. One drink is as much as 2000 mg of precious vitamin C combined with apple juice rich in vitamin A, iron and potassium.
Vitamin C
L-ascorbic acid, colloquially referred to as vitamin C, makes sure your organism operates properly. It works well both in the case of disease and infection prevention, as well as can support a number of processes occurring every day in the body, e.g. it can stimulate collagen production, increase iron absorption, strengthen teeth, accelerate wound healing or activate the action of various enzymes.
Regular intake of vitamin C supports the daily work of the body and can contribute to the support of immunity. When vitamin C levels remain low, characteristic symptoms are possible, which include weakness, muscle and joint pain, swelling or bruising.
Properties of the ingredients contained in OstroVit Vitamin C 2000 Shot:
COMPREHENSIVE SUPPORT OF THE BODY – L-ascorbic acid has a comprehensive health-promoting impact – it helps you fight against infections and boosts operation of numerous organs and systems.
ANTIOXIDANT ACTION – Vitamin C effectively destroys free radicals
HIGH DOSE – One vitamin shot represents 2000 mg of vitamin C. Such a portion is perfect for people who need this valuable active ingredient. Shot can be divided into two portions. After opening the package, store it in the fridge.
IDEAL FOR HARD WORKERS – You can take our vitamin C in the form of a ready-made drink with you anywhere – to work, university, for a walk or even on a trip, and its consumption will not cause you any problem.
Laboratory-proven quality
For the sake of the health of our customers, the products manufactured by us are regularly tested in an independent accredited laboratory to ensure and maintain the highest quality.
Laboratory-confirmed quality
For the sake of our customers' health, the products we manufacture are regularly tested in an independent accredited laboratory to ensure and maintain the highest quality.






Suggested usage
Consume 1⁄2 bottle (50 ml - 10 teaspoons) daily. Do not consume more than 1 serving per day. Do not use in persons predisposed to kidney stone formation or suffering from kidney stones disease. Product intended for adults. Shake before use. After opening, store in a fridge, consume within 48 hours.
Do not use if you are allergic to any of supplement ingredients. The product is not recommended for children, pregnant and breast-feeding women. Food supplement cannot be used as a substitute (replacement) for a varied diet. Balanced diet and healthy lifestyle is recommended. Store in a dry, cool place, at the temperature of 2-25°C. Protect against sunlight and frost. Keep out of reach of young children.
Nutritional information
Ingredients
Water, apple juice from apple juice concentrate 20%, L-ascorbic acid (vitamin C), sweetener: sucralose; preservatives: sodium benzoate, potassium sorbate, flavour.
The product may contain milk (including lactose), soy, peanuts, other nuts, sesame seeds, cereals containing gluten, eggs, crustaceans, fish.
Nutrition Facts
| Active ingredients | Per portion (50 ml) | % RI* |
| --- | --- | --- |
| Vitamin C | 1000 mg | 1250 |
*RI - Reference intake
Product reviews
0
opinion
Questions and Answers
Add a question about this product