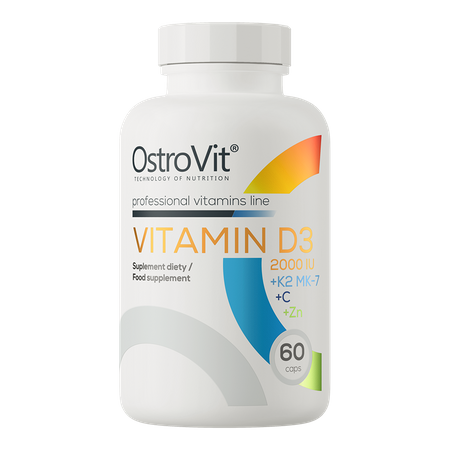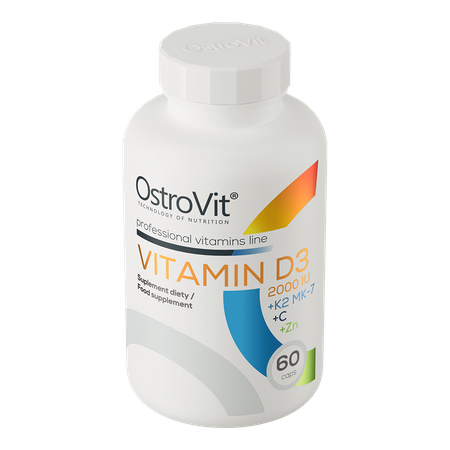 OstroVit Vitamin D3 2000 IU + K2 MK-7 + VC + Zinc 60 caps
4,25 €
OstroVit Vitamin D3 2000 IU + K2 MK-7 + C + Zn 60 capsules
OstroVit Vitamin D3 2000 IU + K2 MK-7 + C + Zn is a comprehensive dietary supplement, the ingredients of the supplement will help you take care of your health and immunity. Thanks to the unique selection of active ingredients, from today you do not have to take several supplements at the same time.

Vitamins D3, K2, C
Vitamins D3, K2, C and zinc have a direct impact on the functioning of many organs and systems. Use them if you want:
enjoy a high immunity level and get sick less often
have proper blood coagulability
strengthen your bones and teeth
make your skin smooth and radiant
have shiny and strong hair
maintain good eyesight
Properties of the ingredients contained in OstroVit Vitamin D3 2000 IU + K2 MK-7 + C + Zn:
COMPREHENSIVE SUPPORT - Stronger bones, better blood coagulability and sleek hair are just a few examples of the changes you can notice.
HIGH ASSIMILABILITY - The supplement is available in the form of convenient capsules which are easy to swallow. The capsules quickly dissolve in the stomach.
OPTIMAL DOSES - The daily dose of the supplement, i.e. two capsules, will provide your body with the optimal level of active ingredients.
Active ingredients of OstroVit Vitamin D3 2000 IU + K2 MK-7 + C + Zn
The OstroVit food supplement is a set of ingredients that support natural processes occurring in the body. Learn what each of them is responsible for:
Vitamin D - it supports bone formation and health. It can help prevent osteoporosis. Additionally, it boosts the functioning of the immune system.
Vitamin K - it helps maintain healthy bones and teeth as well as improves blood coagulability. It increases the absorption of vitamin D.
Vitamin C - it improves the body's immunity by stimulating the growth of white blood cells. It is an antioxidant that also participates in the process of collagen synthesis and therefore improves the condition of the skin.
Zinc - it provides additional support to the immune system and strengthens bones. It makes the hair shiny and fosters good eyesight.
WARNING! The product should not be consumed by people taking anticoagulants containing vitamin K antagonists (e.g. warfarin and acenocoumarol).
Laboratory-proven quality
For the sake of the health of our customers, the products manufactured by us are regularly tested in an independent accredited laboratory to ensure and maintain the highest quality.
Suggested usage
Take 1 serving (2 capsules) a day.
It is advisable to perform a 25-(OH) D blood test and consult the doctor or pharmacist before use. Do not use in people who are predisposed to the creation of kidney stones or those suffering from kidney stones. The product is intended for adults.
Do not exceed the recommended daily dose. Do not use the product as a substitute (replacement) for a varied diet. Recommended are balanced diet and healthy lifestyle. Do not ingest if you are allergic to any of the ingredients. Children, pregnant or nursing woman must not take the product. Keep out of the reach of children.
Nutritional information
Ingredients
L-ascorbic acid (vitamin C), coating composition (bulking agent: hydroxypropyl methyl cellulose), zinc picolinate (zinc), cholecalciferol (vitamin D), menachinon-7 (vitamin K) from Bacillus subtilis natto.
Product may contain milk (including lactose), soybeans, peanuts, other nuts, sesame seeds, oats, eggs, crustaceans, fish.
Nutrition Facts
| Active ingredients | Per portion | % RI* |
| --- | --- | --- |
| Vitamin C | 1000 mg | 1250% |
| Vitamin K | 100 µg | 133% |
| Vitamin D | 50 µg / 2000 IU | 1000% |
| Zinc | 15 mg | 150% |
*RI - Reference intake
Product reviews
0
opinion
Questions and Answers
Add a question about this product