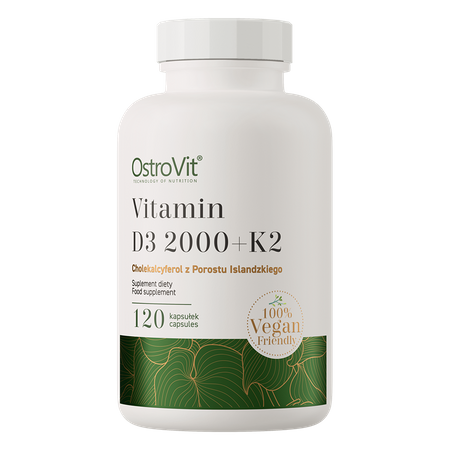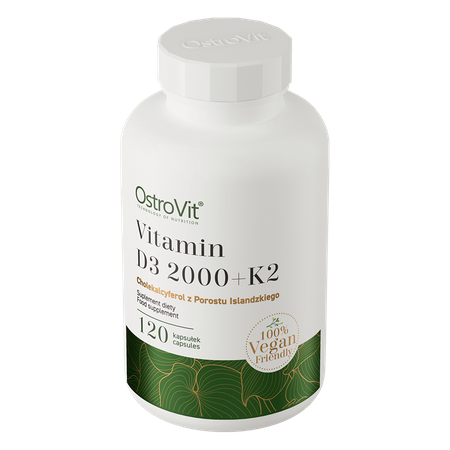 OstroVit Vitamin D3 2000 + K2 VEGE 120 capsules
4,20 €
OstroVit Vitamin D3 2000 + K2 VEGE 120 capsules
OstroVit Vitamin D3 2000 + K2 is a vegan dietary supplement in a family box which contains vitamin D in the form of Iceland moss cholecalciferol and vitamin K2 MK-7. The ingredients of the supplement help support the overall functioning of the body, and also stimulate it to fight infections.

Why is it so important to supplement vitamin D?
Sadly still few people realize that vitamin D deficiency may lead to numerous health-related issues. A long-lasting fatigue, bone and muscle aches, teeth diseases, lower immunity, high pressure – these are only several most frequent effects of vitamin D insufficiency.
You absorb most of vitamin D while being exposed to sunlight, which is difficult particularly in autumn and winter, when days are short. Vitamin D can also be found in foods, such as fish, eggs and mushrooms. Sadly its amount in foods is so limited that it is hard to restore its proper level. For this reason the simplest and fastest way of supplying your organism with a suitable dose of vitamin D is to take dietary supplements.
Properties of the ingredients contained in OstroVit Vitamin D3 2000 + K2 VEGE
VITAMIN D – The main ingredient of the supplement, vitamin D3, is able to help you take care of your bone structure and coagulation system. The vitamin supports proper absorption of calcium and phosphorus. It may also stimulate your immunity.
VITAMIN K – The vitamin K, included in the supplement, strengthens health-promoting properties of vitamin D. It contributes to proper blood coagulation and boosts bone health.
VEGAN FORMULA - Vitamins included in our vegan capsules come from natural sources. Vitamin D in the form of cholecalciferol is synthesized from the Iceland moss, while the source of vitamin K2 are soy-fermenting bacteria – Bacillus subtilis natto.
FAMILY BOX – The box of our supplement contains as many as 120 capsules. Thanks to this, it performs perfectly as a supplement for all adult family members.
Suggested usage
Take 1 serving (1 capsule) daily. It is advisable to perform a 25-(OH)D blood test and consult the doctor or pharmacist before use. The product is intended for healthy adults under 75 years of age.
Do not exceed the recommended daily dose. Do not use the product as a substitute (replacement) for a varied diet. Recommended are balanced diet and healthy lifestyle. Do not ingest if you are allergic to any of the ingredients. The product should not be used by children, pregnant women, nursing women, people taking anticoagulants containing vitamin K antagonists (e.g. warfarin and acenocoumarol). Keep out of the reach of children.
Nutritional information
Ingredients
INGREDIENTS: Inulin, coating composition (bulking agent: hydroxypropyl methyl cellulose), natural vitamin D from the Icelandic lichen (cholecalciferol), menachinon-7 MK-7 (vitamin K) from Bacillus subtilis natto.
Product may contain milk (including lactose), soybeans, peanuts, other nuts, sesame seeds, eggs, cereals containing gluten, crustaceans, fish.
Nutrition Facts
| Active ingredients | Per portion | %RI* |
| --- | --- | --- |
| Vitamin K | 50 μg | 67 |
| Vitamin D | 50 μg / 2000 IU | 1000 |
*RI - Reference Intake
Product reviews
0
opinion
Questions and Answers
Add a question about this product