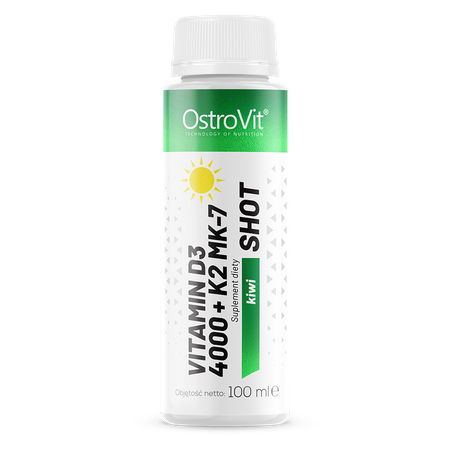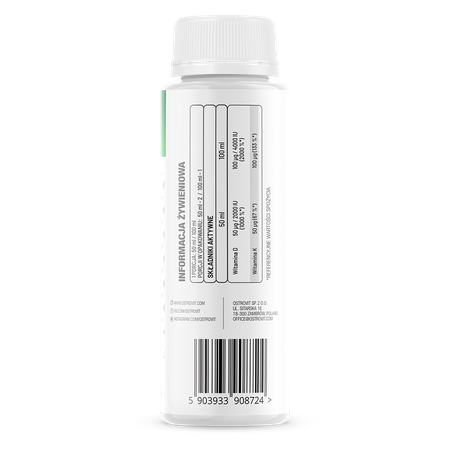 OstroVit Vitamin D3 4000 IU + K2 MK-7 Shot 100 ml
ATTENTION - Expiry date of the product 20.01.2024
OstroVit Vitamin D3 4000 IU + K2 MK-7 Shot 100 ml
OstroVit Vitamin D3 4000 IU + K2 MK-7 is a dietary supplement, which is a source of two valuable active ingredients - vitamin D3 and vitamin K2. It is a high-quality preparation with a refreshing kiwi flavor, available in a convenient shot form. It is a product created for athletes and people who want to supplement their diet with valuable micronutrients.
100
Mililiters
Per Package
50
Mililiters
1 serving = 50 mililiters
A source of valuable active ingredients - The preparation provides the body with vitamin D3 and vitamin K2 in the best absorbed by the human body form MK-7.
1 serving = half shot or whole shot.
Efficiency - The product package contains, depending on the portioning, 1 or 2 portions of the supplement.
Convenient form - The preparation available in the form of shot enables a trouble-free supply of a dietary supplement and is a great solution for people who have difficulty swallowing tablets.
Delicious taste - The product with kiwi flavor will delight the palate and provide a unique experience.
OstroVit Vitamin D3 4000 IU + K2 MK-7 Shot - a source of valuable fat-soluble vitamins
Vitamin D3, also known as cholecalciferol, is a steroid, organic chemical compound that belongs to the group of fat-soluble vitamins. Thus, the assimilation of the ingredient is closely related to the presence of fats in the daily diet. Vitamin D3 is a substance, which is delivered to the body with food (It can be found i.a. in oily sea fish), as well as through skin synthesis. However, it is stored primarily in adipose tissue and liver.
Vitamin K2 referred to as menaquinone, is an organic chemical compound classified as fat-soluble vitamins. Vitamin K2 is stored in the human body primarily in the liver. It can be produced by bacteria present in the digestive system, delivered to the body with food (It can be found in both plant and animal products), as well as in the form of dietary supplements.
Vitamin K2 MK-7 used in the preparation OstroVit is a form of compound, which is best absorbed by the human body, which has a positive effect on the absorption of a dietary supplement. In addition, the product also includes vitamin D3, which works synergistically with vitamin K2, enhancing its action.
Properties of the ingredients contained in OstroVit Vitamin D3 4000 IU + K2 MK-7 Shot:
Vitamin D present in the product helps to maintain healthy bones and teeth and in the proper functioning of muscles and what is more, it supports the proper functioning of the immune system. The compound also helps in the proper absorption and use of calcium and phosphorus and in maintaining the proper level of calcium in the blood. The substance is also involved in the process of cell division.
In the dietary supplement you can also find vitamin K, which contributes to proper blood clotting and helps maintain healthy bones.
Suggested usage
Healthy adults under 75 years of age - ½ bottle (50 ml) daily; healthy adults over 75 years of age - 1 bottle daily.
Before use, it is advisable to take a 25-(OH)D test in the blood and to consult the test result with your doctor or pharmacist. Shake before consumption. Do not consume more than 1 serving per day. The product is intended for adults. Sedimentation is a natural phenomenon. After opening, store in the refrigerator, consume within 48h.
Do not consume if you are allergic to any of the supplement's ingredients. The product should not be used by children, pregnant or breastfeeding women, or people taking anticoagulants containing vitamin K antagonists (e.g. warfarin and acenocoumarol). The dietary supplement must not be used as a substitute (replacement) for a varied diet. A balanced diet and healthy lifestyle is recommended. Store in a dry, cool place at 2-25°C. Protect from sunlight and frost. Keep out of reach of small children.
Nutritional information
Ingredients
Water, apple juice from apple juice concentrate 20%, acidity regulator: citric acid; cholecalciferol from lanolin (vitamin D), menaquinone-7 MK-7 (vitamin K) derived from Bacillus subtilis natto, flavouring, sweetener: sucralose; preservatives: sodium benzoate, potassium sorbate.
The product may contain milk (including lactose), soya, peanuts, other nuts, sesame seeds, cereals containing gluten, eggs, crustaceans, fish.
Nutrition Facts
Capacity of the product: 100 ml
| Active ingredients | Per portion 50 ml | % RI* | Per portion 100 ml | % RI* |
| --- | --- | --- | --- | --- |
| Vitamin D | 50 µg/2000 IU | 1000% | 100 µg/4000 IU | 2000% |
| Vitamin K | 50 µg | 67% | 100 µg | 133% |
*RI - Reference intake
Product reviews
0
opinion
Questions and Answers
Add a question about this product