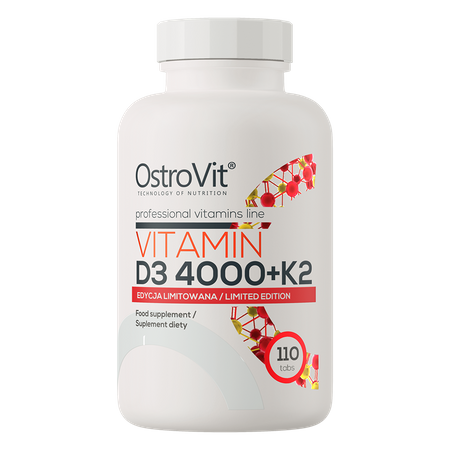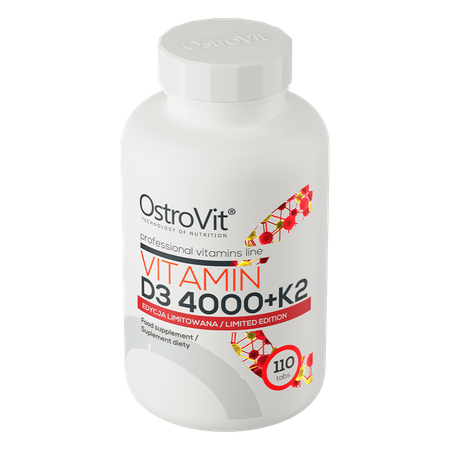 OstroVit Vitamin D3 4000 + K2 110 tabs
3,89 €
OstroVit Vitamin D3 4000 + K2 110 tabs
OstroVit Vitamin D3 4000 + K2 is a dietary supplement in the form of tablets containing a composition of vitamins D and K, derived from natural raw materials.


220 servings in the package!
1 serving = 0.5 tablets
LIMITED EDITION
OstroVit Vitamin D3 and K2 is a composition of vitamins derived from natural raw materials. Vitamin K2 MK-7 is a form of vitamin K2 available to the highest degree by our body. It is obtained from a traditional Japanese fermented soy product, resulting from the fermentation of Bacillus subtilis natto bacteria.
VITAMIN K
Vitamin K is essential for the proper functioning of the body, contributes to the proper blood coagulation, and also contributes to the maintenance of normal bone mineral density. He is responsible for the correct transport of calcium from the blood to bone tissue, which allows for the maintenance of healthy and strong bones.
VITAMIN D
Vitamin D, also known as the "sunshine vitamin", helps in the proper absorption / use of calcium and phosphorus and helps maintain the proper level of calcium in the blood. In addition, this vitamin helps in maintaining healthy bones, teeth, as well as helps in the proper functioning of the muscles and immune system. Vitamin D takes part in the process of cell division.
Properties:
Vitamin D helps in maintaining healthy bones and teeth
Vitamin D helps in the proper absorption / utilization of calcium and phosphorus
Vitamin K helps in maintaining healthy bones
Vitamin K contributes to normal blood clotting
WARNING! The product should not be consumed by people taking anticoagulants containing vitamin K antagonists (e.g. warfarin and acenocoumarol).
Suggested usage
Consume 1 portion (1/2 tablet) per day 30 minutes before a meal. The product is intended for adults.
Before use, it is advisable to perform a 25- (OH) D blood test and consult your doctor or pharmacist.
Do not exceed the recommended daily dose for consumption. Dietary supplement can not be used as a substitute (replacement) of a varied diet. A balanced diet and a healthy lifestyle are recommended. Do not eat if you are allergic to any of the ingredients in the product. The product should not be used by children, pregnant women and nursing mothers. Keep out of reach of small children.
Nutritional information
Ingredients
Bulking agent: microcrystalline cellulose; starch, cholecalciferol from lanolin (vitamin D), menaquinone-7 MK-7 (vitamin K) derived from Bacillus subtilis natto, anti-caking agents: magnesium salts of fatty acids, silicon dioxide.
The product may contain milk (including lactose), soy, peanuts, other nuts, sesame seeds, gluten-containing cereals, eggs, crustaceans, fish.
Nutrition Facts
| Active ingredients | For a portion | % RI* |
| --- | --- | --- |
| Vitamin K |  50 µg | 67 |
| Vitamin D |  50 µg / 2000 IU | 1000 |
*RI - Reference intake
Product reviews
0
opinion
Questions and Answers
Add a question about this product