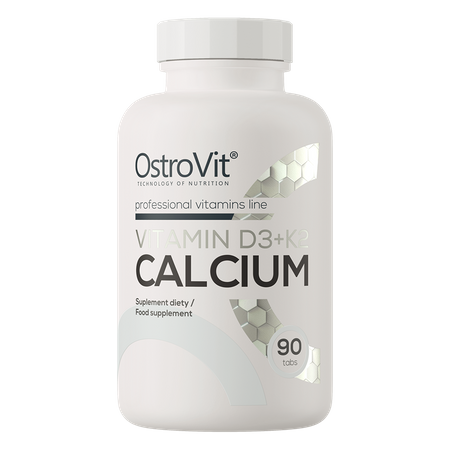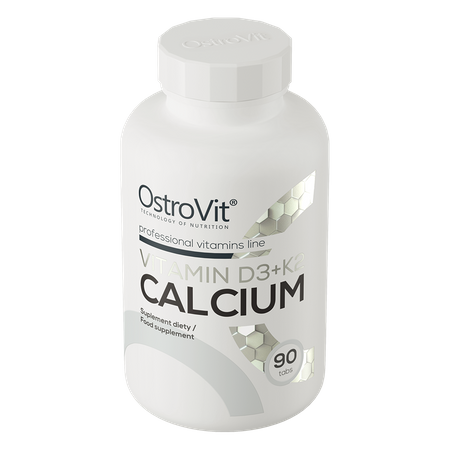 OstroVit Vitamin D3 + K2 + Calcium 90 tabs
4,17 €
OstroVit Vitamin D3 + K2 + Calcium 90 tabs
OstroVit Vitamin D3 + K2 + calcium is a composition of vitamins derived from natural raw materials. Vitamin K2 MK-7 is a form of vitamin K2 assimilated to the highest degree by our body. O is kept from a traditional Japanese fermented soy product, due to the fermentation of Bacillus subtilis natto.

Contains 45 portions in the package
1 serving = 2 tabs
Highly bioavailable form of softgel capsules
Vitamin D3 enriched with a synergistic form of vitamin K2
Vitamin D3 is called the vitamin of life - it affects the proper functioning of almost all systems and organs in the body. In combination with vitamin K2, it intensifies the strengthening of the skeletal system. Stimulates the absorption of calcium and phosphorus in the intestines, which further affects the proper mineralization of bones and teeth. It has the effect of increasing muscle strength and prevents loss of muscle tissue, accelerates fat burning and supports the slimming process. In addition, it has the effect of increasing the body's resistance to infections, protects against the occurrence of depression, depression and apathy.
Vitamin K2 is essential for the proper functioning of the body, regulates the blood coagulation process, and also affects the maintenance of normal bone mineral density. He is responsible for the correct transport of calcium from the blood to bone tissue, which allows the maintenance of healthy and strong bones, and increase their resistance to bends.
Calcium is needed to maintain healthy bones and teeth, and it helps muscles function properly. Calcium additionally contributes to proper blood clotting and maintaining proper energy metabolism. This element helps maintain proper neurotransmission.
Properties:
Increases the mineralization of bones and teeth
Vitamin D helps in the proper absorption / utilization of calcium and phosphorus
Vitamin D helps in the proper functioning of muscles
Vitamin D helps in the proper functioning of the immune system
Takes part in the process of cell division
Ideal for raising your physiological level of testosterone
Suggested usage
Use 1 serving (2 tablets) daily before meals.
Before use, it is advisable to perform a 25- (OH) D blood test and consult your doctor or pharmacist.
Do not exceed the recommended daily dose. Do not use the product as a substitute for a varied diet. Recommended are balanced diet and healthy lifestyle. Do not ingest if you are allergic to any of the ingredients. The product should not be used by children, pregnant women, nursing women, people taking anticoagulants containing vitamin K antagonists (e.g. warfarin and acenocoumarol). Keep out of the reach of children.
Nutritional information
Ingredients
Calcium carbonate (calcium), bulking agent: microcrystalline cellulose; starch, anticaking agents: magnesium salts of fatty acids, silicon dioxide; cholecalciferol (vit. D), menachinon-7 (vit. K) from Bacillus subtilis natto.
Product may contain milk (including lactose), soybeans, peanuts, other nuts, sesame seeds, oats, eggs, crustaceans, fish.
Nutrition Facts
Net weight of product: 128 g
Servings per container: 45
| Active ingredients | For a portion | % RI* |
| --- | --- | --- |
| Calcium: |  750 mg | 94 |
| - calcium carbonate |  1875 mg | -  |
| Vitamin K |  100 µg | 133 |
| Vitamin D |  50 µg / 2000 IU | 1000 |
*RI - Reference intake
Product reviews
0
opinion
Questions and Answers
Add a question about this product