OstroVit WHEYlicious 3000 g Protein Shake salted caramel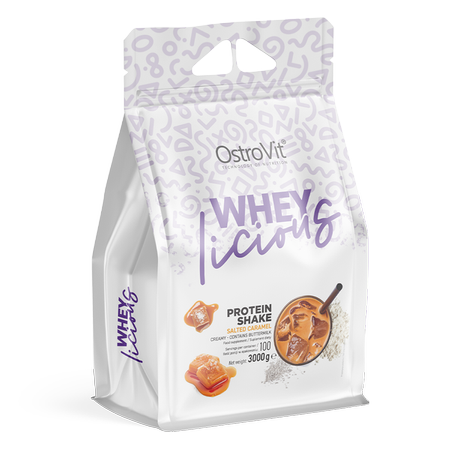 51,65 €
OstroVit WHEYlicious 3000 g
OstroVit WHEYlicious is a high-quality protein supplement whose protein content, reaching almost 70%. A unique formula combining a whey protein concentrate (WPC) and powdered buttermilk assures better flavor and smoother texture of the ready drink. Do you do sports and look for product which can help you supplement protein level in your diet fast and pleasurably? Choose OstroVit WHEYlicious protein supplement in your favorite flavor!
2,5
Scoops
1 serving = 2,5 scoops
What is OstroVit WHEYlicious?
OstroVit WHEYlicious is a protein supplement in the form of powder which you can quickly dissolve in water or low-fat milk. Thanks to high content of protein, the product will perform perfectly with regard to athletes who look for wholesome source of protein, and all other people who are on a high-protein diet.
The innovative combination of whey protein concentrate and buttermilk substantially improves solubility of the product and provides it with a unique and soft flavor. OstroVit WHEYlicious will be a good choice when:
you want to boost your metabolism after training
you want faster regeneration after exercise
you look for additional source of protein in your diet
you lack ideas for fast and healthy snacks
you overeat sweets
Properties:
OstroVit WHEYlicious 3000 g supplement is a rich source of highly assimilable protein which serves as a basic material for your tissues, muscles and internal organs. Its suitable level is exceptionally important in physically active persons, regardless of purpose of their exercises. Protein deficiency may lead to micro-damage during workout as well as delayed regeneration. It also supports fatigue and causes your body to get more exposed to injuries.
Major features of the product:
PERFECT FOR ATHLETES - OstroVit WHEYlicious protein supplement is an interesting offer for persons who lead an active lifestyle. It works well both when you want to build muscle mass, as well as when you are on reduction.
IMPROVED COMPOSITION - OstroVit protein is devoid of preservatives and other redundant fillers. Thanks to a unique combination of protein concentrate and buttermilk, the protein drinks tastes better and is easier to prepare. One package is enough for 100 protein shakes.
HIGH CONTENT OF PROTEIN - Whey protein concentrate, also referred to as WPC, is known for high-protein content almost 70%. Using the supplement after your workout, you can easily support muscle reconstruction and limit tiredness.
MANY FLAVORS - WHEYlicious is available in several flavor variants, thanks to which you can easily choose the product that will satisfy all your expectations. You can choose a natural version which is very universal or one of our special flavor variants.
Suggested usage
Dissolve one serving of the product 30 g (2.5 scoops) in 200 ml of milk or water in a shaker. Depending on your needs, take 1 - 2 servings daily.
Do not exceed the recommended daily dose. Do not use the product as a substitute (replacement) for a varied diet. Recommended are balanced diet and healthy lifestyle. Do not ingest if you are allergic to any of the ingredients. Children, pregnant or nursing woman must not take the product. Keep out of the reach of children.
Nutritional information
Ingredients
Whey protein concentrate from milk (contains lecithins), buttermilk in powder, aroma, colour: ammonia caramel; thickeners: xanthan gum, arabic gum; sweeteners: sucralose, acesulfame K.
Powdered dietary supplement. Contains sweeteners.
Product may contain soy, peanuts, other nuts, sesame seeds, oat, eggs, crustaceans, fish.
Nutrition Facts
| Nutritional values | 1 portion | 2 portions | Per 100 g |
| --- | --- | --- | --- |
| Energy | 477 kJ / 113 kcal | 954 kJ / 226 kcal | 1584 kJ / 375 kcal |
| Fat | 2.0 g | 4.0 g | 6.5 g |
| - of which saturated fatty acids | 1.2 g | 2.4 g | 4.1 g |
| Carbohydrates | 3.0 g | 6.0 g | 10 g |
| - of which sugars | 3.0 g | 6.0 g | 10 g |
| Protein | 20.7 g | 41.4 g | 69 g |
| Salt | 0.76 g | 1.52 g | 2.54 g |
| Whey protein concentrate | 25.2 g | 50.4 g | 84 g |
| Buttermilk in powder | 2.4 g | 4.8 g | 8.0 g |
Product reviews
0
opinion
Questions and Answers
Add a question about this product