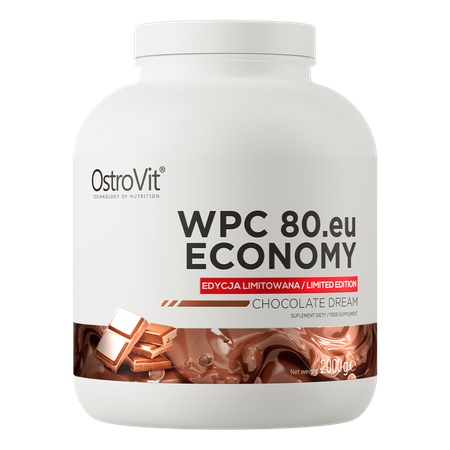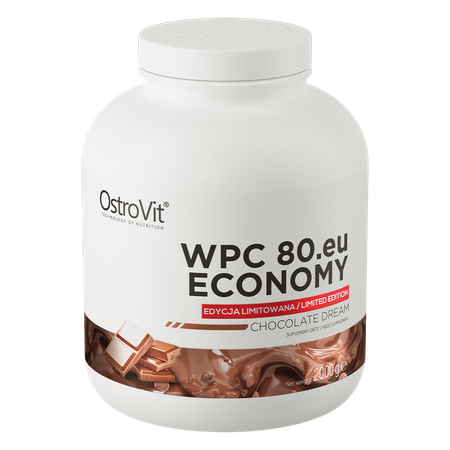 OstroVit WPC80.eu ECONOMY 2000 g chocolate
Customers recommend!
Rating 5/ 5
21,84 €
OstroVit WPC80.eu ECONOMY 2000 g
OstroVit WPC80.EU ECONOMY LIMITED EDITION is the highest quality whey protein concentrate, containing 70% protein. It is an excellent source of wholesome animal protein, which contains a wide profile of amino acids necessary to build muscle fibers. The product is made in the process of ultrafiltration, in which the concentrated whey protein fraction is concentrated on the previous separation from milk, sugar and fat. It is characterized by low content of fat and carbohydrates.


2000 g of protein in the package!
LIMITED EDITION, BUY NOW
One serving is 30 g of the product!
Excellent flavors
High-protein content
WPC80.EU ECONOMY - protein conditioner
Whey protein intensively supports the process of muscle growth and allows the reconstruction of muscle fibers. It works anabolically and anti-catabolic - prevents the breakdown of muscle tissue. It reduces the feeling of tiredness and accelerates muscle recovery after training. Due to the 70% protein content, the product is suitable for all athletes, regardless of the sports discipline. It is especially recommended during the period of building muscle mass. The carbohydrates and fats included in the supplement are an excellent source of nutrients which support the growth of lean body mass. It can be used during advanced training, but also as part of the daily diet to supplement nutritional values.
Properties of the ingredients contained in OstroVit WPC80.eu ECONOMY:
High-protein content
Work anabolically - help to build pure muscle mass
Work anti-catabolic - prevent muscle breakdown
Accelerate the regeneration of the body
Suitable for all types of sports
Especially recommended during the period of building muscle mass
Can be used as a supplement to your daily diet
Suggested usage
1 portion 30 g (about 2.5 scoops) dissolved in 200 ml of skim milk or water. Consume 1 - 2 times a day depending on your needs.
Do not exceed the recommended daily dose for consumption. Dietary supplement can not be used as a substitute (replacement) of a varied diet. A balanced diet and a healthy lifestyle are recommended. Do not eat if you are allergic to any of the ingredients in the product. The product should not be used by children, pregnant women and nursing mothers. Keep out of reach of small children.
Nutritional information
Ingredients
Whey protein concentrate with milk (contains lecithins), cocoa, dextrose, thickener: xanthan gum; natural chocolate aroma, aroma, salt, thickener: acacia; sweeteners: sucralose, acesulfame K. The product may contain soy, peanuts, other nuts, sesame seeds, oats, eggs, crustaceans, fish.
Diet supplement. Contains sugar and sweeteners.
The product may contain soy, peanuts, other nuts, sesame seeds, oats, eggs, crustaceans, fish.
Nutrition Facts
| Nutritional values | Per 100 g | 30 g (1 portion) | % RI* |
| --- | --- | --- | --- |
| Energy value | 1558 kJ/368 kcal | 467 kJ/110 kcal | 6 |
| Fat | 4.9 g  | 1.5 g | 2 |
| - of which saturated fatty acids | 2.9 g | 0.9 g | 5 |
| Carbohydrates | 11 g  | 3.3 g | 1 |
| - of which sugars | 9.3 g  | 2.8 g | 3 |
| Protein | 70 g | 21 g | 42 |
| Salt | 0.76 g  | 0.23 g | 4 |
*RI - Reference intake
Product reviews
1
opinion
What customers say about this product
Questions and Answers
Add a question about this product