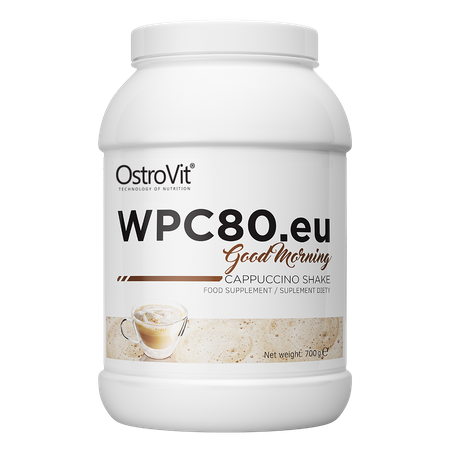 OstroVit WPC80.eu Good Morning 700 g cappuccino
16,88 €
OstroVit WPC80.eu Good Morning 700 g
OstroVit WPC80.EU Good Morning is the highest quality whey protein concentrate, enriched with L-glutamine, taurine, L-tyrosine and caffeine. It is a great source of wholesome animal protein and amino acids necessary for building muscle fibers.

700 g in the package
The product contains 23 servings
1 serving = 30 g
Fortified with amino acids and caffeine
WPC80.eu Good Morning - protein supplement
Is a supplement enriched with stimulating ingredients, which makes it an excellent solution for people who take protein in the morning. The Good morning with a cappuccino taste can successfully replace the morning coffee, which will not only stimulate the body, but also bring additional benefits.
Whey protein intensively supports the process of muscle growth and allows the reconstruction of muscle fibers. It works anabolically and anti-catabolic. It reduces the feeling of tiredness and accelerates muscle recovery after training. Included in the product L-glutamine enhances the process of muscle protein synthesis, reduces muscle catabolism during training, increases endurance of the body and reduces the time of muscle recovery after exercise.
L-tyrosine affects the release of growth hormone which is responsible for muscle growth and reduction of body fat. It regulates and speeds up the metabolism process. In addition, it increases concentration, memory, improves coordination and mood.
Taurine works anti-catabolic, hydrates muscle cells and provides essential nutrients to them. It improves the mood, concentration and brain work.
OstroVit WPC80.eu Good Morning is suitable for all athletes, regardless of the sports discipline. It is especially recommended during the period of building muscle mass. It is an ideal alternative to morning coffee. Dedicated to people who consume protein supplement in the morning.
Properties:
A great alternative to morning coffee
Has a stimulating effect on the body
Supports the process of building muscle mass
Supports weight loss
Speeds up metabolism
Laboratory-proven quality
For the sake of our customers' health, the products we manufacture are regularly tested in an independent accredited laboratory to ensure and maintain the highest quality.






Suggested usage
Add 30 g (2.5 scoops) in 200 ml of skim milk or water. Consume 1 - 2 times a day, depending on your needs.
Do not exceed the recommended daily dose for consumption. Dietary supplement can not be used as a substitute (replacement) of a varied diet. A balanced diet and a healthy lifestyle are recommended. Do not eat if you are allergic to any of the ingredients in the product. The product should not be used by children, pregnant women and nursing mothers. Keep out of reach of small children.
Nutritional information
Ingredients
Concentrate of whey protein from milk, L-glutamine, taurine, aromas, color - caramel; L-tyrosine, a thickening substance - xanthan gum; anhydrous caffeine, salt, thickener - gum arabic; sweeteners: sucralose, acesulfame K.
The dietary supplement. Contains sweeteners.
The product may contain soy, peanuts, other nuts, sesame seeds, oats, eggs, crustaceans, fish.
Contains caffeine; not recommended for children and pregnant women (caffeine content 180 mg in one serving); Do not consume with other products that are a source of caffeine or other ingredients with similar effects.
Nutrition Facts
Net weight of product: 700 g
Servings per container: 23
Nutritional values
Per 100 g
For a portion
% RI*
Energy value
1421 kJ / 336 kcal
426 kJ / 101 kcal
5
Fat
6.1 g
1.8 g
5
- including saturated fatty acids
3.8 g
1.1 g
6
Carbohydrates
5.7 g
1.7 g
1
- including sugar
5.7 g
1.7 g
2
Protein
65 g
20 g
39
Salt
1.06 g
0.32 g
5
Active ingredients
L-glutamine
6000 mg
1800 mg
-
Taurine
6000 mg
1800 mg
- 
L-tyrosine
1500 mg
450 mg
- 
Anhydrous caffeine
600 mg
180 mg
- 
*RI - Reference intake
Product reviews
0
opinion
Questions and Answers
Add a question about this product