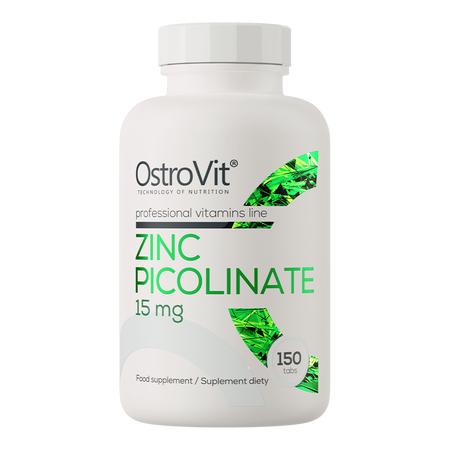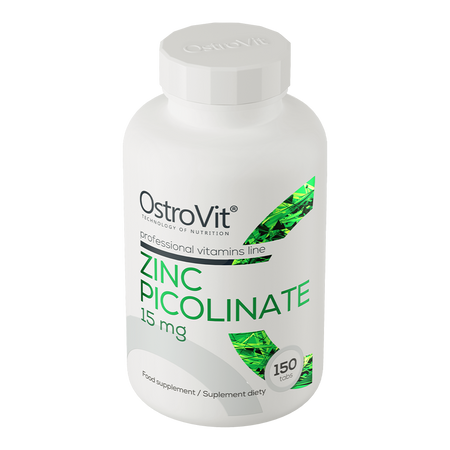 OstroVit Zinc Picolinate 150 tabs
3,12 €
OstroVit Zinc Picolinate 150 tabs
OstroVit Zinc Picolinate is a dietary supplement in tablets containing zinc in a highly bioavailable form which is zinc picolinate. Zinc helps maintain healthy hair, skin and nails. In addition, zinc helps maintain normal blood testosterone levels and contributes to normal macronutrient metabolism.

1 pack contains up to 150 tablets
1 serving = 1 tablet
150 servings in the package
Small tablets, convenient to eat
Zinc
Zinc is an element that is one of the essential minerals in the human diet. It plays a significant role as a component of dozens of different enzymes. It is found mainly in meat products and eggs, oysters, fish or legumes. Studies suggest that low levels of zinc can reduce insulin sensitivity, but also high levels of testosterone. Zinc most often "leaves" our body with sweat, which makes supplementation of this mineral so important for athletes who insufficiently supply zinc to their body. Zinc deficiencies can be manifested in skin lesions such as acne or ulceration.
Properties of the ingredients contained in OstroVit Zinc Picolinate:
Participates in the proper functioning of the immune system
Helps to maintain the correct acid-base balance
Contributes to the maintenance of proper carbohydrate metabolism
Helps in maintaining cognitive functions
Helps to maintain the proper metabolism of macronutrients
Contributes to the maintenance of normal fatty acid metabolism
Helps in the proper synthesis of protein
Along with other ingredients like calcium and manganese, it helps maintain healthy bones
Affects the condition of hair, skin and nails
Helps in maintaining proper vision
It is used to protect cells from oxidative stress
Takes part in the process of cell division
Laboratory-proven quality
For the sake of our customers' health, the products we manufacture are regularly tested in an independent accredited laboratory to ensure and maintain the highest quality.






Suggested usage
Take 1 serving (1 tablet) a day after meal. The product is intended for adults.
Do not exceed the recommended daily dose. Do not use the product as a substitute (replacement) for a varied diet. Recommended are balanced diet and healthy lifestyle. Do not ingest if you are allergic to any of the ingredients. Children, pregnant or nursing woman must not take the product. Keep out of the reach of children.
Nutritional information
Ingredients
Filling agent: microcrystalline cellulose; zinc picolinate (zinc), starch, anti-caking agents: magnesium salts of fatty acids, silicon dioxide.
The product may contain milk (including lactose), soya, peanuts, other nuts, sesame seeds, cereals containing gluten, eggs, crustaceans, fish.
Nutrition Facts
| Active ingredients | Per portion | % RI* |
| --- | --- | --- |
| Zinc | 15 mg | 150 |
*RI - Reference intake
Product reviews
0
opinion
Questions and Answers
FAQ
Hello, how much elemental zinc there is in each tablet? Thank you
Do you need more information?
If the above information is not sufficient for you, please send us your question. We will do our best to answer them.
Add a question about this product