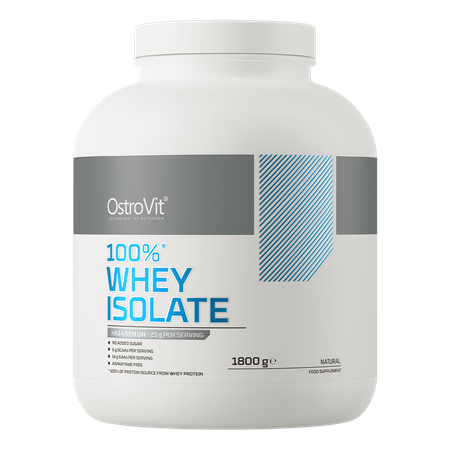 OstroVit 100 % Whey Isolate 1800 g natural
40,43 €
OstroVit Whey Protein Isolate 1800 g
OstroVit Whey Protein Isolate is the highest quality whey protein isolate, which is considered the most valuable source of protein used in sports. The supplement is obtained by microfilitration of the cross flow, which runs at low temperature. Ideally suited for both the period of building muscle mass and reducing body fat.
2,5
Scoops
1 serving = 2,5 scoops
1800 g in the package
The product contains 60 servings
1 serving = 30 g
OstroVit Whey Protein Isolate
OstroVit Whey protein isolate is a supplement that contains 90% easily digestible animal protein and a model profile of amino acids which are necessary to build muscle mass. It is characterized by a small amount of fat, lactose and carbohydrates.
The supplement is obtained by microfilitration of the cross flow, which runs at low temperature. As a result, there is no denaturation of active ingredients. Due to the high bioavailability and the highest nutritional value, whey protein isolate effectively accelerates the building of lean body mass. It stimulates the growth and regeneration of muscle fibers. In addition, it works anti-catabolic - prevents muscle breakdown. It is an excellent supplement used both before and after physical exertion. In addition, it strengthens the body's immunity and supports the regeneration process.
The use of the preparation is effective during weight reduction, because it stimulates the burning of fat, especially the one located in the abdominal area. It is also an effective supplement to the protein needs during the use of low-calorie diets. Whey protein isolate is considered to be the basis of every athlete's diet. It is recommended especially in strength sports, bodybuilding and fitness.
Properties:
High content of protein
Low amount of carbohydrates and fat
Works anabolically - it helps to build pure muscle mass
Works anti-catabolic - prevents muscle breakdown
Accelerates post-workout muscle recovery
Suitable for all sports
Recommended during the period of building muscle mass
Suggested usage
Add 30 g (2.5 scoops) in 200 ml of skim milk or water. Consume 1-2 times a day depending on your needs.
Do not exceed the recommended daily dose for consumption. Dietary supplement can not be used as a substitute (replacement) of a varied diet. A balanced diet and a healthy lifestyle are recommended. Do not eat if you are allergic to any of the ingredients in the product. The product should not be used by children, pregnant women and nursing mothers. Keep out of reach of small children.
Nutritional information
Ingredients
Whey protein isolate from milk [contains lecithins (1); soy lecithins (2)].
Dietary supplement powder. Depending on the type of lecithin used, symbol 1-2.
The product may contain soy, peanuts, other nuts, sesame seeds, cereals containing gluten, eggs, shellfish, fish.
Nutrition Facts
| Nutritional value | Per serving 30 g | Per serving 60 g | in 100 g |
| --- | --- | --- | --- |
| Energy | 466 kJ/110 kcal | 932 kJ/220 kcal | 1553 kJ/366 kcal |
| Fat | 0.3 g | 0.6 g | 1.0 g |
| - of which saturated fatty acids | 0.2 g | 0.4 g | 0.6 g |
| Carbohydrates | 0.4 g | 0.7 g  | 1.2 g |
| - of which sugars | 0.4 g | 0.7 g | 1.2 g |
| Protein | 26 g | 53 g | 88 g |
| Salt | 0.15 g | 0.30 g  | 0.49 g |
Product reviews
0
opinion
Questions and Answers
Add a question about this product