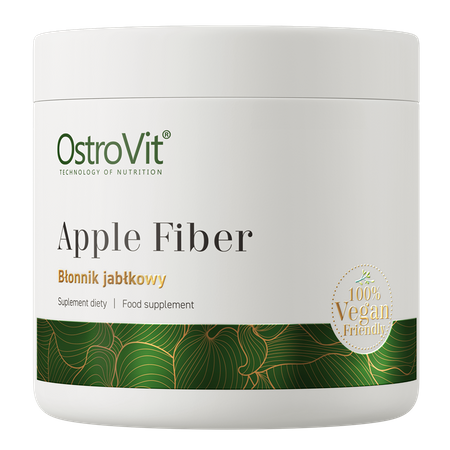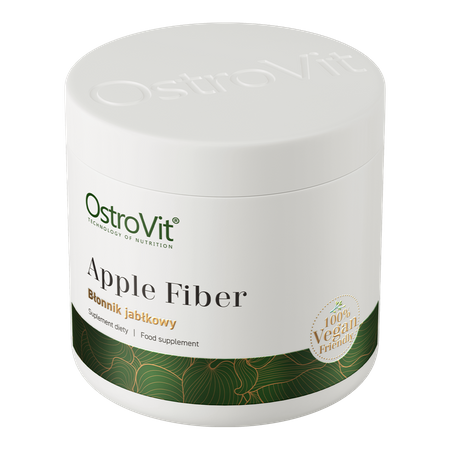 OstroVit Apple Fiber VEGE 200 g
1,85 €
OstroVit Apple Fiber VEGE 200 g
OstroVit Apple Fiber VEGE is a plant-based dietary supplement in the form of pure apple fiber from natural and carefully selected apple fibers. The product has a pleasant apple aroma, and thanks to its powder form, supplying diet with fiber has never been so simple. Are you looking for a natural supplement to foster your peristaltic motion and remove toxins from your organism? All you need to do is add OstroVit Apple Fiber VEGE to your favorite drink, yogurt or porridge.

What is OstroVit Apple Fiber VEGE dietary supplement?
OstroVit Apple Fiber VEGE is a powdered apple fiber of natural origin. The dietary supplement is recommended particularly to persons who wish to stay healthy, who deal with excess weight or obesity, or who suffer from defecation issues. A long-term fiber deficiency may lead to emergence of various dangerous diseases, including atherosclerotic disease, coronary artery disease or even tumor.
The apple fiber is not water-soluble and expands fast when contacting liquids. One package contains 40 portions. OstroVit Apple Fiber VEGE will be effective especially when you want to do the following:
assure proper peristaltic motion
lose weight
defecate easier
improve cholesterol and blood sugar levels
eliminate inflammations
reduce toxins in your organism
Properties:
Aside from improving everyday life comfort, the apple fiber plays an important role in preventing digestive system diseases. Contrary to popular belief, it is recommended not only to persons on a diet but all those who lead a healthy lifestyle and wish to take valuable and natural nutrients.
Major features of the supplement:
EFFECTIVE ON DAILY USE - If used regularly, only two small portions of the supplement a day may substantially improve peristaltic motion, facilitate defecation, help you lower cholesterol level and reduce toxins in the organism.
PERFECT FOR PERSONS ON A DIET - After use, the apple fiber absorbs water and expands in the stomach. This way it weakens hunger and satiates your appetite. It makes smaller amounts of food satisfy your hunger so that you do not overeat.
CONVENIENT USE - The powdered apple fiber can be consumed along with water, juice or yogurt. You can also add it to juice cocktail, smoothie or porridge, thus enriching their nutritional value.
INTENDED FOR VEGANS - OstroVit Apple Fiber VEGE is a natural line of plant-based supplements and can be used to supplement vegan's or vegetarian's diet. The product contains no animal ingredients.
Suggested usage
Mix 1 scoop of fiber in 100 - 150 ml of water or juice. Wash down with an extra glass of water. The product can also be added to oatmeal, smoothies or yoghurt. Consume twice a day, 30 minutes before a meal.
Do not exceed the recommended daily dose. Do not use the product as a substitute (replacement) for a varied diet. Do not ingest if you are allergic to any of the ingredients. Children, pregnant or nursing woman must not take the product. Keep out of the reach of children.
Nutritional information
Ingredients
Apple fiber
Product may contain milk (including lactose), soybeans, peanuts, other nuts, sesame seeds, oat, eggs, crustaceans, fish.
Nutrition Facts
| Nutritional values | 5 g (1 portion) | % RI* | 10 g (2 portions) | % RI* | Per 100 g |
| --- | --- | --- | --- | --- | --- |
| Energy | 55 kJ / 13 kcal | 1 | 111 kJ / 27 kcal | 1 | 1105 kJ / 268 kcal |
| Fat | 0.2 g | - | 0.3 g | - | 3.2 g |
| - of which saturated fatty acids | 0 g | - | 0.1 g | 1 | 0.6 g |
| Carbohydrate | 1.2 g | - | 2.4 g | 1 | 24 g |
| - of which sugars | 0.7 g | 1 | 1.4 g | 2 | 13.7 g |
| Fiber | 3.0 g | - | 6.0 g | - | 60 g |
| Protein | 0.3 g | 1 | 0.6 g | 1 | 5.8 g |
| Salt | 0 g | - | 0 g | - | 0 g |
| Active ingredients | 5 g (1 portion) | % RI* | 10 g (2 portions) | % RI* | Per 100 g |
| Apple fiber | 5 g | - | 10 g | - | 100 g |
*RI- Reference intake
Product reviews
0
opinion
Questions and Answers
Add a question about this product