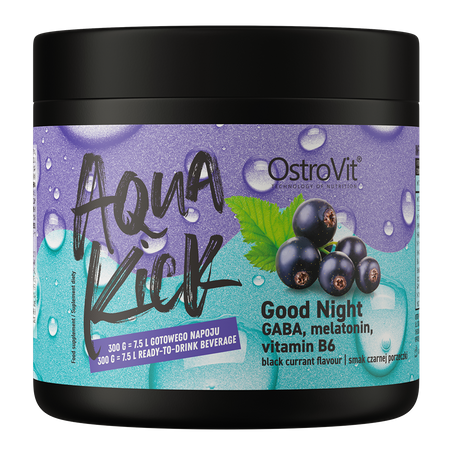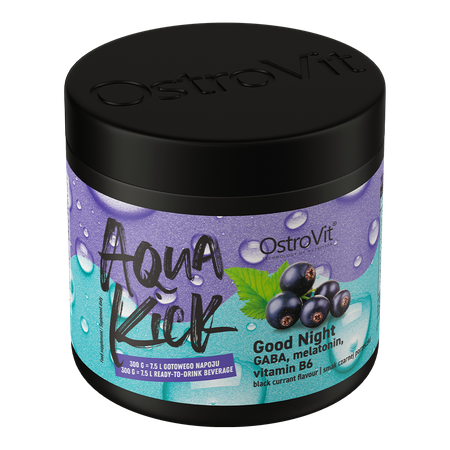 OstroVit Aqua Kick Good Night 300 g
6,39 €
OstroVit Aqua Kick Good Night 300 g
OstroVit Aqua Kick Good Night is a dietary supplement which assures healthy and strong sleep. Thanks to a unique combination of GABA neurotransmitter, vitamin B6 and melatonin, the product reduces excitability of neurons in the evening and eventually calms you down, helps you fall asleep and prevents wake-ups at night. If you need a lot of time to fall asleep, often wake up at night or feel sleepy all the time, try Aqua Kick Good Night available in a refreshing black currant flavor.

What is Aqua Kick Good Night?
Good Night dietary supplement from Aqua Kick series is a very effective mixture of active ingredients responsible for peaceful night's sleep. GABA and melatonin together with vitamin B6 regulate circadian rhythm by suitable reduction of neurons activity. Aside from improved quality of everyday sleep, these substances also demonstrate relaxing properties.
The combination of as many as three ingredients for a healthy sleep in one product is a guarantee of maximum efficacy of the supplement. Choose Aqua Kick Good Night if you:
have difficulties in falling asleep
often wake up at night
think too much before going to sleep
always feel sleepy
sleep for a very short time
have nightmares
are anxious at night
Properties:
Aqua Kick Good Night is a simple way to fall asleep fast and get some rest at night. All you need to do is solve the content of the portion in a glass of water and drink the ready mixture half an hour before you go to bed.
Major features of the supplement:
CIRCADIAN RHYTHM REGULATION - Thanks to Aqua Kick Good Night, you can eliminate sleeping difficulties and sleep better, and eventually get more energy for another day.
RELAXING IMPACT - Gamma-aminobutyric acid, included in the supplement, has relaxing properties. It successfully soothes nerves and calms down. Check this out if you happen to get anxious or get into a panic at night.
REFRESHING TASTE - When solved in water, the supplement takes a form of a refreshing black currant-flavored drink. The solution has a minor number of calories, thus does not overload you directly before going to sleep.
INSTANT EFFECT - The supplement in the form of a powder starts its action very quickly, so you only need to drink the product half an hour before going to bed.
Active ingredients of OstroVit Aqua Kick Good Night
Aqua Kick Good Night improve general quality of sleep and guarantee peaceful night's sleep. Check properties of particular active ingredients of the product:
Gamma-aminobutyric acid - It reduces neurons excitability and in effect calms down and eliminates phobias. It improves quality of sleep and supports relaxation of muscle cells.
Vitamin B6 - It supports nervous system and psychological functions. It is useful for persons who have nightmares.
Melatonin - It regulates the circadian rhythm and improves quality of sleep. It diminishes problems related to insomnia and frequency of night wake-ups. It helps in case of jet lag.
Suggested usage
Dissolve a single serving of the product 10 g (1.5 scoop) in 250 ml of water. Consume 30 minutes before bedtime.
Do not exceed the recommended daily dose. Do not use the product as a substitute (replacement) for a varied diet. Recommended are balanced diet and healthy lifestyle. Do not ingest if you are allergic to any of the ingredients. Children, pregnant or nursing woman must not take the product. The product is intended for adults. Keep out of the reach of children.
Do not use while driving or operating machinery, do not combine with alcohol consumption and with other drugs, including herbal remedies.
Nutritional information
Ingredients
Maltodextrin, acidity regulator: citric acid; aroma, gamma-aminobutyric acid (GABA), black carrot powder concentrate, acidity regulator: malic acid; sweeteners: sucralose, acesulfame K; anti-caking agent: silicon dioxide; pyridoxine hydrochloride (vitamin B6), melatonin.
Product may contain milk (including lactose), soy, peanuts, other nuts, sesame seeds, cereals containing gluten, eggs, crustaceans, fish.
Nutrition Facts
| Nutritional values | 10 g powder | % RI* | 100 ml liquid |
| --- | --- | --- | --- |
| Energy value | 115 kJ / 27 kcal | - | 44 kJ / 10 kcal |
| Fat | 0 g | - | 0 g |
| - of which saturated fatty acids | 0 g | - | 0 g |
| Carbohydrates | 6.7 g | - | 2.6 g |
| - of which sugars | 1.5 g | - | 0.6 g |
| Protein | 0 g | - | 0 g |
| Salt | 0 g | - | 0 g |
| Active ingredients | 10 g powder | % RI* | 100 ml liquid |
| Gamma-amino butyric acid | 500 mg | - | 192.3 mg |
| Vitamin B6 | 2.8 mg | 200 | 1.1 mg |
| Melatonin | 1 mg | - | 0.4 mg |
*RI- Reference intake
Product reviews
0
opinion
Questions and Answers
Add a question about this product