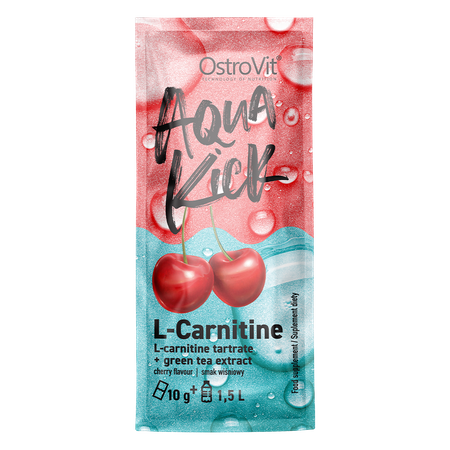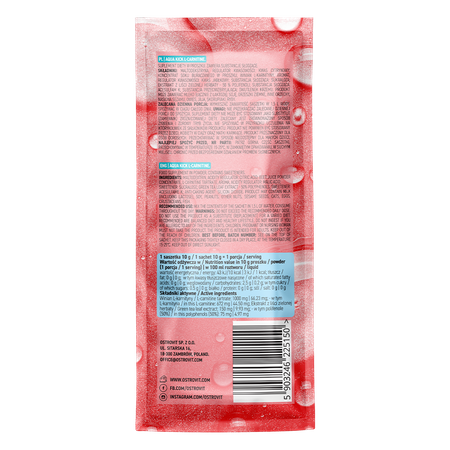 OstroVit Aqua Kick L-Carnitine 10 g
OstroVit Aqua Kick L-Carnitine 10 g
OstroVit Aqua Kick L-Carnitine is a combination of two ingredients which support fatty tissue burning, and more precisely L-carnitine tartrate and green tea leaves extract standardized for 50% of polyphenols. Amazing sour cherry flavor of the supplement may easily replace sweet drinks.

Why is it worth consuming OstroVit Aqua Kick L-Carnitine?
OstroVit Aqua Kick L-Carnitine is something more than just another weight loss supplement. Its innovative powdered form to be solved in a large amount of water lets you get two benefits at a time. First of all you supply your organism with reliable substances which assure expected results faster. Secondly, you raise the amount of liquids you drink a day, which not only saturates your organism with water but also helps you feel satiated and allows you to remove toxins.
Properties:
MOBILIZATION TO DRINK WATER - We advise you to mix it with 1,5 liters of water to increase hydration of your organism.
SWEETNESS WITHOUT CALORIES - Do not worry about calories! A daily portion of OstroVit Aqua Kick L-Carnitine supplement contains only 10 kcal.
FAST PREPARATION - As it comes as a handy sachet, you can keep the supplement with you at all times. Just add it to the bottle of your favorite water and done!
Active ingredients of the supplement
The use of highly bioactive form of L-carnitine and green tea extract standardized for content of polyphenols guarantees effectiveness of the supplement. Check properties of these two ingredients:
L-carnitine - It supports proper operation of liver, regulates blood sugar level and raises HDL healthy cholesterol level, simultaneously lowering the total cholesterol. It boosts muscle mass and lowers fatigue.
Green tea leaves extract - It leads to lower fatty tissue and sugar blood on empty stomach. It raises sensitivity to insulin, contributes to reduction of LDL unhealthy cholesterol and supports blood flow.
The product has strong hygroscopic properties (strongly absorbs moisture). Formation of lumps or uniform (lumpy) consistency is not a sign of product properties loss. In such case the product should be ground again.
Suggested usage
Mix the contents of the sachet in 1500 ml of water. Consume throughout the day.
Do not exceed the recommended daily dose. Do not use the product as a substitute (replacement) for a varied diet. Recommended are balanced diet and healthy lifestyle. Do not ingest if you are allergic to any of the ingredients. Children, pregnant or nursing woman must not take the product. The product is intended for adults. Keep out of the reach of children.
Nutritional information
Ingredients
Maltodextrin, acidity regulator: citric acid; beet juice powder concentrate, L-carnitine tartrate, aroma, acidity regulator: malic acid; sweetener: sucralose; green tea leaf extract - 50% polyphenols; sweetener: acesulfame K; anti-caking agent: silicon dioxide.
Product may contain milk (including lactose), soy, peanuts, other nuts, sesame seeds, oats, eggs, crustaceans, fish.
Nutrition Facts
| Nutritional values | 10 g powder | 100 ml liquid |
| --- | --- | --- |
| Energy value | 43 kJ / 10 kcal | 3 kJ / 1 kcal |
| Fat | 0 g | 0 g |
| - of which saturated fatty acids | 0 g | 0 g |
| Carbohydrates | 2.5 g | 0.2 g |
| - of which sugars | 0.5 g | 0 g |
| Protein | 0 g | 0 g |
| Salt | 0 g | 0 g |
| Active ingredients | 10 g powder | 100 ml liquid |
| L-carnitine tartrate | 1000 mg | 66.23 mg |
| - in this L-carnitine | 672 mg | 44.50 mg |
| Green tea leaf exctract | 150 mg | 9.93 mg |
| - in this polyphenols (50%) | 75 mg | 4.97 mg |
Product reviews
0
opinion
Questions and Answers
Add a question about this product