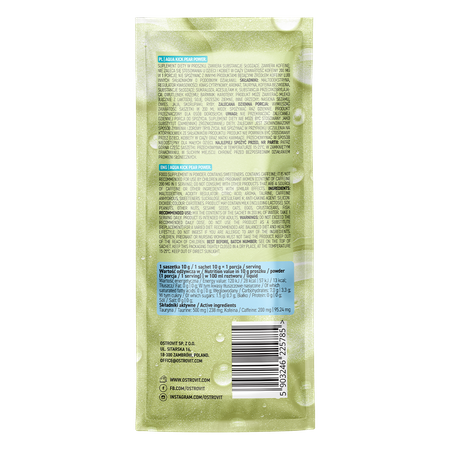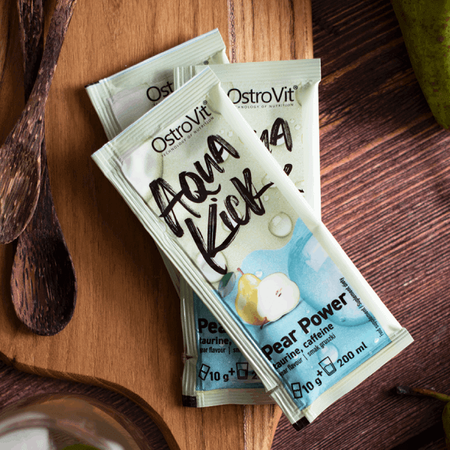 OstroVit Aqua Kick Pear Power 10 g
0,33 €
OstroVit Aqua Kick Pear Power 10 g
OstroVit Aqua Kick Pear Power est un complément alimentaire moderne, grâce aux ingrédients du complément vous aurez plus de force. Grâce à l'association de deux principes actifs - taurine et caféine - vous obtiendrez non seulement un regain d'énergie, mais aussi une récupération plus rapide./p>

Suplement diety Pear Power z serii Aqua Kick to jeden z najszybszych i najprostszych sposobów, w jakie możesz dodać sobie energii przed treningiem lub zwiększoną aktywnością. Po prostu zamieszaj zawartość saszetki z 200 ml wody i ciesz się praktycznie natychmiastowymi efektami.
Dlaczego warto stosować OstroVit Aqua Kick Pear Power?
OstroVit Aqua Kick Pear Power to energetyzująca mieszanka tauryny oraz kofeiny, dzięki której zwiększysz swoją siłę i motywację, a także przyspieszysz regenerację po treningu. Aqua Kick Pear Power sprawdzi się jako zamiennik kawy oraz energetyków.
Zawarte w suplemencie substancje aktywne przyspieszają reakcje organizmu, zwiększają refleks, a także poprawiają koordynację ruchową. Wszystkie te właściwości są niezwykle istotne w przypadku, gdy zależy Ci na lepszych rezultatach w sporcie.
Właściwości:
OPTYMALNE POBUDZENIE - Zawarta w suplemencie diety kofeina dodaje energii do działania. Z kolei tauryna przedłuża ten efekt i zapobiega nadmiernemu pobudzeniu, które często występuje po spożyciu kawy.
WIĘKSZA SIŁA - Składniki aktywne suplementu zwiększają motywację, a także pozwalają na osiąganie coraz lepszych rezultatów.
LEPSZA REGENERACJA - Tauryna ma silne właściwości regeneracyjne. Chroni przed katabolizmem, a także dostarcza mięśniom niezbędne składniki odżywcze.
SZYBKIE PRZYGOTOWANIE - Dzięki saszetkom Aqua Kick Pear Power w zaledwie kilka sekund przygotujesz owocowy napój, który pozwoli Ci wyzwolić energię i odnaleźć motywację.
Składniki aktywne OstroVit Aqua Kick Pear Power
TAURYNA -Wspiera regenerację mięśni po wysiłku fizycznym, a także chroni je przed stresem oksydacyjnym. Przyspiesza metabolizm oraz redukcję tkanki tłuszczowej. Pobudza aktywność mózgu.
KOFEINA - Stymuluje działanie układu nerwowego, pobudza oraz przyspiesza metabolizm. Poprawia samopoczucie, zmniejsza zmęczenie, a także pozwala osiągnąć lepsze rezultaty podczas ćwiczeń.
Produkt wykazuje silne właściwości higroskopijne (silnie pochłania wilgoć). Tworzenie się zbryleń bądź jednolitej (zbitej) konsystencji nie jest oznaką utraty właściwości produktu. W takim przypadku należy rozdrobnić produkt na nowo.
Jakość potwierdzona laboratoryjnie
W trosce o zdrowie naszych klientów, produkty przez nas wytwarzane poddawane są regularnym badaniom w niezależnym akredytowanym laboratorium, w celu zapewnienia i utrzymania najwyższej jakości.






Suggested usage
Mix the contents of the sachet in 200 ml of water. Take 1 serving daily. Product is intended for adults.
Do not exceed the recommended daily dose. Do not use the product as a substitute (replacement) for a varied diet. Recommended are balanced diet and healthy lifestyle. Do not ingest if you are allergic to any of the ingredients. Children, pregnant or nursing woman must not take the product. Keep out of the reach of children.
Nutritional information
Ingredients
Maltodextrin, acidity regulator: citric acid; aroma, taurine, caffeine anhydrous, sweeteners: sucralose, acesulfame K; anti-caking agent: silicon dioxide; colour: carotenes.
Product may contain milk (including lactose), soy, peanuts, other nuts, sesame seeds, oats, eggs, crustaceans, fish.
Nutrition Facts
| Nutritional values | 10 g powder | 100 ml liquid |
| --- | --- | --- |
| Energy value | 120 kJ / 28/ kcal | 57 kJ / 13 kcal |
| Fat | 0 g | 0 g |
| - of which saturated fatty acids | 0 g | 0 g |
| Carbohydrates | 7.0 g | 3.3 g |
| - of which sugars | 1.5 g | 0.7 g |
| Protein | 0 g | 0 g |
| Salt | 0 g | 0 g |
| Active ingredients | 10 g powder | 100 ml liquid |
| Taurine | 500 mg | 238 mg |
| Caffeine | 200 mg | 95.24 mg |
Product reviews
0
opinion
Questions and Answers
Add a question about this product