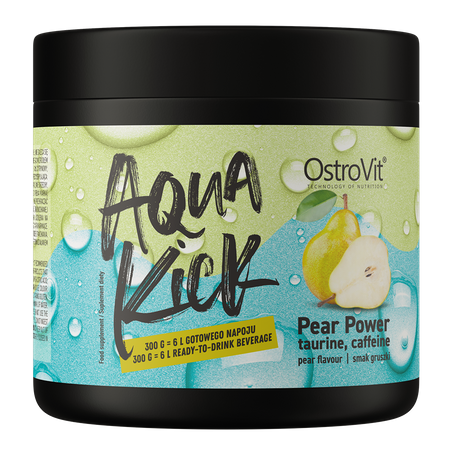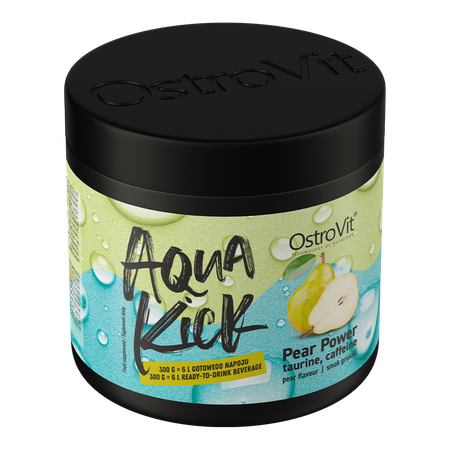 OstroVit Aqua Kick Pear Power 300 g
6,40 €
OstroVit Aqua Kick Pear Power 300 g
OstroVit Aqua Kick Pear Power is a modern dietary supplement intended to provide you with more power. Thanks to combination of two active ingredients - taurine and caffeine - not only do you get more energetic, but you can also recover quicker. Due to its regenerating and metabolism-supporting properties, Pear Power supplement is recommended mainly to physically active persons. Would you like to improve your results in sport or need extra power? Try our energizing juicy pear-flavored dietary supplement.

Why to use OstroVit Aqua Kick Pear Power?
OstroVit Aqua Kick Pear Power is an energizing mixture of taurine and caffeine which can help you get stronger and more motivated as well as boost post-workout regeneration. Shortly after use, the supplement will make you stimulated and willing to act. Aqua Kick Pear Power will be a perfect replacement to coffee and energy drinks.
Active substances which are included in the supplement boost your reactions, improve your reflex as well as support motor coordination. All these properties are highly important if you wish to perform better in sport. Test OstroVit Aqua Kick Pear Power if you:
wish to have more motivation and energy to act
perform better in sport
delay getting tired
regenerate faster
be in a better mood
improve functions of your organism
Properties:
Pear Power dietary supplement from Aqua Kick series is one of the fastest and simplest ways of getting full of energy before workout or intensive activities. Simply mix 10 g of powder with 200 ml of water and enjoy virtually instant results.
Major features of the supplement:
OPTIMAL STIMULATION - Caffeine included in the supplement gives you energy to act. In turn, taurine prolongs this effect and prevents extensive arousal, which is often the case after drinking coffee.
MORE POWER - Active ingredients of the supplement boost motivation as well as let you achieve better results. With Aqua Kick Pear Power, you can beat your own records easier!
BETTER REGENERATION - Taurine has strong regenerating properties. It secures you against catabolism and supplies your muscles with required nutrients.
FAST PREPARATION - Thanks to Aqua Kick Pear Power, you can prepare the fruity drink in just a couple of seconds and in effect get energetic and motivated to act.
Active ingredients of OstroVit Aqua Kick Pear Power
Aqua Kick PEAR ROWER is an effective combination of two active ingredients. Check their properties:
Taurine - It supports muscle regeneration after physical effort as well as secures them against oxidative stress. It boosts metabolism and reduces fatty tissue. Also, brain activity is stimulated.
Caffeine - It stimulates nervous system and boosts metabolism. It improves your mood, reduces tiredness, as well as lets you get better results when exercising.
The product has strong hygroscopic properties (strongly absorbs moisture). Formation of lumps or uniform (lumpy) consistency is not a sign of product properties loss. In such case the product should be ground again.
Suggested usage
Dissolve a single serving of the product 10 g (1 full scoop) in 200 ml of water. Take 1 serving daily. Product is intended for adults.
Do not exceed the recommended daily dose. Do not use the product as a substitute (replacement) for a varied diet. Recommended are balanced diet and healthy lifestyle. Do not ingest if you are allergic to any of the ingredients. Children, pregnant or nursing woman must not take the product. Keep out of the reach of children.
Nutritional information
Ingredients
Maltodextrin, acidity regulator: citric acid; aroma, taurine, caffeine anhydrous, sweeteners: sucralose, acesulfame K; anti-caking agent: silicon dioxide; colour: carotenes.
Product may contain milk (including lactose), soy, peanuts, other nuts, sesame seeds, cereals containing gluten, eggs, crustaceans, fish.
Nutrition Facts
| Nutritional values | 10 g powder | 100 ml liquid |
| --- | --- | --- |
| Energy value | 120 kJ / 28/ kcal | 57 kJ / 13 kcal |
| Fat | 0 g | 0 g |
| - of which saturated fatty acids | 0 g | 0 g |
| Carbohydrates | 7.0 g | 3.3 g |
| - of which sugars | 1.5 g | 0.7 g |
| Protein | 0 g | 0 g |
| Salt | 0 g | 0 g |
| Active ingredients | 10 g powder | 100 ml liquid |
| Taurine | 500 mg | 238 mg |
| Caffeine | 200 mg | 95.24 mg |
Product reviews
0
opinion
Questions and Answers
Add a question about this product