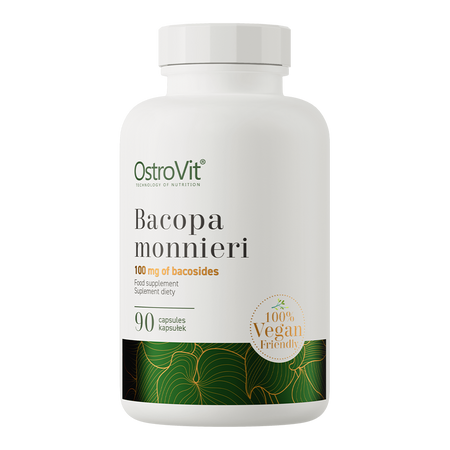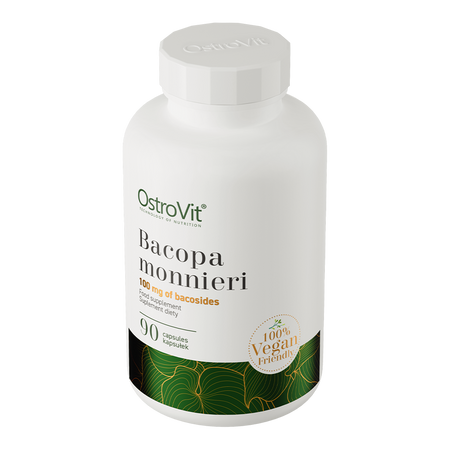 OstroVit Bacopa Monnieri 90 tabs
3,51 €
OstroVit Bacopa Monnieri 90 tabs
OstroVit Bacopa Monnieri is a diet supplement in tablets containing extract from small-leaved backtod. Bacopa monnieri has been used for years in traditional Ayurveda, widely known and valued alongside Ashwagandha and Jatamansi. The supplement is traditionally used in various ailments, but its main application is states of increased mental effort, improvement of memory as well as concentration.Pure "supplementation for your brain"!

90 servings in the package
1 tablet a day
200 mg of extract in one tablet
50% of the bacosides!>
OstroVit Bacopa Monnieri
Bacopa monnieri is a nootropic herb that has been used in traditional Ayurvedic medicine for many years, mainly due to the beliefs of longevity and improvement of cognitive functions. Today thanks to highly developed science and careful medical research, we know the benefits of Bacopa supplementation. It can contribute to reducing anxiety, depressive states and improving memory. It can be used as an antioxidant by eliminating reactive oxygen species, acting as a "scavenger" adversely affecting our body's free radicals. Small-leaved Bacopa can help fight heart and circulatory diseases by lowering blood pressure and reducing cholesterol.
Properties:
As an adaptogen, it helps adapt the body to adverse conditions (stressful situations, increased mental effort)
Supports memory processes that have a positive effect on the nervous system
Has pro-cognitive activity (improvement of memory, concentration and focus)
A great antioxidant that protects us against free radicals
Ideally suited to fight heart disease
Has a beneficial effect on reducing cholesterol (LDL fraction)
Suggested usage
Consume 1 serving (1 tablet) per day during a meal containing fats.
Do not exceed the recommended daily dose for consumption. Dietary supplement can not be used as a substitute (replacement) of a varied diet. A balanced diet and a healthy lifestyle are recommended. Do not eat if you are allergic to any of the ingredients in the product. The product should not be used by children, pregnant women and nursing mothers. Keep out of reach of small children.
Nutritional information
Ingredients
Bulking agent: microcrystalline cellulose; bulking agent: microcrystalline cellulose; whole plant bacopa monnieri extract (Bacopa monnieri (L.) Wettst.) standardized on 50% of bacosides, starch, anticaking agents: magnesium salts of fatty acids, silicon dioxide.
Product may contain milk (including lactose), soy, nuts, other nuts, sesame seeds, cereals containing gluten, eggs, celery, mustard, crustaceans, fish.
Nutrition Facts
| Active ingredients | Per portion |
| --- | --- |
| Extract from small-leaved bacopa | 200 mg |
| - including bacosides (50%) | 100 mg |
Product reviews
0
opinion
Questions and Answers
Add a question about this product