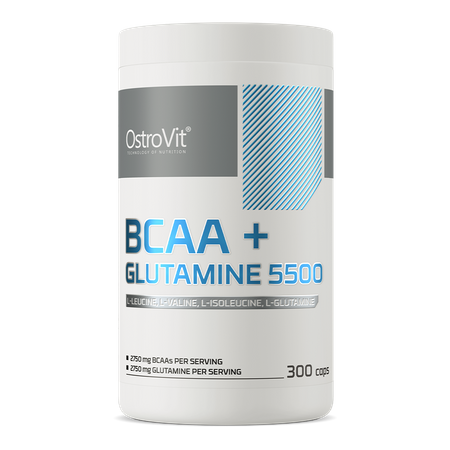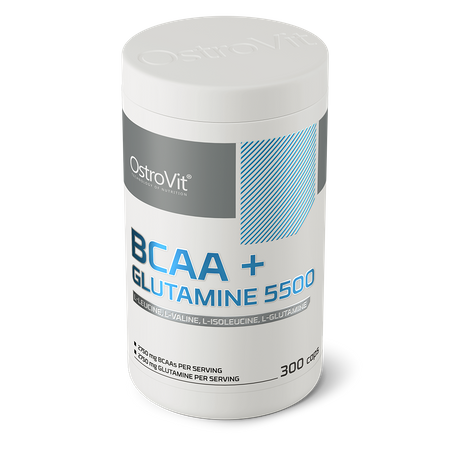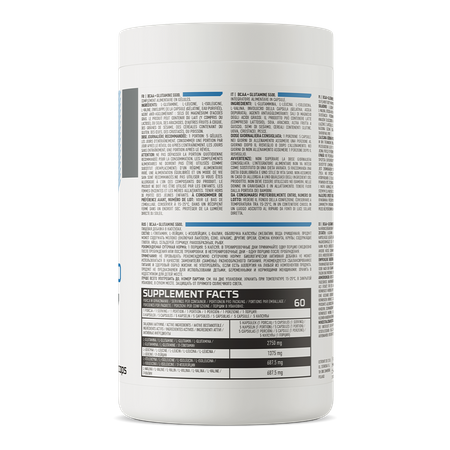 OstroVit BCAA + Glutamine 5500 mg 300 caps
14,81 €
OstroVit BCAA + Glutamine 5500 mg 300 caps
OstroVit BCAA + Glutamine 5500 mg is a top-class supplement in capsules dedicated to physically active people, consisting of three branched amino acids, which are: leucine, valine, isoleucine and extremely important glutamine. The supplement does not contain unnecessary clumpers, fillers and other additives, and its micronization is at the highest level. The ideal bioavailability and excellent solubility of the product were dictated by the high demands of consumers.


300 capsules in the package
The product contains 60 servings
BCAA content ratio - 2: 1: 1 (leucine, valine, isoleucine)
Product enriched with L-glutamine
BCAA - branched chain amino acids
BCAA (Branched Chains Amino Acids) are branched chain amino acids: leucine, valine and isoleucine. These compounds are so named because of the extensive side chain in their chemical structure. They belong to the group of exogenous amino acids, i.e. essential in our diet, because our body cannot produce them by itself. They are an inseparable element of the synthesis of most proteins, and over 30% of our muscles consist of BCAAs.
L-GLUTAMINE
L-glutamine is an organic chemical compound from the group of endogenous amino acids. It is characterized by many biological functions, such as a nitrogen transporter, acting as a precursor to the synthesis of glutathione or nucleotides. It is one of the substrates in the process of gluconeogenesis.
Properties:
They contribute to increasing muscle endurance
During their use, an increase in lipolysis, i.e. an increase in fatty acid oxidation, is observed - an ideal supplement for reducing body fat
Supplementation with BCAA and Glutamine reduces post-workout physical and mental fatigue
Many studies unanimously indicate the anti-catabolic effect (it has prevented the breakdown of proteins in the muscle tissue)
Using BCAA as a source of energy - allows us to save muscle glycogen
Proven performance regulating the work of neurotransmitters
The perfect remedy to improve the resynthesis of muscle glycogen
Suggested usage
1 serving: 5 capsules.
On training days, take one serving daily after waking up or after training. On non-workout days, one serving after waking up.
Do not exceed the recommended daily dose. Do not use the product as a substitute (replacement) for a varied diet. Recommended are balanced diet and healthy lifestyle. Do not ingest if you are allergic to any of the ingredients. Children, pregnant or nursing woman must not take the product. Keep out of the reach of  children.
Nutritional information
Ingredients
L-glutamine, L-leucine, L-izoleucine, L-valine, capsule shell (gelatin, purified water).
Product may contain milk (including lactose), soy, peanuts, other nuts, sesame seeds, oats, eggs, crustaceans, fish.
Nutrition Facts
| Active ingredients | 5 capsules (1 portion) | 10 capsules (2 portion) |
| --- | --- | --- |
| L-glutamine | 2750 mg | 5500 mg |
| L-leucine | 1375 mg | 2750 mg |
| L-isoleucine | 687.5 mg | 1375 mg |
| L-valine | 687.5 mg | 1375 mg |
Product reviews
0
opinion
Questions and Answers
Add a question about this product