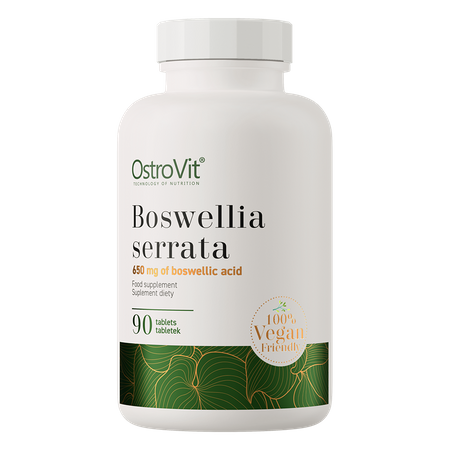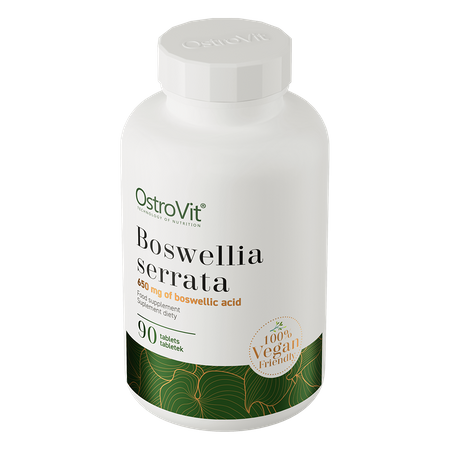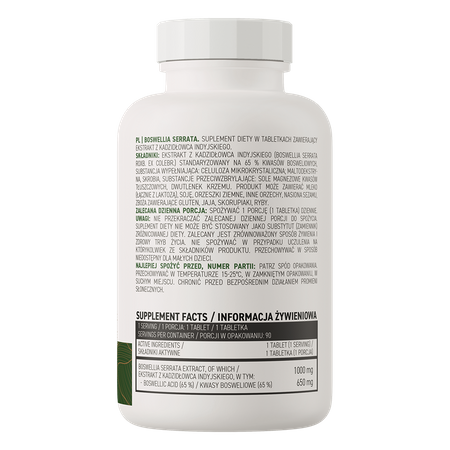 OstroVit Boswellia Serrata VEGE 90 tabs
OstroVit Boswellia Serrata VEGE 90 tabs
OstroVit Boswellia Serrata VEGE is a vegan dietary supplement which contains Boswellia serrata extract with 65% of boswellic acids. The product has been designed primarily for people who suffer from joint aches and injuries. The extract demonstrates anti-inflammatory and painkilling properties. It is also recommended for supporting proper operation of the stomach, bowels and respiratory system.

One package of the OstroVit Boswellia serrata VEGE dietary supplement contains 90 daily servings of Indian incense. One tablet is as much as 1000 mg of plant extract, including 650 mg of boswellic acids.
What is Boswellia serrata?
Boswellia serrata is a plant which naturally occurs in Indian Peninsula, in Pakistan and in north-eastern Africa. The Polish name frankincense comes from resin, generated by the tree, used to produce incenses. The extract shows a series of health-promoting properties, can soothe joint pain and inflammations, as well as improve muscle functions, may support the immune system, and secure the respiratory and digestive systems.
Properties of the ingredients contained in OstroVit Boswellia serrata VEGE:
SUPPORT TO ACTIVE PEOPLE - Boswellia serrata extract can increase density of bones and support muscles, thanks to which it is often used by physically active people.
HEALTHY JOINTS - Boswellic acids prove to counteract inflammations, have painkilling properties and antiarthritic impact. Regular use of the extract may raise their rigidness as well as reduce pain caused by degeneration.
POWER OF NATURE - Our dietary supplement makes use of the natural power of plants. The product is 100% vegan and remains free from animal-origin substances, which is often the case in joint supplements.
CONVENIENT FORM - The dietary supplement is available in the form of vegan pills. Each of them contains the same amount of active ingredient for considerable comfort of use.
Laboratory-proven quality
For the sake of the health of our customers, our products are regularly tested in an independent accredited laboratory in order to ensure and maintain the highest quality.
Laboratory-confirmed quality
For the sake of our customers' health, the products we manufacture are regularly tested in an independent accredited laboratory to ensure and maintain the highest quality.






Suggested usage
Take 1 serving (1 tablet) a day.
Do not exceed the recommended daily dose. Do not use the product as a substitute (replacement) for a varied diet. Recommended are balanced diet and healthy lifestyle. Do not ingest if you are allergic to any of the ingredients. Children, pregnant and nursing woman must not take the product. Keep out of the reach of children.
Nutritional information
Ingredients
Boswellia serrata extract (Boswellia serrata Roxb. ex Colebr) standardized on 65% of boswellic acid, bulking agent: microcrystalline cellulose; starch, anticaking agents: magnesium salts of fatty acids, silicon dioxide.
Product may contain milk (including lactose), soy, nuts, other nuts, sesame seeds, cereals containing gluten, eggs, crustaceans, fish.
Nutrition Facts
| Active ingredients | Per portion |
| --- | --- |
| Boswellia serrata extract | 1000 mg |
| - of which boswellic acid (65%) | 650 mg |
Product reviews
0
opinion
Questions and Answers
Add a question about this product