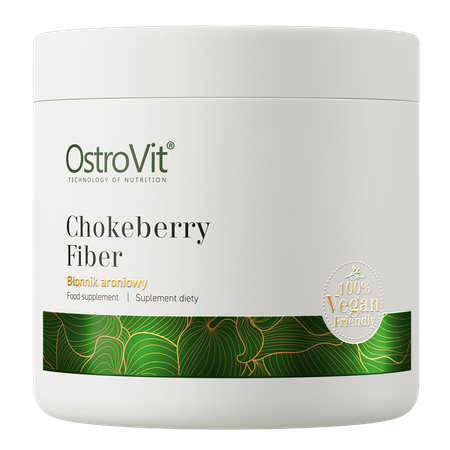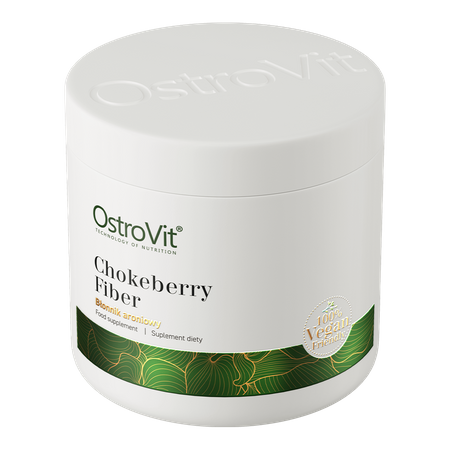 OstroVit Chokeberry Fiber VEGE 200 g
1,97 €
OstroVit Chokeberry Fiber VEGE 200 g
OstroVit Chokeberry Fiber VEGE is a product of modern line of plant supplements. Its composition includes a natural chokeberry fiber obtained from dry chokeberry pomace. The fiber is obtained in micronization during which carefully selected parts of the plant are subject to mechanical grinding, without any chemical additives. Thanks to this, the powder is easy to consume and quickly absorbs water. Are you looking for a natural supplement to fight your hunger and support operation of your digestive tract? Choose OstroVit Chokeberry Fiber VEGE.

Who is OstroVit Chokeberry Fiber VEGE intended for?
OstroVit Chokeberry Fiber VEGE is a dietary supplement fully composed of powdered chokeberry fiber. The product is recommended to persons who pay much attention to the quality of their foods. It will be a perfect choice for those who try to slim down and all others who value medicinal properties of natural substances.
A regular consumption of fiber brings a number of health-promoting benefits. It is not only about supporting your alimentary canal, but also preventing such diseases as atherosclerotic, coronary artery disease and tumors, OstroVit Chokeberry Fiber VEGE should be your choice especially when you:
look for an easy-to-consume fiber
have difficulties with proper peristaltic motion and defecation
wish to lose weight
want to lower your cholesterol or blood sugar levels
aim to reduce toxins in your organism
Propertie:
OstroVit Chokeberry Fiber VEGE can be used to enrich your everyday diet. You can easily dissolve the powder and add it to various products to consume.
Major features of the supplement:
WEALTH OF NUTRIENTS - thanks to micronization, chokeberry pomace retains a number of valuable nutrients, including anthocyans, phenolic acids, tannins and pectins. They are also rich in vitamins, particularly C and P, as well as such minerals as potassium, phosphorus, magnesium and iron.
PERFECT CONSISTENCY - fine-grained powder does not get stuck in the throat and, when combined with liquid, is easy to swallow. It has thickening properties, so the consistency of the mixture is highly smooth.
EASY TO CONSUME - chokeberry fiber will perform perfectly together with water, juice, yogurt, home-made cocktail or porridge. One package contains as many 40 portions of fiber, which are sufficient for 20 days, if used regularly.
VEGAN PRODUCT - OstroVit Chokeberry Fiber VEGE is a single-ingredient product. It does not contain any preservative, coloring, anti-caking agents or fillers. It is free from animal-origin ingredients, so it can be freely used to supplement the vegan diet.
Suggested usage
Mix 1 scoop of fiber in 100 - 150 ml of water or juice. Wash down with an extra glass of water. The product can also be added to oatmeal, smoothies or yoghurt. Consume twice a day, 30 minutes before a meal.
Do not exceed the recommended daily dose. Do not use the product as a substitute (replacement) for a varied diet. Do not ingest if you are allergic to any of the ingredients. Children, pregnant or nursing woman must not take the product. Keep out of the reach of children.
Nutritional information
Ingredients
Chokeberry fiber
Product may contain milk (including lactose), soybeans, peanuts, other nuts, sesame seeds, oat, eggs, crustaceans, fish.
Nutrition Facts
| Nutritional values | 5 g (1 portion) | % RI* | 10 g (2 portions) | % RI* | Per 100 g |
| --- | --- | --- | --- | --- | --- |
| Energy | 56 kJ / 14 kcal | 1 | 111 kJ / 27 kcal | - | 1111 kJ / 270 kcal |
| Fat | 0.2 g | - | 0.5 g | 1 | 4.5 g |
| - of which saturated fatty acids | 0 g | - | 0 g | - | 0.4 g |
| Carbohydrate | 0.9 g | - | 1.7 g | 1 | 17.4 g |
| - of which sugars | 0.8 g | 1 | 1.67 g | 2 | 16.7 g |
| Fiber | 3.1 g | - | 6.2 g | - | 62 g |
| Protein | 0.5 g | 1 | 0.9 g | 2 | 9.0 g |
| Salt | 0 g | - | 0 g | - | 0 g |
| Active ingredients | 5 g (1 portion) | % RI* | 10 g (2 portions) | % RI* | Per 100 g |
| Chokeberry fiber | 5 g | - | 10 g | - | 100 g |
*RI- Reference intake
Product reviews
0
opinion
Questions and Answers
Add a question about this product