OstroVit CLA 1000 150 caps - Limited Edition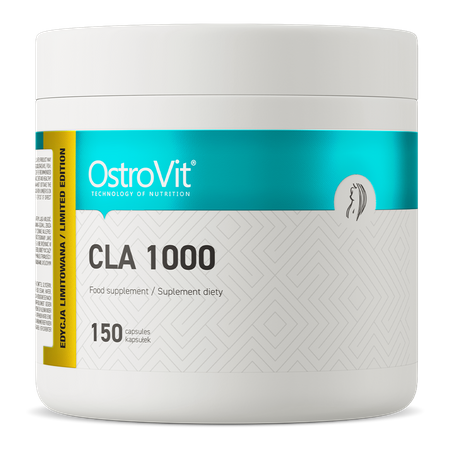 7,07 €
OstroVit CLA 1000 mg 150 capsules
OstroVit CLA 1000 mg is the highest quality dietary supplement containing conjugated linoleic acid CLA. CLA has a very positive effect on the human body. It shows an activity supporting the growth of lean muscle mass and helps to burn excessive fatty tissue.
1
Capsule
1 serving = 1 capsule
Contains 150 servings in the package
LIMITED EDITION
1 serving = 1 capsule
Easy to swallow capsules
Conjugated CLA linoleic acid
It has an effect supporting the growth of lean muscle mass and helps burn unnecessary fat tissue. CLA is a very strong antioxidant - it shows about 100 times more antioxidant activity than vitamin E, thanks to which it helps to inhibit the formation of free radicals and delays the aging of the body. In addition, CLA improves bone mineralization and has the ability to normalize the level of glucose in the blood.
Properties of the ingredients contained in OstroVit CLA:
Regulate cholesterol level
Contribute to the reduction of body fat
Improve bone mineralization
Has a bacteriostatic effect
May have antioxidant activity
Suggested usage
Consume 1 serving (1 capsule) 3 times a day, preferably after a meal.
 Do not exceed the recommended daily dose for consumption. Dietary supplement can not be used as a substitute (replacement) of a varied diet. A balanced diet and a healthy lifestyle are recommended. Do not eat if you are allergic to any of the ingredients in the product. The product should not be used by children, pregnant women and nursing mothers. Keep out of reach of small children.
Nutritional information
Ingredients
CLA conjugated linoleic acid ethyl ester, shell component: gelatin, humectant: glycerol; water.
The product may contain milk (including lactose), soy, peanuts, other nuts, sesame seeds, oats, eggs, fish crustaceans.
Nutrition Facts
| Active ingrdients | Per portion |
| --- | --- |
| Ethyl ether of conjugated linoleic Acid CLA |  1000 mg  |
| - of which CLA (80%) |  800 mg  |
Product reviews
0
opinion
Questions and Answers
Add a question about this product