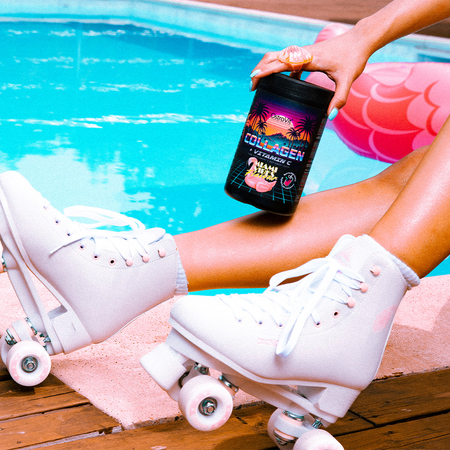 OstroVit Collagen + Vitamin C 400 g Miami Vibes
OstroVit Collagen + Vitamin C 400 g Miami Vibes
OstroVit Collagen + Vitamin C with Miami Vibes flavor is a high quality dietary supplement in powder form. The product is a source of hydrolyzed bovine collagen, which is distinguished by its better solubility than other forms of the compound, as well as exogenous vitamin C. Thus, the conditioner is recommended in particular among athletes who show increased demand for these ingredients.
Rich source of collagen - one portion of dietary supplement provides the body with up to 8700 mg of hydrolyzed bovine collagen.
High vitamin C content - one serving of the nutrient contains up to 500 mg of micronutrient.
No added sugar - the product contains low-calorie sweeteners such as sucralose and acesulfame K, which contribute to lowering the energy content of the diet.
Unique flavor composition - the product is distinguished by the aromatic taste of Miami Vibes.
Performance - one package of nutrients contains 40 servings of dietary supplement.
Convenient form - preparation of the product is quick and extremely easy.
OstroVit Collagen + Vitamin C with Miami Vibes - a valuable source of valuable substances
Collagen is a structural protein that is one of the most important compounds found in the human body. It is a natural polymer that is an essential component of all animal organisms - collagen can be found in bones, tendons, joints as well as skin. As we age, the amount of collagen fibers naturally decreases, and the body loses the ability to rebuild them. Then a good solution may be to provide the compound to the body with food or in the form of dietary supplements.
The substance used in OstroVit Collagen + Vitamin C with Miami Vibes flavor is hydrolyzed bovine collagen, which is more easily absorbed in the intestines and is distinguished by its better solubility than other forms of the compound.
The dietary supplement also contains significant amounts of vitamin C, a water-soluble micronutrient that helps in the proper production of collagen for the optimal functioning of blood vessels, bones, cartilage and gums, as well as teeth and skin. In addition, vitamin C supports the maintenance of normal energy metabolism and contributes to the reduction of feelings of fatigue and tiredness, and moreover, helps maintain optimal immune system function during and after intense exercise.
Suggested usage
Dissolve a single serving of the product 10 g (2 scoops) in 200 ml of water or juice in a shaker. Take 1 serving daily. The product is intended for adults.
Do not exceed the recommended daily dose. Do not use the product as a substitute (replacement) for a varied diet. Recommended are balanced diet and healthy lifestyle. Do not ingest if you are allergic to any of the ingredients. Children, pregnant or nursing women must not take the product. Keep out of the reach of children.
See the bottom of the packaging. Keep this packaging tightly closed in a dry place, at the temperature 15-25°C. Keep out of direct sunlight.
Nutritional information
Ingredients
Hydrolysed beef collagen, L-ascorbic acid (vitamin C), acidity regulator: citric acid; flavourings, beet juice concentrate in powder; sweeteners: sucralose, acesulfame K.
Product may contain milk (including lactose), soybeans, peanuts, other nuts, sesame seeds, cereals containing gluten, eggs, crustaceans, fish.
Nutrition Facts
| Active ingredients | 1 portion (10 g) | % RI* |
| --- | --- | --- |
| Hydrolysed beef collagen | 8 700 mg | - |
| Vitamin C | 3 280 mg | 625% |
*RI - Reference intakes
Product reviews
0
opinion
Questions and Answers
Add a question about this product