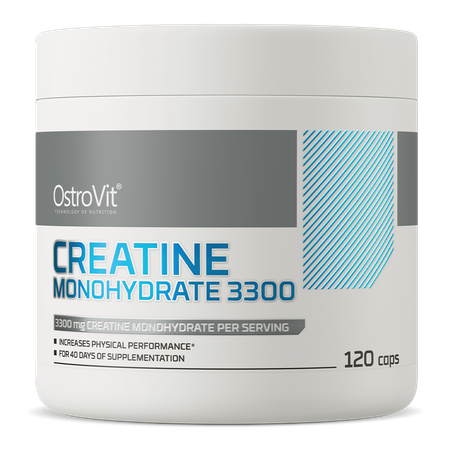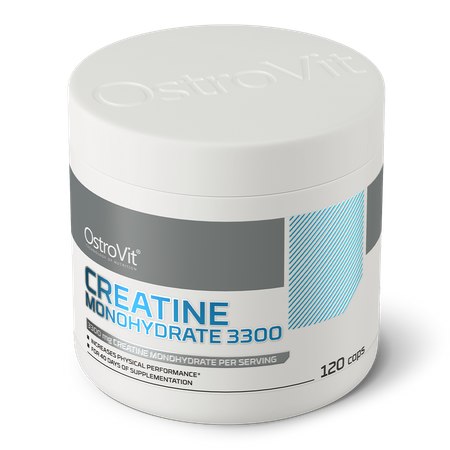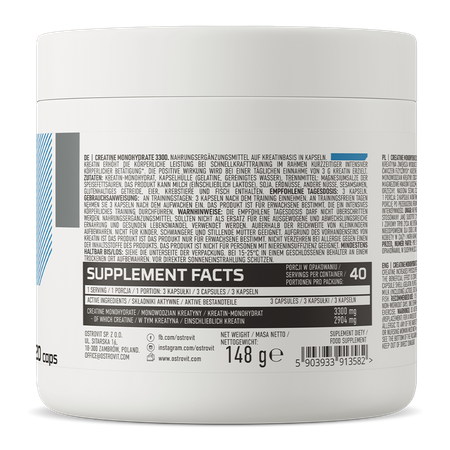 OstroVit Creatine Monohydrate 3300 mg 120 caps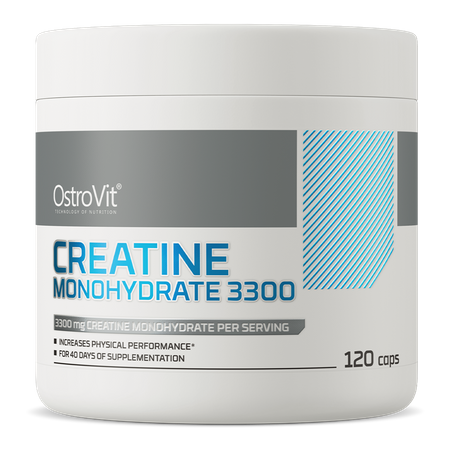 5,85 €
OstroVit Creatine Monohydrate 3300 mg 120 capsules
OstroVit Creatine Monohydrate 3300 mg is a high-quality dietary supplement, which is a valuable source of creatine in the form of monohydrate. It is a preparation available in the form of easy-to-swallow capsules, created for athletes and physically active people.
3
CAPSULES
1 serving = 3 capsules
A source of creatine - One portion of the dietary supplement provides the body with 3300 mg of creatine monohydrate.
1 serving = 3 capsules.
Efficiency - The product packaging contains 40 servings of the preparation, which is enough for over a month of regular supplementation.
Convenient form - The preparation available in the form of easy-to-swallow capsules ensures a trouble-free supply of the dietary supplement.
OstroVit Creatine Monohydrate 3300 mg - the highest quality creatine monohydrate
Creatine is a chemical compound that occurs naturally in the human body. The substance is also delivered to the body along with the daily menu - Creatine can be found in animal products, incl. meat, fish or eggs, as well as in the form of dietary supplements.
OstroVit preparation uses creatine monohydrate, i.e. a combination of a creatine molecule with a water molecule into one molecule - because creatine is a hydrophilic compound, it easily combines with water and thus is a substance, which is distinguished by great bioavailability.
Creatine monohydrate is the simplest form of creatine in terms of structure and at the same time the compound that enjoys the greatest popularity among athletes - It will be perfect for both beginners and active lifestyle enthusiasts, as well as among professionals, which results from the fact that creatine increases physical performance in the case of successive short, very intense physical exercises and beneficial effect occurs when consuming 3 g of creatine per day.
Suggested usage
1 serving: 3 capsules. On training days, take one serving daily after training. On non-workout days, one serving after waking up. The product is designed for adults engaged in high-intensity exercise.
Do not exceed the recommended daily dose. Do not use the product as a substitute (replacement) for a varied diet. Recommended are balanced diet and healthy lifestyle. Do not ingest if you are allergic to any of the ingredients. Not suitable for people with impaired renal function. Children, pregnant or nursing women must not take the product. Keep out of the reach of children. Keep this packaging tightly closed in a dry place, at a temperature of 15-25°C. Keep out of direct sunlight.
Nutritional information
Ingredients
Creatine monohydrate, capsule shell (gelatin, purified water), anti-caking agent: magnesium salts of fatty acids.
Product may contain milk (including lactose), soy, peanuts, other nuts, sesame seeds, cereals containing gluten, eggs, crustaceans, fish.
Nutrition Facts
| Active ingredients | Per portion |
| --- | --- |
| Creatine monohydrate | 3300 mg |
| - of which creatine | 2904 mg |
Product reviews
0
opinion
Questions and Answers
Add a question about this product