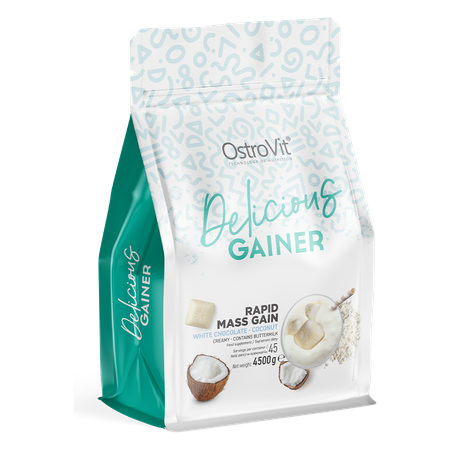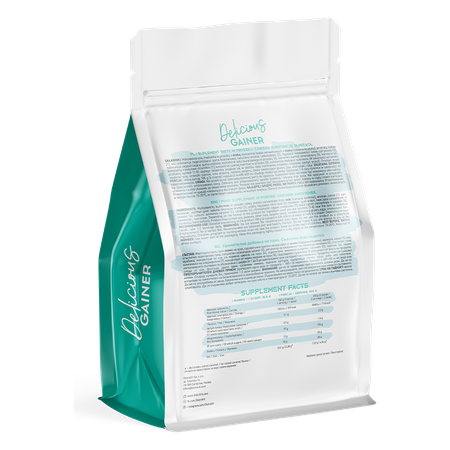 OstroVit Delicious Gainer 4500 g white chocolate with coconut
24,70 €
OstroVit Delicious Gainer 4500 g
OstroVit Delicious Gainer is a carbohydrate and protein supplement intended for all those who wish to build their muscle mass. The product is rich in carbohydrates (76%) which serve as a basic source of energy. Do you do sports and want to easily increase your body weight? Or maybe you are an ectomorphic and have problems with achieving the desired figure? OstroVit Delicious Gainer dietary supplement is the answer to your needs.


What is OstroVit Delicious Gainer?
Dietary supplement OstroVit Delicious Gainer is a high-calorie powdered supplement, in the composition of which you will find both carbohydrates and protein and fats, including saturated fatty acids.he product can help you build your muscle mass, supplying you with ingredients that support weight growth. Thanks to a handy form of powder, the gainer is easy to prepare and can be taken anywhere – to the gym, to the workplace, to the university or on a trip. The product is a balanced meal substitute which can help you quickly meet a daily calorific need of your organism.
OstroVit Delicious Gainer is an easy idea for a tasty snack and can be prepared in a few moments. It is available in five flavors so that you can choose the most suitable variant. Choose our carbohydrate and protein supplement if:
you want to increase your muscle mass
you have no idea for a nutritious snack
you cannot find an idea for a nutritious snack
you are an ectomorphic
you want to gain weight
you have difficulties in having meals on a regular basis
Properties:
One box of OstroVit Delicious Gainer contains as many as 45 recommended doses of the product. You can mix the supplement with water or low-fat milk and consume up to twice a day. The powder is easily soluble, thanks to which you can prepare it in just a few dozen seconds.
Major features of the supplement:
HANDY MEAL REPLACEMENT - When you do not have time or will to prepare an ordinary meal, choose OstroVit Delicious Gainer. The product can supply you with ingredients required for proper functioning and satisfy hunger.
ALTERNATIVE TO UNHEALTHY SNACKS - OstroVit Delicious Gainer will perform well when you feel like grabbing something unhealthy. A ready-made protein and carbohydrate shake will satisfy hunger and help you fight your desire to have a snack.
CONSTANT CALORICITY - One dose of the supplement, that is 100 g of the product, represents 354 calories. Thanks to a measure inside the box, you can easily measure out the desired amount of the supplement.
WIDE RANGE OF FLAVORS - The dietary supplement is available in five delicious flavors: strawberry wafers, salty caramel, chocolate wafers, vanilla and white chocolate-coconut. Pick your favorite and enjoy it when you feel like eating something sweet.
Suggested usage
Dissolve one serving of the product 100 g (6 scoops) in 400-450 ml of water or milk in a shaker. Depending on your needs, take 1-2 servings daily.
Do not exceed the recommended daily dose. Do not use the product as a substitute (replacement) for a varied diet. Recommended are balanced diet and healthy lifestyle. Do not ingest if you are allergic to any of the ingredients. Children, pregnant or nursing woman must not take the product. Keep out of the reach of children.
Nutritional information
Ingredients
Maltodextrin, milk buttermilk powder, milk whey protein concentrate (contains lecithins), flavors, thickener: xanthan gum; salt, thickener: gum arabic; sweetener: sucralose; dye: carotenes.
The product may contain soybeans, peanuts, other nuts, sesame seeds, oats, eggs, crustaceans, fish.
Nutrition Facts
| Nutritional values | 1 portion (100 g) | 2 portions (200 g) |
| --- | --- | --- |
| Energy | 1503 kJ / 354 kcal | 3006 kJ / 708 kcal |
| Fat | 1.1 g | 2.2 g |
| - of which saturated fatty acids | 0.6 g | 1.2 g |
| Carbohydrates | 76 g | 152 g |
| - of which sugars | 23 g | 46 g |
| Protein | 10 g | 20 g |
| Salt | 0.61 g | 1.22 g |
Product reviews
0
opinion
Questions and Answers
Add a question about this product