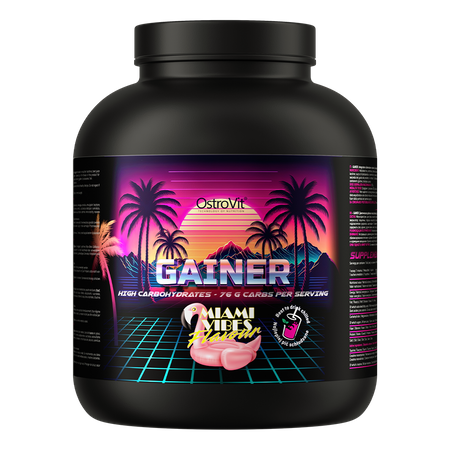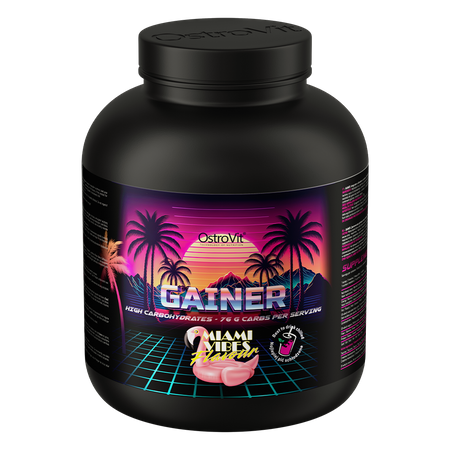 OstroVit Gainer 3000 g Miami Vibes
22,47 €
OstroVit Gainer 3000 g Miami Vibes
OstroVit Gainer is a carbohydrate-protein supplement, which is also a source of valuable active ingredients such as taurine and creatine. It is a dietary supplement with the unique flavor of Miami Vibes, available in powder form, created for athletes and people who perform intense physical efforts.
Carbohydrate and protein supplement - one serving of the dietary supplement provides the body with 76 g of carbohydrates and 17 g of protein.
Source of active ingredients - a serving of the product contains 1500 mg of creatine monohydrate and 600 mg of taurine.
Delicious, refreshing Miami Vibes flavor that delights the taste buds.
1 serving = 100 g = 6 scoops of product.
Performance - product package contains 30 servings of dietary supplement.
Convenient form -The preparation available in powder form ensures a trouble-free supply of the supplement - just mix a portion of the product with milk or water and it's ready!
OstroVit Gainer Miami Vibes - carbohydrate and protein supplement with delicious taste
OstroVit Gainer Miami Vibes is a dietary supplement that in one serving of the product provides the body with up to 76 g of carbohydrates and 17 g of protein, which contributes to the growth of muscle mass and helps maintain muscle mass, as well as supports the maintenance of healthy bones. It is a preparation that also contains valuable active ingredients - taurine and creatine monohydrate can be found in the product.
Taurine is an organic chemical compound that is a non-protein amino acid. It is a substance that can be produced in the body from sulfur amino acids, but its endogenous synthesis is insufficient to meet the needs of the body. Therefore, taurine can be supplied to the body with the daily diet - the compound can be found in fish, seafood, dried seaweed or meat, among others, as well as in the form of dietary supplements.
Creatine is a chemical compound that occurs naturally in the human body. The substance is also supplied to the body with the daily diet - creatine can be found in products of animal origin, including meat, fish and eggs, as well as in the form of dietary supplements. The OstroVit preparation used creatine monohydrate, i. e. the combination of a creatine molecule with a water molecule into one molecule - because creatine is a hydrophilic compound, it easily combines with water, and thus constitutes a substance that is distinguished by great assimilation. Creatine monohydrate is, in terms of structure, the simplest form of creatine, and it is also the compound that is most popular among athletes.
Suggested usage
Dissolve one serving of the product 100 g (6 scoops) in 200-250 ml of water or milk. Depending on your needs, take 1-2 servings daily.
Do not exceed the recommended daily dose. Do not use the product as a substitute (replacement) for a varied diet. Recommended are balanced diet and healthy lifestyle. Do not ingest if you are allergic to any of the ingredients. Children, pregnant or nursing women must not take the product. Keep out of the reach of children.
Keep this packaging tightly closed in a dry place, at the temperature 15-25°C. Keep out of direct sunlight.
Nutritional information
Ingredients
Maltodextrin, dextrose, whey protein concentrate from milk [contains lecithins (1); soy lecithins (2)], milk protein, creatine monohydrate, egg white powder, emulsifier: lecithins; beet juice concentrate powder, thickeners: xanthan gum, acacia gum; taurine, acidity regulator: citric acid; flavourings, sweeteners: sucralose, acesulfame K.
Food supplement in powder. With sweeteners. Depending on the flavour of the product for ingredient used you see symbols (1-2) near the date of minimum durability.
Product may contain soybeans, peanuts, other nuts, sesame seeds, cereals containing gluten, crustaceans, fish.
Nutrition Facts
| Nutritional value | Per 100 g |
| --- | --- |
| Energy value | 1600 kJ / 382 kcal |
| Fat | 0.23 g |
| - of which saturated fatty acids | < 0.10 g  |
| Carbohydrates | 76 g |
| - of which sugars | 23 g |
| Fiber | 1.2 g |
| Protein | 17 g |
| Salt | 0.11 g |
| Active ingredients | Per 100 g |
| --- | --- |
| Taurine | 600 mg |
| Creatine monohydrate | 1500 mg |
| - of which creatine | 1320 mg |
Product reviews
0
opinion
Questions and Answers
Add a question about this product