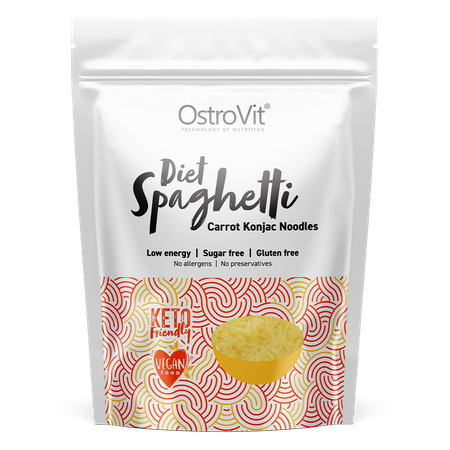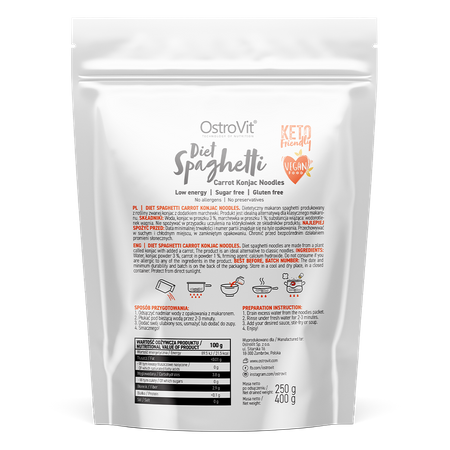 OstroVit Diet Spaghetti Carrot Konjac Noodles 400 g
1,42 €
OstroVit Diet Spaghetti Carrot Konjac Noodles 400 g
OstroVit Diet Spaghetti Carrot Konjac Noodles is a low-calorie equivalent of classic spaghetti pasta. The product is based on konjac flour and powdered carrot. The noodles are free from gluten and sugar. They are also known for low glycemic index and fat content. Are you looking for a tasty alternative to classic wheat pasta? You have to try OstroVit Diet Spaghetti Carrot Konjac Noodles!


Why spaghetti konjac?
Shirataki noodles, also referred to as konjac, is a traditional Asian product. It is made from water and Amorphophallus konjac plant flour, or briefly konjac. The raw material is distinguished by a low content of carbohydrates, fats and protein with a high level of valuable vegetable fiber called glucomannan. Pasta does not contain allergens or preservatives.
OstroVit Diet Spaghetti Carrot Konjac Noodles is a perfect and healthier alternative to classic wheat pasta. Thanks to a powdered carrot, the noodles offer a delicate sweet taste and appetizing yellow color. The product perfectly absorbs flavor and aroma of additives so that it can harmonize with various ingredients. Spaghetti konjac with carrot is designed for all those who:
wish to put off weight
do not eat any animal-origin products
are on a keto or low-carb diet
want to have low-IG meals
Properties
Konjac pasta is extremely simple to prepare, which is why any amateur cook can handle it. Just remove surplus of water from the packaging, rinse the pasta under running water for 2-3 minutes and then add it to your soup or blend on the pan with your favorite sauce, and fry.
The most important features of the product:
PERFECT FOR PEOPLE ON A DIET – 100 grams of our konjac carrot pasta has only 21.5 kcal. That's about 6 times less than 100 grams of cooked wheat spaghetti.
LOW IG – Konjac noodles are free from sugar and their carbohydrates content does not exceed 3,8 g per 100 g of product. Thanks to this their glycemic index is low. The pasta can be used by people who have gone on a diet with low IG.
VEGAN FORMULA – Our low-calorie noodles are based on konjac flour and powdered carrot. The product is devoid of animal-origin substances so it is a perfect choice for vegan and vegetarian soups and meals.
IDEAL FOR VARIOUS MEALS – There is one unquestionable advantage of konjac noodles – their universal flavor which is suitable for both soups and classic pasta dishes. Konjac is a perfect additive to Asian meals. It may also serve as a low-calorie equivalent of Italian pasta.
Laboratory-confirmed quality
For the sake of our customers' health, the products we manufacture are regularly tested in an independent accredited laboratory to ensure and maintain the highest quality.






Suggested usage
PREPARATION INSTRUCTION:
1. Drain excess water from the noodles packet.
2. Rinse under fresh water for 2-3 minutes.
3. Add your desired sauce, stir-fry or soup.
4. Enjoy!
BEST BEFORE, BATCH NUMBER: The date and minimum durability and batch is on the back of the
packaging. Store in a cool and dry place, in a closed container. Protect from direct sunlight.
Nutritional information
Ingredients
Water, konjac powder 3 %, carrot in powder 1 %, firming agent: calcium hydroxide.
Do not consume if you are allergic to any of the ingredients in the product.
Nutrition Facts
| Nutritional values | Per 100 g |
| --- | --- |
| Energy | 89.5 kJ / 21.5 kcal |
| Fat |  < 0.01 g  |
| - of which saturated fatty acids | 0 g |
| Carbohydrates | 3.8 g |
| - of which sugars | 0 g |
| Fiber | 2.9 g |
| Protein | < 0.1 g |
| Salt | 0 g |
Product reviews
0
opinion
Questions and Answers
Add a question about this product