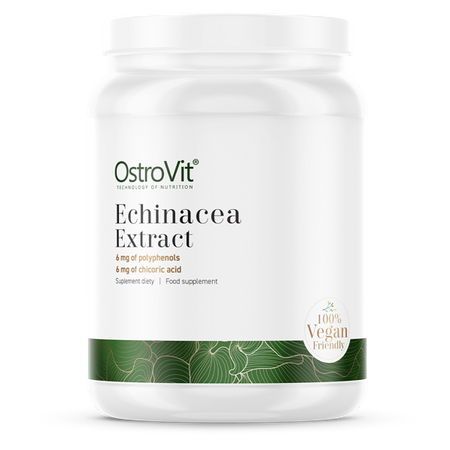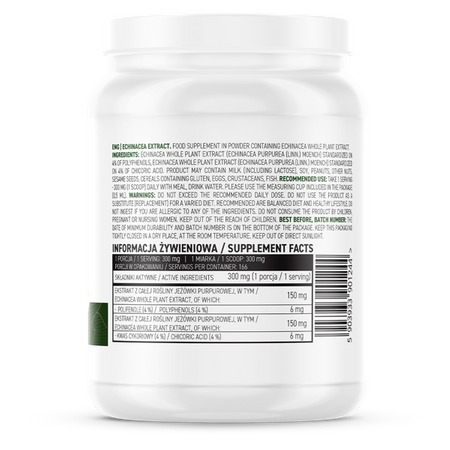 OstroVit Echinacea Extract 50 g natural
6,38 €
OstroVit Echinacea Extract 50 g
OstroVit Echinacea Extract is a natural dietary supplement which you can use to take care of your immunity and correct operation of respiratory system. Combination of two kinds of coneflower extract, that is extract standardized for 4% of polyphenols and extract standardized for 4% of chicoric acid, guarantees a constant amount of active substances, which ensures equal efficacy of the product in any case. If you look for a plant-based product which can secure you against infections, OstroVit Purple Coneflower Extract is a very good choice.


Who coneflower extract is designed for?
Echinacea, that is purple coneflower, is an ornamental plant with beautiful purple flowers. Aside from its unique decorative values, it has strong health-promoting properties, thanks to which its popularity in our country is on the increase. The use of coneflower in low-immunity seasons may reduce the infection risk. The impact of the plant is based on stimulation of phagocytosis during which the immunity system destroys bacteria and viruses.
Apart from support to immunity, coneflower also influences other processes in the organism. It can be used to support you in the struggle against respiratory system diseases, including upper respiratory tract infections. Choose OstroVit Echinacea Extract if you:
often get sick
want to prevent cold and flu
struggle against recurring respiratory system infections
Properties:
OstroVit purple coneflower extract has been created for all those who suffer from frequent infections, in particular upper respiratory tract diseases. The product should be used for prevention purposes in lower-immunity seasons, especially in autumn and winter. One package of the extract is 166 recommended daily portions of the supplement.
Major features of the supplement:
SUPPORT TO IMMUNITY - Thanks to content of such active substances as flavonoids, alkamids, polysaccharides and phenolic acids, including chicoric acid, the purple coneflower serves as an effective support in the fight against cold and flu.
PREVENTION OF RESPIRATORY SYSTEM DISEASES - Echinacea demonstrates immunostimulating influence and therefore is recommended to persons who deal with recurring upper respiratory tract infections.
NATURAL POWER OF PLANTS - OstroVit Echinacea Extract is 100% plant-based. It does not contain any additional substances which would hinder operation of active ingredients.
CONVENIENT FORM - Aside from the extract, the package is supplied with a handy measure used to measure out a suitable amount of the preparation. Consume a single portion while having a meal and drink some water.
Suggested usage
Take 1 serving - 300 mg (1 scoop) daily with meal, drink water. Please use the measuring cup included in the package (0.5 ml).
Do not exceed the recommended daily dose. Do not use the product as a substitute (replacement) for a varied diet. Recommended are balanced diet and healthy lifestyle. Do not ingest if you are allergic to any of the ingredients. Do not consume the product by children, pregnant or nursing women. Keep out of the reach of children.
Nutritional information
Ingredients
Echinacea whole plant extract (Echinacea purpurea (Linn.) Moench) standardized on 4% of polyphenols, echinacea whole plant extract (Echinacea purpurea (Linn.) Moench) standardized on 4% of chicoric acid.
Product may contain milk (including lactose), soy, peanuts, other nuts, sesame seeds, cereals containing gluten, eggs, crustaceans, fish.
Nutrition Facts
| Active ingredients | Per portion |
| --- | --- |
| Echinacea whole plant extract, of which: | 150 mg |
| - polyphenols (4%) | 6 mg |
| Echinacea whole plant extract, of which: | 150 mg |
| - chicoric acid (4%) | 6 mg |
Product reviews
0
opinion
Questions and Answers
Add a question about this product