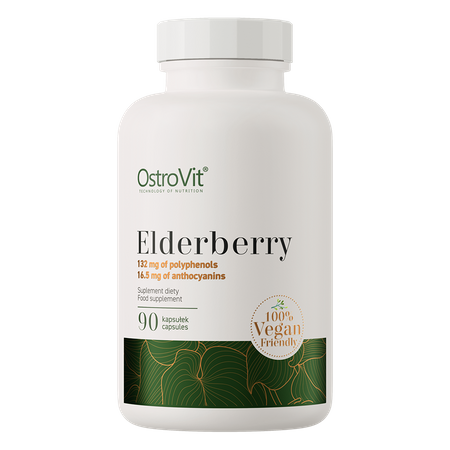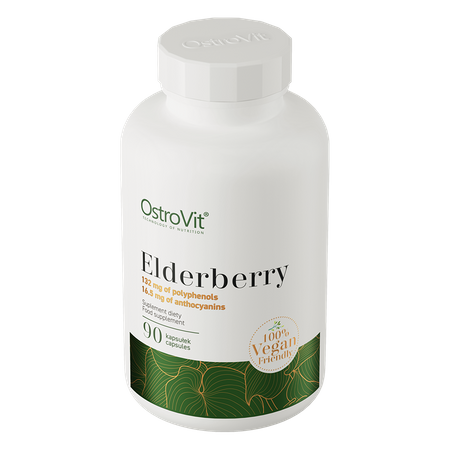 OstroVit Elderberry VEGE 90 caps
6,50 €
OstroVit Elderberry VEGE 90 caps
OstroVit Elderberry VEGE is a set of 90 easy-to-swallow capsules which contain a polyphenol- and anthocyan-rich extract from Sambucus nigra L. Ingredients contained in the supplement have antibacterial and antiviral effects, thanks to which it will be great for everyday prevention.

Black elderberry - occurrence and properties
Elderberry is one of the oldest pro-health plants. It comes as a bush or a small tree with minor yellow flowers forming the so-called baldachins from which round berries emerge to provide many valuable substances, such as polyphenols, anthocyans, flavonoids, steroils and essential oils. Black elderberry has relatively low soil and climatic requirements, thanks to which it can be found practically in all corners of the world. Regular consumption of elderberry extract stimulates the immune system to function and also affects the better functioning of many organs and systems.
Properties: ingredients contained in OstroVit Elderberry VEGE
Elderberry is an extremely rich source of natural antioxidants valuable for the body. Their task is to reduce the amount of free radicals, which are responsible for the aging of the body and the occurrence of numerous diseases. Just one capsule of the supplement a day will allow you to take care of your immunity and overall condition of the body.
IMMUNITY SUPPORT - Thanks to its anti-inflammatory and antibacterial effects, elderberry extract supports the elimination of inflammation, stimulates the action of the immune system cells, and can also control the secretion of cytokines responsible for triggering specific defensive reactions of the body.
ASSISTANCE IN CASE OF INFECTION - Black elder may limit accumulation of viruses and bacteria so that it can help during various infections. Also, it may have sweat-inducing and expectorating properties.
CONVENIENT FORM - Convenient to swallow capsules, which under the influence of water become slippery. A single serving of the supplement contains 132 mg of polyphenols and 16.5 mg of anthocyanins.
VEGAN FORMULA - The product is free from animal-origin ingredients. It can therefore be used by vegans and vegetarians.
Suggested usage
Take 1 serving (1 capsule) daily preferably with meal.
Do not exceed the recommended daily dose. Do not use the product as a substitute (replacement) for a varied diet. Recommended are balanced diet and healthy lifestyle. Do not ingest if you are allergic to any of the ingredients. Do not consume the product by children, pregnant or nursing women. Keep out of the reach of children.
Nutritional information
Ingredients
Elderberry extract (Sambucus nigra L.) standardized on 40% of polyphenols and 5% of anthocyanins, coating composition (bulking agent: hydroxypropyl methyl cellulose).
Product may contain milk (including lactose), soybeans, peanuts, other nuts, sesame seeds, cereals containing gluten, eggs, crustaceans, fish.
Nutrition Facts
| Active ingredients | Per portion |
| --- | --- |
| Elderberry extract, of which: | 330 mg |
| - polyphenols (40%) | 132 mg |
| - anthocyanins (5%) | 16.5 mg |
Product reviews
0
opinion
Questions and Answers
Add a question about this product