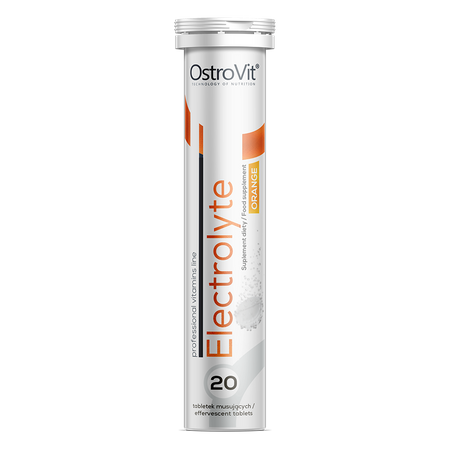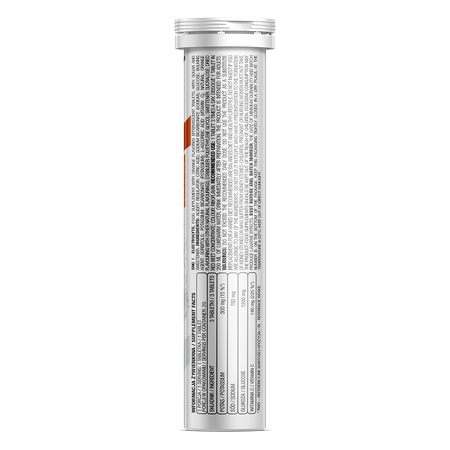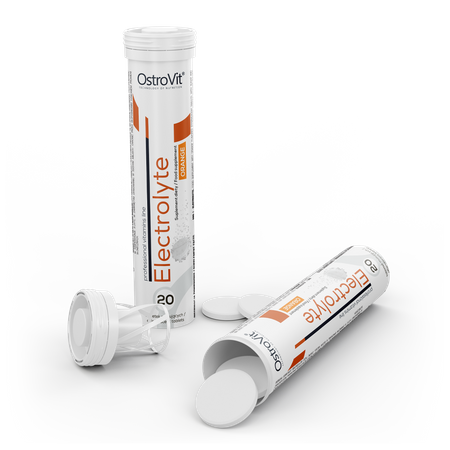 OstroVit Electrolytes 20 effervescent tablets orange
1,44 €
OstroVit Electrolytes 20 effervescent tablets
OstroVit Elektrolity is a dietary supplement in the form of effervescent tablets, which is a set of as many as four different active ingredients. The product was created for people at risk of losing them, who do not like supplementation in the form of oral tablets. Do you exercise intensively, lose weight, do you have problems with drinking the right amount of fluids or do you suffer from unpleasant digestive ailments? You can supplement your electrolyte level by reaching for the OstroVit Electrolytes dietary supplement in effervescent tablets.
Package size: 20 effervescent tablets
Serving size: 3 tablets a day
Delicious and refreshing orange flavor
OstroVit Electrolytes 20 effervescent tablets
Potassium supports proper muscle tone. It can control the body water volume and regulate the pressure. It affects the functioning of the nervous system.
Sodium maintains the water-electrolyte and acid-base balance in the body. It also participates in the transport of nutrients to cells.
Glucose is a very important component - electrolytes, thanks to the combination with glucose, are more bioavailable and more effectively transported to tissues.
Vitamin C is considered one of the main antioxidants - it removes excess free radicals from our cells. Its proper level in our diet also allows for faster regeneration and muscle growth, taking a direct part in the production of collagen. Supports the nervous and immune systems.
Properties of the ingredients contained in OstroVit Electrolytes:
They have a positive effect on the body's water and electrolyte balance
They support the regeneration of the body after intense exercise, vomiting, diarrhea
They play a significant role in storing energy in muscle cells
They can help reduce fatigue and the proper functioning of cognitive functions
They prevent painful skeletal muscle contractions
Laboratory-proven quality
For the sake of our customers' health, the products we manufacture are regularly tested in an independent accredited laboratory to ensure and maintain the highest quality.






Suggested usage
p>1 tablet 3 times a day. Dissolve 1 tablet in 200 ml of lukewarm water, drink immediately after preparation. The product is intended for adults.
Do not use it in people who have a predisposition to the formation of kidney stones or who suffer from kidney stones. Excessive consumption may produce laxative effects.
Do not exceed the recommended daily dose. Do not use the product as a substitute (replacement) for a varied diet. Recommended are balanced diet and healthy lifestyle. Do not ingest if you are allergic to any of the ingredients. Children, pregnant or nursing women must not take the product. Food supplements should be kept out of the reach of children.
Nutritional information
Ingredients
Acidity regulator: citric acid; sodium bicarbonate (sodium); glucose; bulking agent: sorbitols; potassium bicarbonate (potassium); L-ascorbic acid (vitamin C); natural orange flavouring with other natural flavourings; stabiliser: polyethylene glycol; sweetener: sucralose; dried red beet concentrate; colour: riboflavin.
Nutrition Facts
| Active ingredients | Per daily portion 3 tablets | % RI* |
| --- | --- | --- |
| Potasium | 300 mg | 15 %* |
| Sodium | 792 mg | - |
| Glucose | 1200 mg | - |
| Vitamin C | 180 mg | 225 %* |
*RI- Reference intake
Product reviews
0
opinion
Questions and Answers
Add a question about this product