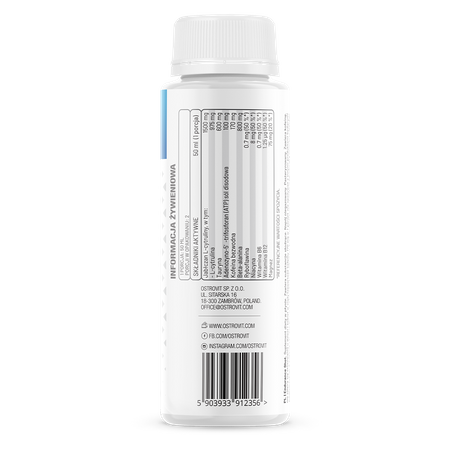 OstroVit Endurance Shot 100 ml
0,88 €
OstroVit Endurance Shot 100 ml
OstroVit Endurance Shot 100 ml is a pre-workout in the form of a shot with grapefruit flavor. Our intensely fruity, delicious shot is a combination of as many as 10 different active ingredients. The composition of our next OstroVit shot has been developed in detail for physically active people. Do you exercise regularly and are you looking for a dietary supplement whose ingredients can support the efficiency and endurance of your body, as well as increase the effectiveness of daily training? Bet on OstroVit Endurance Shot 100 ml - a small drink of great power that you can take with you anywhere and consume whenever you need!

as many as 10 ingredients in each serving of a shot
50 ml is one serving of pre-workout
delicious, intense grapefruit flavor
Ergogenic ingredients as an addition to the daily diet
Practicing sports and all kinds of physical activity is becoming more and more popular - no wonder - thoughtful, regular workouts are just a plus for both our physical and mental condition. Necessary then is a proper diet, rich and providing the necessary vitamins, micronutrients and nutrients that we lose with each physical effort. For some time, we have also heard about the availability of ergogenic agents - aimed at safely supplementing the diet with ingredients supporting the increase of efficiency and sports performance. They can also be found in our OstroVit Endurance shot:
L-citrulline malate - shows antioxidant activity, helps to increase the effect of muscle "pump" thanks to the intensification of nitric oxide synthesis.
Taurine - may affect the body's efficiency and increase fat burning during activity, supports muscle function, inhibits catabolism processes in muscles, has a neuroprotective effect.
Adenosine 5′-triphosphate (ATP) - can improve the performance of the body and reduce feelings of fatigue.
Caffeine anhydrous - adds energy and desire for action, reduces fatigue, contributes to increased alertness and concentration.
Beta-alanine - shows the ability to buffer muscles, which causes the delay of fatigue during high-intensity exercise.
Riboflavin - vitamin B2 contributes to maintaining normal energy metabolism and reducing feelings of fatigue and tiredness.
Niacin - vitamin B3 may help reduce feelings of fatigue and tiredness, is involved in maintaining normal energy metabolism.
Vitamin B6 - contributes to the regulation of hormonal activity, reduces feelings of fatigue and tiredness, influences the proper functioning of the nervous system.
Vitamin B12- it plays a non-negligible role in the process of cell division, and participates in the proper synthesis of cysteine. Supports the functioning of the nervous system and helps reduce the feeling of fatigue.
Magnesium - an essential element for our functioning, which helps maintain electrolyte balance. In addition, it supports the proper functioning of muscles and the maintenance of healthy bones. Takes part in the proper synthesis of protein, supports the work of the nervous system, thus reducing the feeling of fatigue and tiredness.
Suggested usage
Drink 1/2 bottle (50 ml - 10 teaspoons) daily before planned physical activity. Do not consume more than 1 serving per Day. The product is intended for adults. Sediment is a natural phenomenon. Shake before use. After opening, store in the refrigerator, consume within 48 h.
Do not consume if you are allergic to any of the supplement's ingredients. Do not consume by children, pregnant women, breastfeeding women. The dietary supplement should not be used as a substitute (replacement) for a varied diet. A balanced diet and healthy lifestyle is recommended.
Contains caffeine, not recommended for children and pregnant women (caffeine content 170 mg in 1 serving), do not consume with other products that are sources of caffeine or other ingredients with similar effects.
Store in a dry, cool place at 2-25°C. Protect from sunlight and frost. Keep out of reach of small children.
Nutritional information
Ingredients
Water, apple juice from apple juice concentrate 20%, L-citrulline malate, tripotassium citrate (potassium), beta-alanine, taurine, citric acid magnesium salts (magnesium), caffeine anhydrous, adenosine 5′-triphosphate (ATP) disodium salt, flavor, preservatives: potassium sorbate, sodium benzoate; sweeteners: sucralose, acesulfame K; inositol hexanicotinate (niacin), pyridoxine hydrochloride (vitamin B6), riboflavin (vitamin B2), methylcobalamin (vitamin B12).
Product may contain milk (including lactose), soybeans, peanuts, other nuts, sesame seeds, cereals containing gluten, eggs, shellfish, fish.
Nutrition Facts
| Active ingredients | Per serving 50 ml | % RI* |
| --- | --- | --- |
| L-citrulline malate, of which: | 1500 mg | - |
| - L-Citrulline | 975 mg | - |
| Taurine | 600 mg | - |
| Adenosine 5′-triphosphate (ATP) disodium salt | 100 mg | - |
| Caffeine anhydrous | 170 mg | - |
| Beta-alanine | 800 mg | - |
| Riboflavin | 0.7 mg | 50%* |
| Niacin | 8 mg | 50%* |
| Vitamin B6 | 0.7 mg | 50%* |
| Vitamin B12 | 1.25 μg | 50%* |
| Magnesium | 75 mg | 20%* |
*RI - REFERENCE INTAKE
Product reviews
0
opinion
Questions and Answers
Add a question about this product