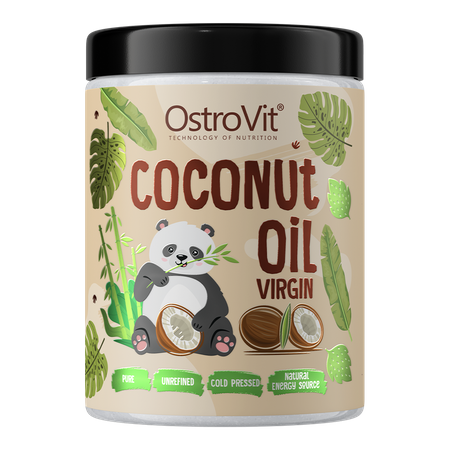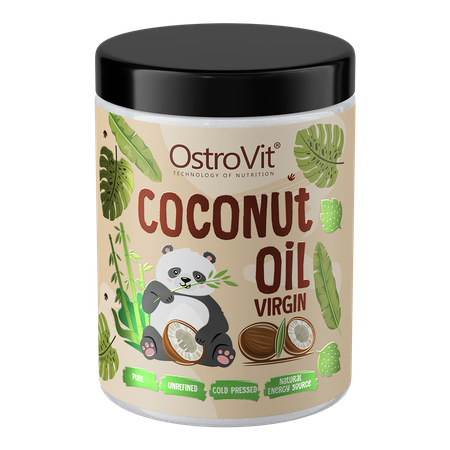 OstroVit Extra Virgin Coconut Oil 900 g
Customers recommend!
Rating 5/ 5
OstroVit Extra Virgin Coconut Oil 900 g
Unrefined coconut oil is a natural product obtained from coconut pulp. It is obtained in the cold pressing process (up to 40 degrees), unrefined, unfiltered and unpurified. Considered the healthiest oil due to the rich content of nutrients and lauric acid. It has a beneficial effect on the functioning of almost all systems and organs in the body.

900 mg extra virgin oil in the package
Unrefined oil
Perfect cosmetic
Natural freshness
OstroVit Coconut Oil
It is a product of the highest quality, 100% natural, unrefined cold-pressed coconut oil, without the addition of salt, sugar and other unnecessary fillers. Perfect as a cosmetic, taking care of the natural, beautiful and healthy appearance of your body. It supports the burning of excessive fat tissue, drives metabolism and is characterized by antifungal, bacteriostatic and anti-inflammatory. It is recommended for consumers who care about health, sportsmen, children and the elderly. The presence of medium-chain fatty acids in coconut oil makes it an easily digestible and quickly digestible fat.
Unrefined coconut oil has a beautiful, light aroma and a delicate coconut flavor. It is a great ingredient of dishes and baked goods. It is resistant to high temperatures, making it great for frying and baking. The temperature of smoking of unrefined coconut oil is about 177 deg. C.
Properties:
Valuable fatty acid fractions such as lauric acid have antifungal, bactericidal, virucidal and anti-inflammatory properties
Over 60% of medium chain fatty acids MCT - will provide us with the necessary energy for long-term effort
Can be conducive to maintaining an appropriate weight and losing it
Not without reason called the beauty oil. External application is beneficial for nourishing our skin, hair and nails.
Suggested usage
Use depending on the demand.
Nutritional information
Ingredients
Unrefined coconut oil 100%
The product may contain nuts, peanuts, milk (including lactose), soy, sesame seeds, oats, eggs, crustaceans, fish.
Coconuts come from outside the UE.
Nutrition Facts
|  Nutritional values | 14 g (1 portion) | Per 100 g | % RI* |
| --- | --- | --- | --- |
| Energy value | 518 kJ/126 kcal | 3702 kJ/ 900 kcal   | 6 |
| Fat | 14 g | 100 g  | 20 |
| - of which saturated fatty acids | 13 g | 94 g  | 65 |
| - of which monounsaturated fatty acids | 0.7 g  | 4.7 g   | - |
| - of which polyunsaturated fatty acids |  0.1 g | 0.6 g   | - |
| Carbohydrates |  0 g | 0.1 g   | - |
| - of which sugars |  0 g | 0 g   | - |
| Protein |  0 g | 0 g   | - |
| Salt | 0 g | 0 mg   | - |
*RI- Reference intake
Product reviews
1
opinion
What customers say about this product
Questions and Answers
Add a question about this product