OstroVit Fat Burner eXtreme 90 caps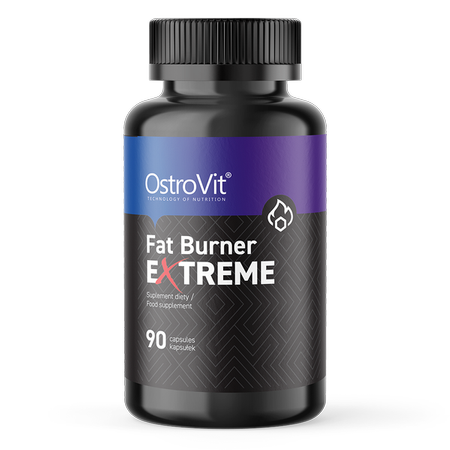 10,05 €
OstroVit Fat Burner eXtreme 90 caps
OstroVit Fat Burner eXtreme is a preparation with an unusual combination of natural substances that support and accelerate the lipolysis process, i.e. the breakdown and burning of body fat, and facilitate the maintenance of normal body weight. OstroVit Fat Burner is an extreme stimulation in every training session and a real energy kick that will put everyone on their feet.
3
Capsules
1 serving = 3 capsules
New improved formula
Natural ingredients
90 capsules in one package
30 servings per month of supplementation
Extreme Fat Cut
Ingredients OstroVit Fat Burner eXtreme fat burner
L-Tyrosine - allows you to better withstand the side effects of long and heavy reduction diets, where our body is in a deep caloric deficit. It improves memory and our well-being.
L-Carnitine - a chemical organic compound from the group of amino acids that naturally occur in our body. Supports fat burning processes (energy absorption from fats).
Green coffee extract - can limit fat metabolism, speeds up metabolism and is a great antioxidant.
Green tea-leaf extract - effectively supports the process of weight reduction, stimulates the breakdown of fat cells and prevents their re-enlargement.
Caffeine - Helps to speed up metabolism, stimulates, adds energy, supports the reduction of unnecessary body fat.
African mango seed extract - may affect the regulation of the level of leptin (the hormone responsible for appetite), regulates metabolism and supports the metabolism of lipids (fats).
Ginger root extract - supports digestion, increases immunity and "fights" free radicals.
Properties of the ingredients contained in OstroVit Fat Burner eXtreme:
They suppress the appetite for high-calorie snacks
Stimulate metabolism
Support the lipolysis process
Support fat reduction
Stimulate the body
Improve your well-being
Support the maintenance of a healthy body weight
Laboratory-confirmed quality
For the sake of our customers' health, the products we manufacture are regularly tested in an independent accredited laboratory to ensure and maintain the highest quality.






Suggested usage
Take 1 serving (3 capsules) daily.
Do not exceed the recommended daily dose. Do not use the product as a substitute (replacement) for a varied diet. Recommended are balanced diet and healthy lifestyle. Do not ingest if you are allergic to any of the ingredients. Do not consume the product by children, pregnant or nursing women. Keep out of the reach of children.
Nutritional information
Ingredients
L-tyrosine, L-carnitine tartrate, green coffee bean extract (Coffea arabica L.) - 50% chlorogenic acid and 5% caffeine, green tea leaf extract (Camellia sinensis (L.) Kuntze) - 50% polyphenols, ginger root extract (Zingiber officinale Rosc.) - 5% gingerols, anhydrous caffeine, african mango seed extract (Irvingia gabonensis L.) DER 10:1, panax ginseng root extract (Panax ginseng C.A. Mey.) – 20% ginsenosides, anti-caking agent: silicon dioxide; coating composition (bulking agent: hydroxypropyl methyl cellulose), Black pepper fruit extract (Piper Nigrum L.) – 95% piperine, picolinate (chromium).
The product may contain milk (including lactose), soybeans, peanuts, other nuts, sesame seeds, cereals containing gluten, eggs, crustaceans, fish.
Contains caffeine; not recommended for children and pregnant women (caffeine content 200 mg in 1 serving); do not consume with other products that are a source of caffeine or other ingredients with a similar effect.
Nutrition Facts
| Active ingredients | Per portion | % RI* |
| --- | --- | --- |
| L-tyrosine | 500 mg | - |
| L-carnitine tartrate | 300 mg | - |
| - of which L-carnitine | 201.6 mg | - |
| Green coffee bean extract | 200 mg | - |
| - of which chlorogenic acid 50% | 100 mg | - |
| - of which caffeine 5% | 10 mg | - |
| Green leaf tea extract | 200 mg | - |
| - of which polyphenols 50 % | 100 mg | - |
| Ginger root extract | 200 mg | - |
| - of which gingerols 5% | 10 mg | - |
| Caffeine anhydrous | 190 mg | - |
| African mango seed extract DER 10:1 | 150 mg | - |
| Panax ginseng root extract | 50 mg | - |
| - of which ginsenosides 20% | 10 mg | - |
| Black pepper fruits extract | 2.1 mg | - |
| - of which piperine 95% | 2 mg | - |
| Chromium | 100 μg | 250 |
*RI - Reference intake
Product reviews
0
opinion
Questions and Answers
FAQ
Hi i wanted to ask a question about the OstroVit Fat Burner eXtreme 90 caps ​, it says to take it 3 times a day and i was wondering is that only if your working out 3 times a day because i work out only once in the morning as im trying to lose weight so is it pointless taking it 3 times a day or will it be best for the effects of weight loss to keep taking them 3 times ?
We recommended 1 serving (3 capsules) daily. You can take this produce 1 time before training or in the morning.
What could happen if a child uses this?
May have an adverse effect on activity and attention in children.
Do you need more information?
If the above information is not sufficient for you, please send us your question. We will do our best to answer them.
Add a question about this product