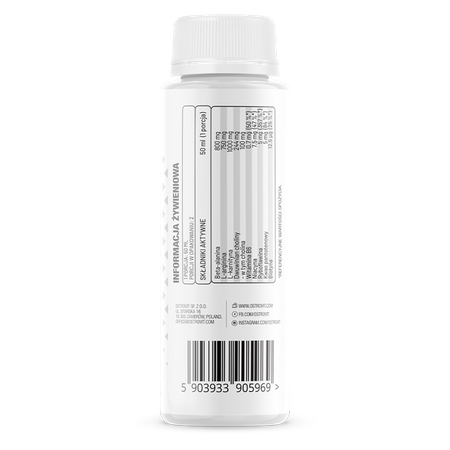 OstroVit Fat Burner Shot without caffeine 100 ml pineapple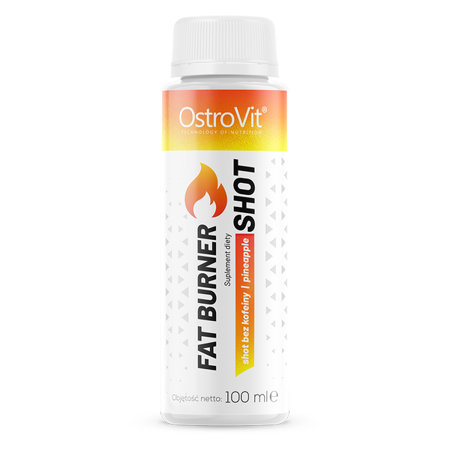 0,96 €
OstroVit Fat Burner Shot without caffeine 100 ml
OstroVit FAT BURNER SHOT is a unique dietary supplement in the form of a drink designed for those who want to burn body fat. Our apple-juice burner is enriched with nine active ingredients which support lipolysis and help you keep a appropriate body weight.

section class="cm__stats" style="--cm-background: #da4f15;--cm-border-value: #fab881;--cm-text-value: white;--cm-text-desc: #fab881;--cm-text-capacity: white;">
100
mililiters
per Package
50
Mililiters
1 serving = 50 mililiters
Properties of the ingredients contained in OstroVit Fat Burner Shot without caffeine:
9 ACTIVE INGREDIENTS - Active ingredients included in the dietary supplement guarantee comprehensive influence on body fat loss.
STIMULATION OF METABOLISM – As the supplement demonstrates metabolism-boosting properties, it is easier to lose extra kilograms.
HEALTHY LOOK – Biotin and riboflavin foster your look. Thanks to them, you can enjoy healthy skin, hair and nails.
ALWAYS AT HAND – You can take the burner in the form of a fruity shot wherever you like. The product is ready to drink!
Active ingredients
Find out which active ingredients included in our supplement:
Beta-alanine. It supports building muscle mass. Increases efficiency. It contributes to the reduction of fatigue.
L-arginine. It can seal blood vessels. It helps you regenerate tissues and build muscular tissue. It stimulates the immunity system.
L-carnitine. It contributes to reduction of cholesterol. It boosts body fat burning. It shows anti-oxidant properties. It may strengthen muscles.
Choline bitartrate. It strengthens cell walls and can improve motor capabilities.
Vitamin B6. It regulates aminoacid, carbohydrate, fat and nitric compound metabolisms. It fosters assimilation of magnesium.
Niacin. It combines and decomposes aminoacids, carbohydrates and fatty acids. It regulates cholesterol and protects nervous cells.
Riboflavin. It supports operation of the nervous and immune systems. It contributes to growth and regeneration of hair, skin and nails.
Pantothenic acid. It lowers fatigue and keeps you mentally agile. It participates in cholesterol synthesis. It regulates energy management and metabolism.
Biotin. Is responsible for the proper condition of the skin, hair and nails. It assures proper operation of the energy management. It supports the regeneration of the body.
Laboratory-proven quality
For the sake of our customers' health, the products we manufacture are regularly tested in an independent accredited laboratory to ensure and maintain the highest quality.






Suggested usage
Take 1/2 bottle (50 ml - 10 teaspoons) once daily before planned exercise. A single consumption of more than 800 mg of beta-alanine may cause adverse effects (tingling, numbness). It is recommended to take a single serving of 800 mg with a break of at least 3 hours between individual servings of the product. The product is intended for persons with increased physical activity. Sediment is a natural phenomenon. Shake before use. After opening, store in a refrigerator and consume within 48 hours.
Do not use if you are allergic to any of supplement ingredients. Do not combine with alcohol. The product is not recommended for children, pregnant and breast-feeding women. Food supplement cannot be used as a substitute (replacement) for a varied diet. Balanced diet and healthy lifestyle is recommended. Store in a dry, cool place, at the temperature of 2-25°C. Protect against sunlight and frost. Keep out of reach of young children.
Nutritional information
Ingredients
Water, apple juice from apple juice concentrate 20%, L-carnitine, acidity regulator: citric acid; beta-alanine, L-arginine, choline tartrate, flavour, sweeteners: acesulfame K, sucralose; preservatives: potassium sorbate, sodium benzoate; nicotinic acid (niacin), calcium D-pantothenate (pantothenic acid), riboflavin (vitamin B2), pyridoxine hydrochloride (vitamin B6), D-biotin (biotin).
The product may contain milk (including lactose), soya, peanuts, other nuts, sesame seeds, cereals containing gluten, eggs, crustaceans, fish.
Nutrition Facts
| Active ingredients | Per portion | % RI* |
| --- | --- | --- |
| Beta-alanine | 800 mg | - |
| L-arginine | 750 mg | - |
| L-carnitine | 1000 mg | - |
| Choline bitartrate, of which: | 244 mg | - |
| - choline | 100 mg | - |
| Vitamin B6 | 0.7 mg | 50% |
| Niacin | 7.5 mg | 47% |
| Riboflavin | 5 mg | 357% |
| Pantothenic acid | 5 mg | 84% |
| Biotin | 12.5 µg | 25% |
*RI - Reference intake
Product reviews
0
opinion
Questions and Answers
Add a question about this product