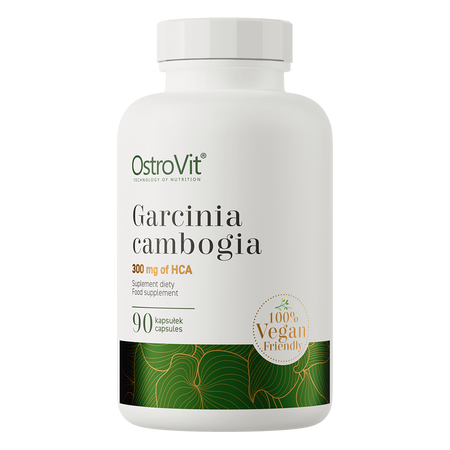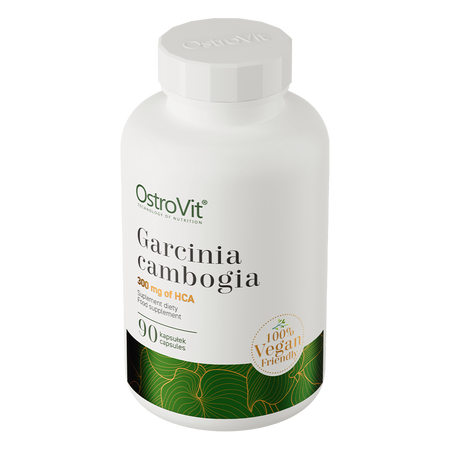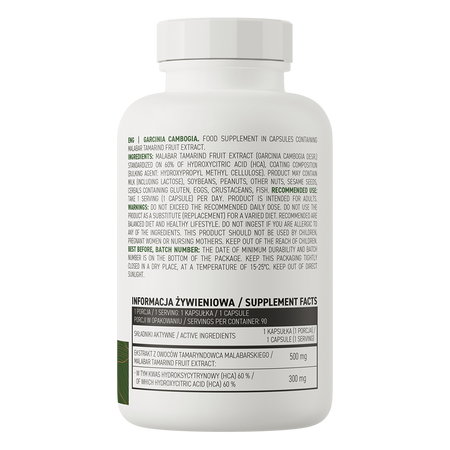 OstroVit Garcinia Cambogia VEGE 90 caps
3,57 €
OstroVit Garcinia Cambogia 90 capsules
OstroVit Garcinia Cambogia is a set of 90 capsules which contain Malabar tamarind fruits extract with high content of HCL hydroxycitric acid. Garcinia cambogia fruits are considered as a very effective and above all fully natural product which supports slimming down. Not only do they suppress appetite, but they also boost slimming and mitigate digestive issues. Do you wish to support your metabolism? Or perhaps you always eat like a horse and find it difficult to feel satiated? Try our supplement and feel the difference!

What is OstroVit Garcinia Cambogia supplement?
Garcinia cambogia, originally from Indonesia, is an exotic plant which resembles tiny yellow pumpkins. Its medicinal properties have been used in Indian medicine since ancient times. Malabar tamarind demonstrates slimming impact, thanks to which fruit extract is getting more and more popular in Europe too. HCA hydroxycitric acid included in garcinia cambogia fosters fats burning, suppresses appetite and regulates cholesterol in blood.
OstroVit Garcinia Cambogia dietary supplement will perform well in all those who intend to lose weight or suffer from appetite disorders. Use it if you:
often feel hungry
overeat or sneak food all the time
cannot control the amount of food you eat
are overweight
look for weight-loss product
deal with high cholesterol level
Properties:
OstroVit Garcinia Cambogia capsules is a vegan dietary supplement based on top-quality ingredients. The Malabar tamarind fruits extract consists in 60% of hydroxycitric acid which answers for slimming properties of the product.
Major features of the supplement:
COMPREHENSIVE WEIGHT LOSS IMPACT - OstroVit Garcinia Cambogia boosts a feeling satiety and suppresses appetite. It also supports metabolism. It is able to soothe digestive problems and successfully counteract accumulation of fatty tissue.
HIGH CONTENT OF HCA - Every capsules contains as many as 60% of hydroxycitric acid. Its major task is to accelerate transportation of fatty acids into mitochondria, which in effect leads to reduced appetite.
NATURAL COMPOSITION - The capsules with Malabar tamarind extract have been designed for all those who wish to suppress appetite. Thanks to the fact that the supplement contains natural active ingredients included in the vegan capsule, it will perform perfectly in persons who do not eat meat.
CONVENIENT FORM - The dietary supplement is available in the form of capsules. The product must go together with a large amount of water under influence of which the capsule coating gets slippery and easy to swallow. A daily dose of the supplement is one capsule.
Suggested usage
Take 1 serving (1 capsule) per day. Product is intended for adults.
Do not exceed the recommended daily dose. Do not use the product as a substitute (replacement) for a varied diet. Recommended are a balanced diet and healthy lifestyle. Do not ingest if you are allergic to any of the ingredients. This product should not be used by children, pregnant women or nursing mothers. Keep out of the reach of children.
Nutritional information
Ingredients
Malabar tamarind Garcinia Cambogia fruit extract (Garcinia Cambogia DESR.) standardized on 60% of hydroxycitric acid (HCA), coating composition (bulking agent: hydroxypropyl methyl cellulose).
Product may contain milk (including lactose), soybeans, peanuts, other nuts, sesame seeds, cereals containing gluten, eggs, crustaceans, fish.
Nutrition Facts
| Active ingredients | Per portion |
| --- | --- |
| Malabar tamarind fruit extract | 500 mg |
| - of which hydroxycitric acid (HCA) 60% | 300 mg |
Product reviews
0
opinion
Questions and Answers
Add a question about this product