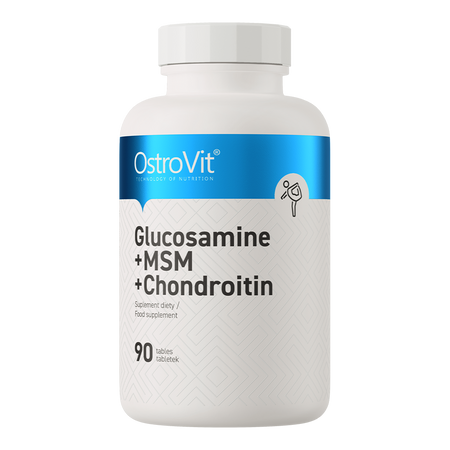 OstroVit Glucosamine + MSM + Chondroitin 90 tablets
OstroVit Glucosamine + MSM + Chondroitin 90 tablets
OstroVit Glucosamine + MSM + Chondroitin 90 tablets is a comprehensive dietary supplement that contains three valuable ingredients such as Glucosamine, MSM and Chondroitin. It is a preparation available in the form of easy-to-swallow tablets, which provides comprehensive support for physically active people and people struggling with increased demand for individual ingredients.


Source of three valuable ingredients - the preparation contains 1000 mg of glucosamine sulfate, 400 mg of chondroitin sulfate and 600 mg of methylsulfonylmethane.
Convenient form - preparation in the form of an easy-to-swallow tablet.
1 serving = 2 tablets.
Performance - one package of the supplement is 45 servings of the product.
OstroVit Glucosamine + MSM + Chondroitin 90 tablets - a comprehensive dietary supplement
Glucosamine is an organic chemical compound that is an amine derivative of glucose. It is a substance that is synthesized in the body in small amounts, and the ability to produce it decreases with age. However, the compound can be supplied to the body with food - the substance is found in seafood - in the chitinous shells of crustaceans, as well as in the form of dietary supplements.
OstroVit Glucosamine + MSM + Chondroitin 90 tablets uses glucosamine sulfate, which is a form of the compound that is considered the most bioavailable, which makes the compound stand out for better bioavailability than other forms of the substance.
MSM, or methylsulfonylmethane, is an organic sulfur compound. Like glucosamine, it is often recommended for joint problems. In addition, sulfur also participates in the synthesis of collagen and keratin. These substances are essential for maintaining strong and healthy hair, skin and nails.
Chondroitin, on the other hand, is an organic compound belonging to the mucopolysaccharide group, which consists of glucuronic acid residues and N-acetylgalactosamine. It is an endogenous substance that is naturally produced in the human body, but with age its content in the body decreases and the ability to synthesize the compound. However, the substance is also found in some foods, as well as in dietary supplements.
In OstroVit Glucosamine + MSM + Chondroitin 90 tablets, chondroitin sulfate was used, i.e. the form of the compound that is distinguished by the highest effectiveness among the available forms of chondroitin.
Laboratory-confirmed quality
Out of concern for the health of our customers, our products are regularly tested in an independent accredited laboratory to ensure and maintain the highest quality.
Suggested usage
Use 1 serving (2 tablets) a day, preferably in the morning.  
Do not exceed the recommended daily dose for consumption. Dietary supplement can not be used as a substitute (replacement) of a varied diet. A balanced diet and a healthy lifestyle are recommended. Do not eat if you are allergic to any of the ingredients in the product. The product should not be used by children, pregnant women and nursing mothers. Keep out of reach of small children.
Nutritional information
Ingredients
Glucosamine Sulfate 2KCL (of shellfish), Methylsulfonylmethane, Bulking Agent: Microcrystalline Cellulose; starch, chondroitin sulfate, anti-caking agents: magnesium salts of fatty acids, silicon dioxide.
The product may contain milk (including lactose), soy, peanuts, other nuts, sesame seeds, cereals containing gluten, eggs, fish.
Nutrition Facts
Net weight of product: 128 g
Servings per container: 45
| Active ingredients | Per serving |
| --- | --- |
| Glucosamine sulphate |  1000 mg  |
| - of which glucosamine | 590 mg |
| Methylsulfonylmethane |  600 mg  |
| Chondroitin sulphate |  400 mg  |
| - of which chondroitin | 360 mg |
Product reviews
0
opinion
Questions and Answers
FAQ
Hello! I have question about this product - OstroVit Glucosamine + MSM + Chondroitin 90 tabs. Does this product have a bitter taste? I bought 2 packs of the product. In the first package, the tablets were tasteless. In the second package, the tablets are bitter. Is this normal or is one of the packages counterfeit?
Please indicate the batch number (bottom of package) and send it to technolog@ostrovit.com. We will verify this issue.
Do you need more information?
If the above information is not sufficient for you, please send us your question. We will do our best to answer them.
Add a question about this product