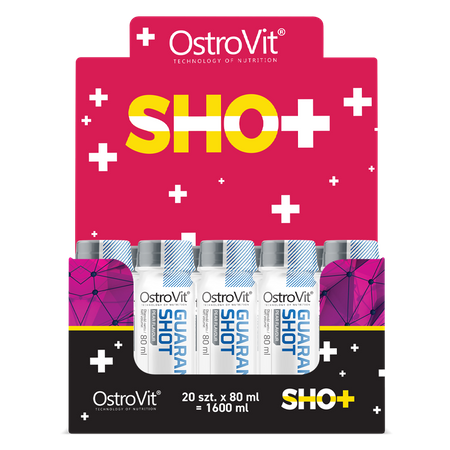 OstroVit Guarana Shot 20 x 80 ml
14,99 €
OstroVit Guarana Shot 80 ml
OstroVit Guarana Shot is a liquid diet supplement that contains sweeteners. The non-carbonated beverage contains guarana extract (200 mg / 80 ml), enriched with caffeine and ginseng extract.


SHOT contains 80 ml of the product in the package
1 SHOT = 1 serving
1 SHOT contains guarana, caffeine and ginseng
A delicious taste
OstroVit Guarana Shot
The high amount of caffeine contained in the preparation has a strong thermogenic effect, which stimulates the metabolism and helps to accelerate the burning of unnecessary fat tissue. In addition, guarana contributes to the suppression of appetite, which further supports the weight loss process. In addition, guarana extract improves the effectiveness and efficiency of training, stimulates the body to strenuous exercise. It works anti-catabolic, which prevents the breakdown of the built muscle tissue and accelerates muscle regeneration after training.
Properties of the ingredients contained in OstroVit Guarana SHOT :
Add vitality
Help to reduce the feeling of physical and mental fatigue
Help to improve memory and concentration
Support the work of the brain
Help to improve the efficiency and intensity of exercise
Have pro-cognitive activity
Strong adaptogenic properties
Can lower blood sugar levels
Can help maintain the correct weight
Laboratory-proven quality
For the sake of the health of our customers, the products manufactured by us are regularly tested in an independent accredited laboratory to ensure and maintain the highest quality.
Suggested usage
Consume 1 bottle (80 ml) per day. Do not eat more than 1 serving a day. Shake before use. Consume within 24 hours after opening.
Do not exceed the recommended daily allowance. The dietary supplement cannot be used as a substitute (replacement) for a varied diet. A balanced diet and a healthy lifestyle are recommended. Do not eat if you are allergic to any of the ingredients of the product. The product should not be used by children, pregnant women and nursing mothers. Keep out of the reach of small children.
Nutritional information
Ingredients
Water, apple juice from apple juice concentrate (20%), acid: citric acid; guarana seed extract (Paullinia cupana Kunth), anhydrous caffeine, acidity regulator: trisodium citrate; ginseng root extract (Panax ginseng C.A. Mey), sweeteners: acesulfame K, sucralose, neotame; preservatives: sodium benzoate, potassium sorbate; aroma, maltodextrin.
Food supplement. Contains sweeteners.
Contains caffeine; not recommended for children and pregnant women (caffeine content 200 mg in one serving); Do not consume with other products that are a source of caffeine or other ingredients with similar effects.
Nutrition Facts
| Active ingredient | For a portion |
| --- | --- |
| Guarana seed extract | 200 mg |
| - including caffeine | 20 mg |
| Anhydrous caffeine | 180 mg |
| Ginseng root extract | 100 mg |
Product reviews
0
opinion
Questions and Answers
Add a question about this product