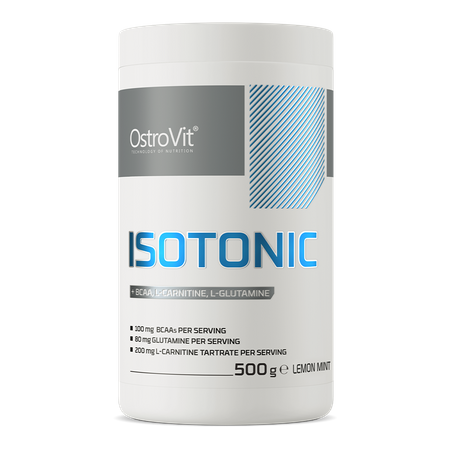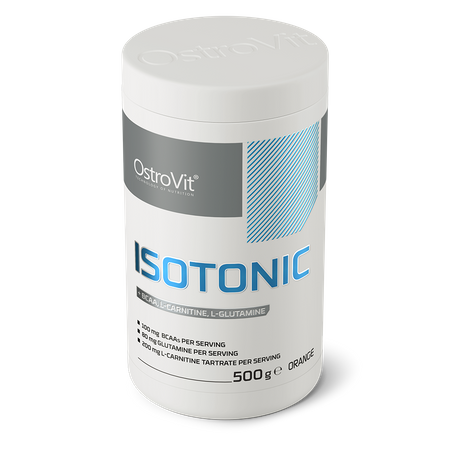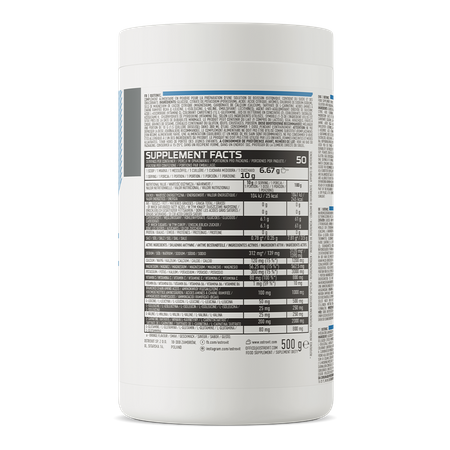 OstroVit Isotonic 500 g lemon-mint
5,60 €
OstroVit Isotonic 500 g
OstroVit Isotonic is a powder dietary supplement for making isotonic drink solutions. The group of isotonic drinks is aimed at regulating the water and electrolyte economy, i.e. the loss of excessive amounts of water caused by intense exercise, i.e. high physical activity, participation in long-distance running and generally understood the professional sport. A high concentration of vitamins and minerals is the basis, and the addition of branched-chain amino acids BCAA, L-glutamine and L-carnitine will allow you to increase the performance you care about.
1,25
Scoops
1 serving = 1,25 scoops
50 portions of the product in the package
A high concentration of vitamins and minerals
Addition of BCAA (branched-chain amino acids)
Contains L-carnitine and L-glutamine
Delicious flavors to choose from
OstroVit Isotonic
OstroVit Isotonic is a wealth of water-soluble vitamins and a special composition of electrolytes, which are necessary during very intense exercise. Isotonic is conducive to the proper hydration of our body, prevents cramps during high effort and contains a low amount of calories, so we do not have to worry about caloric surplus, which can quickly spoil our figure. The product is very well soluble in water and very easy to prepare. The supplement is dedicated to hard-training athletes, long-distance runners, marathon runners and people with increased daily physical activity.
Properties of the ingredients contained in OstroVit Isotonic:
The best way to hydrate properly
A wealth of water-soluble vitamins and electrolytes
The addition of BCAA, L-glutamine and L-carnitine
Fast absorption and high bioavailability
Increases efficiency and energy
Easy to prepare
50 servings in the package
Suggested usage
Dissolve one serving of the product 10 g (1 ¼ scoop) in 300 ml of water in a shaker. Consume 1 serving during training.
Do not exceed the recommended daily dose. Do not use the product as a substitute for a varied diet. Recommended are balanced diet and healthy lifestyle. Do not ingest if you are allergic to any of the ingredients. Children, pregnant or nursing woman must not take the product. Keep out of the reach of children.
The product has strong hygroscopic properties (strongly absorbs moisture). The formation of lumps or a uniform (lumpy) consistency is not an indication of a loss of product properties. In this case, the product should be ground anew.
Nutritional information
Ingredients
Glucose, potassium citrate (potassium), acid: citric acid; flavourings, sodium chloride (sodium), magnesium salts of citric acid (magnesium), calcium carbonate (calcium), L-carnitine tartrate, branched chain amino acids BCAA (L-leucine, L-isoleucine, L-valine, emulsifier: lecithins), anti-caking agent: silicon dioxide; L-ascorbic acid (vitamin C), colour: carotenes (1); L-glutamine, sweeteners: sucralose, acesulfame K; pyridoxine hydrochloride (vitamin B6).
Depending on the ingredients used, the symbol (1-2) of the ingredient used is located near the minimum durability date.
Dietary supplement powder. Contains sugar and sweeteners.
Product may contain milk (including lactose), soybeans, peanuts, other nuts, sesame seeds, cereals containing gluten, eggs, crustaceans, fish.
Nutrition Facts
Nutritional value
at 100 g
at 1 serving 10 g
% RI*
Energy
1041 kJ / 245 kcal
104 kJ / 25 kcal
-
Fat
0 g
0 g
-
- of which saturated fatty acids
0 g
0 g
-
Carbohydrates
61 g
6.1 g
-
- of which sugars
61 g
6.1 g
-
Protein
0 g
0 g
-
Salt
3.5 g
0.35 g
-
Active ingredients 
Sodium
1390 mg
139 mg
-
Calcium
1200 mg
120 mg
15 %*
Magnesium
562.5 mg
56.25 mg
15 %*
Potassium
3000 mg
300 mg
15 %*
Vitamin C
800 mg
80 mg
100 %*
Vitamin B6
10 mg
1 mg
59 %*
Branched chain amino acids BCAA
1000 mg
100 mg
-
- L-leucine
500 mg
50 mg
-
- L-isoleucine
250 mg
25 mg
-
- L-valine
250 mg
25 mg
-
L-carnitine tartrate
2000 mg
200 mg
-
L-glutamine
800 mg
80 mg
-
*RI - Reference intake
Product reviews
0
opinion
Questions and Answers
Add a question about this product