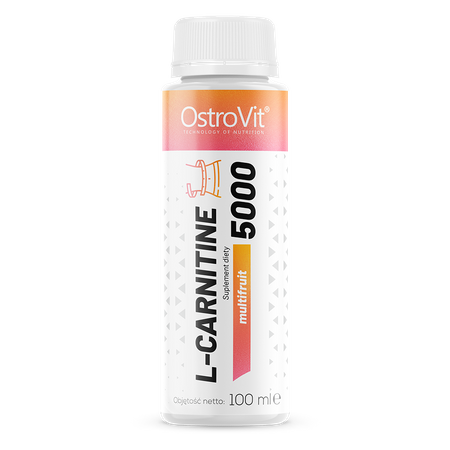 OstroVit L-Carnitine 5000 Shot 100 ml
OstroVit L-Carnitine 5000 Shot 100 ml
OstroVit L-Carnitine 5000 Shot 100 ml is a dietary supplement in the form of a shot with a multifruit flavour containing a high dose of L-carnitine. It is dedicated to physically active people who want to take care of their metabolism and support the weight loss process in a comprehensive way. So, if you need to supplement your daily diet with L-carnitine, reach for OstroVit L-Carnitine 5000 Shot 100 ml in a convenient bottle - you can take it anywhere and consume it whenever you want!
100
Mililiters
Per Package
50
Mililiters
1 serving = 50 mililiters
1 bottle 100 ml = two portions of supplement
2500 mg L-carnitine per serving
Delicious multifruit flavoured version
L-Carnitine - what is it and when is it worth supplementing?
L-Carnitine - is an organic chemical compound from the group of amino acids that occurs naturally in our body. It is a substance that contributes to the burning of fat tissue, can increase training endurance and accelerate post-workout recovery. It is therefore suitable for all those who train regularly and wish to maintain a slim figure at the same time. The fatty acids transported by L-carnitine are oxidised in the mitochondria - the cellular energy centres. When taking L-carnitine, an increase in energy is felt. It can also contribute to the prevention of fat accumulation and delay the fatigue effect during training. It has been a valued amino acid in weight loss diets for many years.
Suggested usage
Consume 1⁄2 bottle (50 ml - 10 teaspoons) per day. Do not consume more than 1 serving per day. This product is intended for adults. Shake before consumption. Once opened, store in the refrigerator, consume within 48 hrs.
Do not consume if allergic to any of the supplement ingredients. Do not combine with alcohol. The product is not recommended for children, pregnant women, breastfeeding women. The dietary supplement must not be used as a substitute (replacement) for a varied diet. A balanced diet and healthy lifestyle is recommended. Store in a dry, cool place at 2-25°C. Protect from sunlight and frost. Keep out of reach of small children.
Nutritional information
Ingredients
Water, L-carnitine, apple juice from apple juice concentrate 20 %, acidity regulator: citric acid; sweeteners: sucralose, acesulfame K; preservatives: potassium sorbate, sodium benzoate; flavour.
The product may contain milk (including lactose), soya, peanuts, other nuts, sesame seeds, cereals containing gluten, eggs, crustaceans, fish.
Nutrition Facts
| Active ingredients | Per serving |
| --- | --- |
| L-carnitine | 2500 mg |
Product reviews
0
opinion
Questions and Answers
Add a question about this product