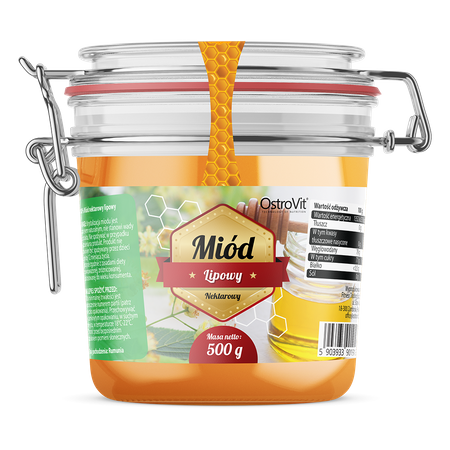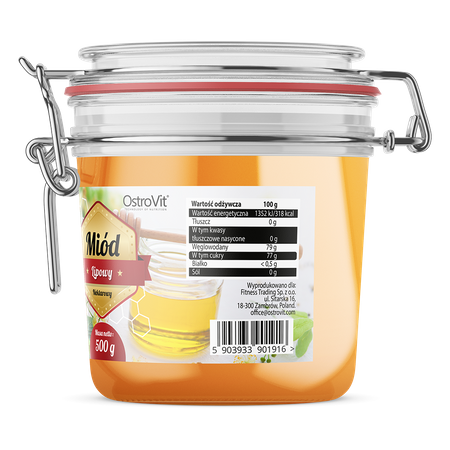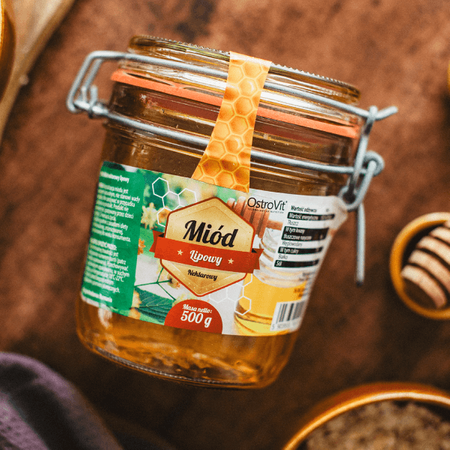 OstroVit Linden Honey 500 g
5,24 €
OstroVit Linden Honey
A natural honey is a result of hard work of bees which use linden blossom pollen to produce it in the summer. It is free from unnecessary additives and preservatives. It has a distinctive sweet flavor and smell which is a perfect match for meals. It is suitable for vegans and vegetarians. Its color ranges from greenish-yellow to light amber, and when crystallized - from pale yellow to golden yellow. It is also very dense, which makes it perfect as a sauce and one of meal ingredients. Thanks to its natural origin, it contains a number of ingredients, such as essential oils, enzymes, flavonoids, bitterness compounds, and tannin.

Natural linden honey
Taking care of balanced and healthy diet, you do not have to resign from anything which is sweet. You can use OstroVit natural linden honey as a source of simple sugars both when you intend to reduce fatty tissue and when you wish to build muscle mass. The honey is primarily composed of fructose and glucose, that is two simple sugars of completely different digestion routes. Such nutrients come in handy during or after workout, when your organism, and muscles in particular, need energy and regeneration of glycogen resources. Such sugar is also highly required for smooth operation of brain and cognitive processes.
OstroVit Linden Honey - rich source of vitamins and minerals
The natural honey is a very good source of microelements and can help you supplement them in your daily diet. A lime blossom honey contains a large amount of B-group vitamins (B1, B2, B3, B5, B6, B12), vitamin C, folic acid, pantothenic acid and biotin, as well as various minerals, such as potassium, phosphorus, chlorine, magnesium, manganese, molybdenum, cobalt, calcium, sodium and trace amounts of zinc, iron and copper.
Thanks to such a wide range of vitamins, minerals and other microorganisms, the lime honey included in daily diet has numerous applications and provides a number of benefits:
has anti-inflammatory, anti-fungal and anti-bacterial properties
is diaphoretic, which fosters fight against infections
soothes and strengthens nervous system as well as supports falling asleep
boosts bowels and improves digestion
has diuretic properties
is an amazing source of energy for body and mind
supports fight against rheumatic diseases
lowers blood pressure
reduces heart disease risk
Major features of our honey:
100% NATURAL - OstroVit Linden Honey is produced in a natural way and does not contain any additional ingredients or preservatives.
INCREDIBLY TASTY - Its unique flavor is attributable to top-quality natural linden blossom pollen.
CAN BE ADDED TO ANYTHING - It will perform perfectly for any kind of meal, e.g. porridge for breakfast or as ingredient of natural isotonic drink used during intensive workout.
HANDY PACKAGING - A handy jar lets you get its content easily, and prevents extensive honey crystallization.
Crystallization of honey:
Honey has the consistency of a thick liquid in liquid form, and after crystallization - medium-grained. Crystallization takes up to several months after opening, so it is honey that keeps its liquid form for a long time. Honey crystallization is a natural phenomenon, it does not affect the quality and properties of the product.
Suggested usage
Consume depending on your needs.
Honey crystallization is a natural process and is not a product defect. Do not eat if you are allergic to the product. The product should not be consumed by children under 12 months of age. Consumption in accordance with the principles of a balanced, varied diet, adapted to the consumer's age.
Nutritional information
Ingredients
Linden nectar honey.
Country of origin: Romania
Nutrition Facts
| Nutritional values | Per 100 g |
| --- | --- |
| Energy value | 1352 kJ/318 kcal |
| Fat | 0 g |
| - including saturated fatty acids | 0 g |
| Carbohydrates | 79 g |
| - including sugars | 77 g |
| Protein | < 0.5 g  |
| Salt | 0 g |
Product reviews
0
opinion
Questions and Answers
Add a question about this product