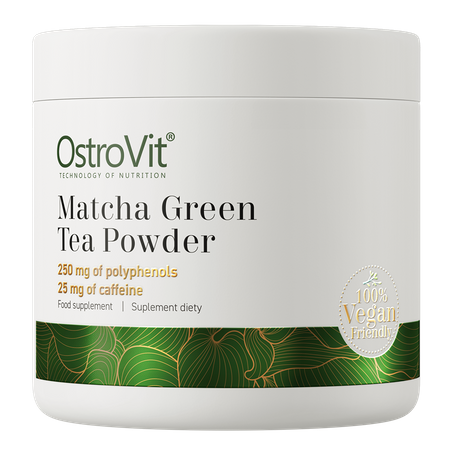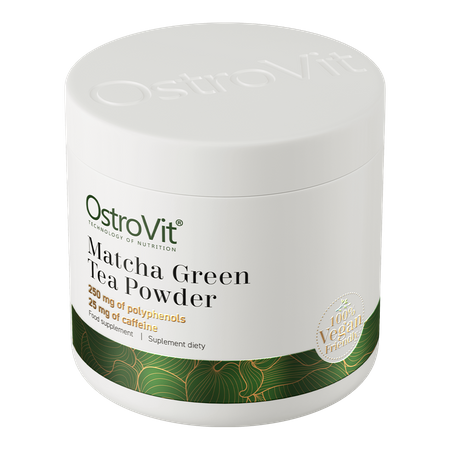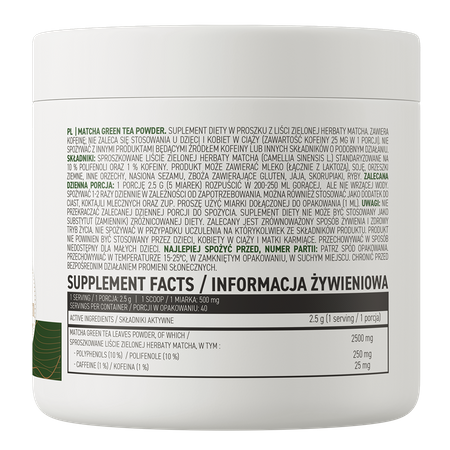 OstroVit Matcha Green Tea Powder 100 g natural
5,37 €
OstroVit Matcha Green Tea Powder 100 g
OstroVit Matcha Green Tea Powder is a dietary supplement in the form of powdered Camellia sinesis L leaves, that is Matcha green tea. Thanks to the content of caffeine and valuable polyphenols, the infusion has stimulating, slimming and cleansing properties. Are you looking for a tasty drink which can serve as an alternative to traditional coffee or tea and remains healthy? OstroVit Matcha Green Tea Powder is the answer to your needs!

Matcha is characterized by an original, intense flavor and an interesting light green color. It is one of the favorite drinks of the inhabitants of Japan, who attribute many health-promoting properties to it. One serving of matcha tea from OstroVit contains as much as 375 mg of precious polyphenols and 125 mg of caffeine. Thanks to this, it can be an alternative to morning coffee. If you haven't had the opportunity to try matcha green tea yet, choose our product, which is made from specially selected Camellia sinensis L leaves.
What is Matcha?
Matcha, that is literally powdered tea, is an energizing and cleansing drink made of leaves of bushes which grow in bamboo plants. As they grow in the shadow of bamboo, they gain unique properties. During production, their leaves are carefully powdered and then brewed in hot water. Thanks to a high content of active ingredients, Matcha is often considered as the healthiest tea in the world.
Lack of sunlight during cultivation makes Matcha rich in chlorophyl and L-teanine. When compared to other types of tea, it also contains more caffeine.
Properties of the ingredients contained in OstroVit Matcha Green Tea :
HIGH CONTENT OF POLYPHENOLS - Since OstroVit Matcha tea powder includes as many as 15% of polyphenols, it demonstrates strong anti-oxidant properties. It prevents infections and delays aging process.
STIMULATING CAFFEINE - Caffeine included in tea assures noticeable shot in the arm, as well as gives you more power to act. It also boosts metabolism and supports reduction of fatty tissue.
CONVENIENT FORMULA - Matcha tea is an easy-to-prepare powder. To enjoy the drink, add 5 measures of the product to 200-250 ml of hot but not boiling water, and stir.
MANY USES - Matcha will perform well not only as a drink but also healthy additive to meals and desserts. You can use it when preparing cakes, soups, jellies, milk cocktails and ice-creams.
Laboratory-proven quality
For the sake of our customers' health, the products we manufacture are regularly tested in an independent accredited laboratory to ensure and maintain the highest quality.






Suggested usage
Dissolve 1 portion of 2.5 g (5 scoops) in 200-250 ml of hot but not boiling water. Consume 1-2 times daily, depending on your needs. Can also be used as an addition to cakes, milkshakes and soups. Please use the measuring cup included in the package (1 ml).
Do not exceed the recommended daily dose. Do not use the product as a substitute (replacement) for a varied diet. Recommended are balanced diet and healthy lifestyle. Do not ingest if you are allergic to any of the ingredients. Children, pregnant or nursing woman must not take the product. Keep out of the reach of children.
Nutritional information
Ingredients
Matcha green tea leaves powder (Camellia sinensis L.) standardized on 15% of polyphenols and 5% caffeine.
Product may contain milk (including lactose), soy, peanuts, other nuts, sesame seeds, cereals containing gluten, eggs, crustaceans, fish.
Nutrition Facts
| Active ingredients | Per portion |
| --- | --- |
| Matcha green tea leaves powder, of which: | 2500 mg |
| - in this polyphenols (15%) | 375 mg |
| - caffeine (5%) | 125 mg |
Product reviews
0
opinion
Questions and Answers
Add a question about this product