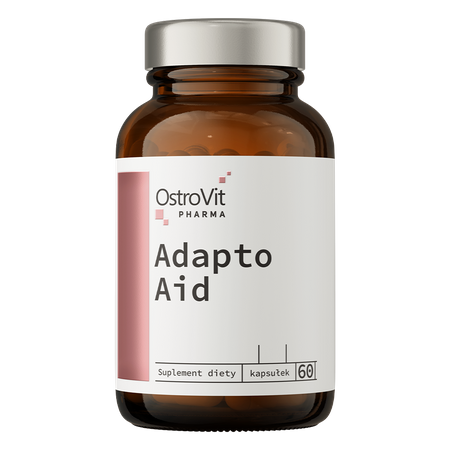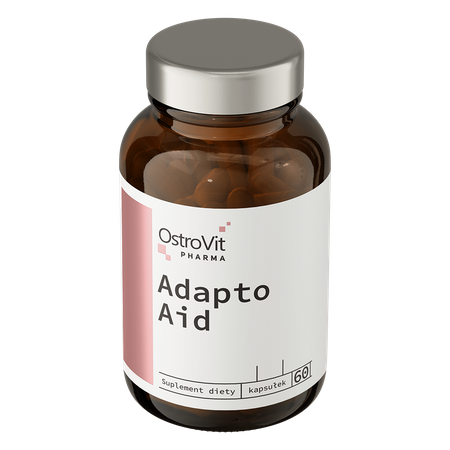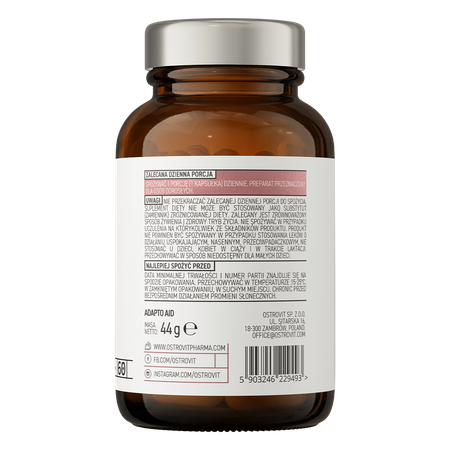 OstroVit Pharma Adapto Aid 60 caps
6,11 €
OstroVit Pharma Adapto Aid 60 caps
OstroVit Pharma Adapto Aid is a natural dietary supplement with adaptogenic properties. In each capsule of the preparation you will find a set of six plant extracts that stimulate the nervous system to strenuous work.

What is OstroVit Pharma Adapto Aid supplement?
OstroVit Pharma Adapto Aid dietary supplement is a combination of six plant extracts obtained from ashwagandha root, Asiatic pennywort, ginkgo leaves, water hyssop, golden root and black pepper fruits.All these ingredients demonstrate adaptogenic impact, that is, support an organism in adaptation to variable external factors. The main benefits of using them: improved memorizing, better concentration and boosted resistance to stress.
Properties of the ingredients contained in OstroVit Pharma Adapto Aid:
SUPPORT OF THE NERVOUS SYSTEM - Ingredients of the supplement improve memory and concentration, and can also help reduce stress and reduce nervousness.
THE POWER OF NATURE - All active ingredients of the supplement are natural plant extracts with adaptogenic properties.
VEGAN COMPOSITION - The dietary supplement was also created for vegans and vegetarians. If you limit the consumption of animal products, you can use our capsules without fear.
COMFORTABLE FORM - A small amount of water is enough to swallow our supplement. Thanks to the slippery capsule, you do not have to worry about an unpleasant feeling when swallowing.
Ingredients of the OstroVit Pharma Adapto Aid supplement
Ashwagandha root extract - It can relieve stress. Supports the course of cognitive functions. It affects the body's immunity.
Asian pennywort extract - Supports the memorization process.
Ginkgo biloba leaf extract - It can accelerate thinking and increase the effectiveness of learning. It can make you feel better.
Whole Bacopa Plant Extract - It can improve the work of the brain, improve concentration and facilitate remembering.
Rhodiola rosea root extract - It helps in the fight against stress and also works on memory. It has a positive effect on the course of learning processes.
Black pepper fruit extract - It stimulates the nervous system to work.
Laboratory-proven quality
For the sake of the health of our customers, the products manufactured by us are regularly tested in an independent accredited laboratory to ensure and maintain the highest quality.
Suggested usage
Consume 1 serving (1 capsule) daily. The preparation is intended for adults.
Do not exceed the recommended daily allowance. A dietary supplement cannot be used as a substitute (replacement) for a varied diet. A balanced diet and a healthy lifestyle are recommended. Do not eat if you are allergic to any of the ingredients of the product. The product should not be consumed in the case of sedative, hypnotic or antiepileptic drugs, and should not be used in children, pregnant and lactating women. Keep out of the reach of small children.
Nutritional information
Ingredients
Ashwagandha root extract (7.2% withanolides, 1% alkaloids and 0.25% vitaferin A), Asian pennywort extract (2% asiaticosides, 6% madecassosides, 2% asiansosides B), extract from ginkgo biloba leaves (24% ginkoflavonoglycosides, 6% terpene lactones), whole bacopa extract (50% bacosides), Rhodiola rosea root extract (1% salidrosides), L-theanine, black pepper fruit extract (95% piperine), capsule shell ( bulking agent: hydroxypropyl methylcellulose).
Product may contain milk (including lactose), soy, peanuts, other nuts, sesame seeds, gluten-containing cereals, eggs, crustaceans, fish.
Nutrition Facts
| Active ingredients | Per portion |
| --- | --- |
| Ashwagandha root extract (7.2% withanolides, 1% alkaloids and 0.25% vitaferin A) | 135 mg |
| Asian pennywort extract (2% Asiaticosides, 6% Madecassosides, 2% Asiansosides B) | 130 mg |
| Ginkgo biloba leaf extract (24% ginkoflavonoglycosides and 6% terpene lactones) | 120 mg |
| Whole Bacopa Plant Extract (50% Bacosides) | 100 mg |
| Rhodiola rosea root extract (1% salidrosides) | 100 mg |
| L-theanine | 100 mg |
| Black pepper fruit extract (95% piperine) | 5 mg |
Product reviews
0
opinion
Questions and Answers
Add a question about this product