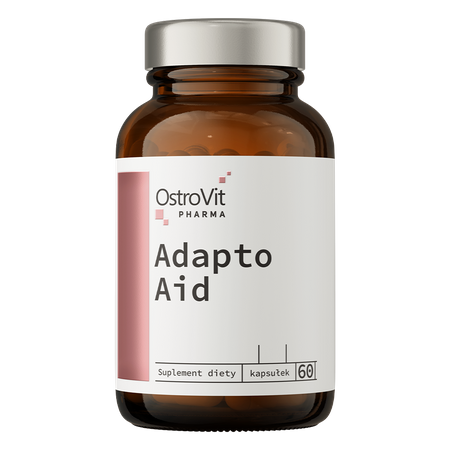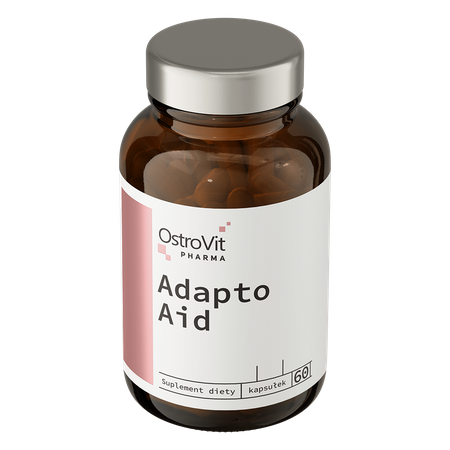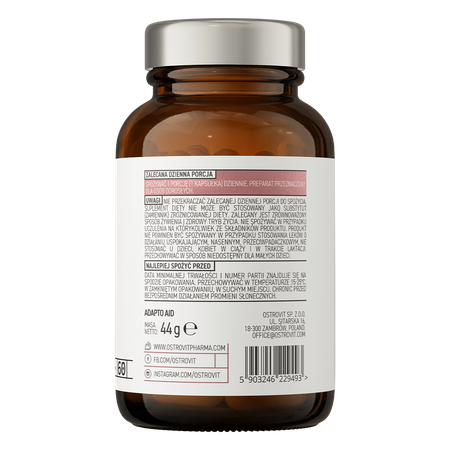 OstroVit Pharma Adapto Aid 60 caps
6,30 €
OstroVit Pharma Adapto Aid 60 caps
OstroVit Pharma Adapto Aid is a natural dietary supplement with adaptogenic properties. One capsule of the product includes a set of six plant extracts which encourage the nervous system to work intensively. Are you looking for a supplement which can help you improve memorizing, studying effects and your mood, even in stressful situations? OstroVit Pharma Adapto Aid will let you gain a mental balance that you need!
What is OstroVit Pharma Adapto Aid?
OstroVit Pharma Adapto Aid dietary supplement is a combination of six plant extracts obtained from ashwagandha root, Asiatic pennywort, ginkgo leaves, water hyssop, golden root and black pepper fruits. All these ingredients demonstrate adaptogenic impact, that is, support an organism in adaptation to variable external factors. The main benefits of using them: improved memorizing, better concentration and boosted resistance to stress.
The natural extracts included in OstroVit Pharma Adapto Aid supplement will support your immunity system and let you enjoy better life on a daily basis. Choose our capsules if you:
have memorizing issues
have difficulties in concentrating
always feel tired
often get nervous
Properties:
Only one capsule of OstroVit Pharma Adapto Aid dietary supplement a day is enough to take care of the nervous system and support it in its daily activities.
Major features of the supplement:
SUPPORT TO NERVOUS SYSTEM - OstroVit Pharma Adapto Aid improves memory and concentration, as well as may contribute to reduction of stress and nervousness.
FORCE OF NATURE - All active ingredients of the supplement are natural plant extracts with adaptogenic properties.
VEGAN COMPOSITION - The dietary supplement has been designed with vegans and vegetarians in mind. If you cut down of animal-origin products, you can freely choose our capsules.
CONVENIENT FORM - Only a small amount of water is enough to swallow our supplement. Thanks to a smooth capsule, you don't have to worry about any unpleasant feeling when swallowing.
Ingredients of OstroVit Pharma Adapto Aid
See roles of particular ingredients of OstroVit Pharma Adapto Aid:
Ashwagandha root extract - It can reduce stress and sense of anxiety. It supports cognitive functions. It influences organism immunity.
Asiatic pennywort extract - It boosts memorizing. It can reduce fears and counteract nervousness.
Ginkgo leaves extract - It can foster thinking and raise studying results. It can improve mood and soothe dementia-related issues.
Water hyssop extract - It can improve operation of brain, concentration, as well as support memorizing.
Golden root extract - It helps you deal with stress and supports memory. It has a positive impact on studying processes.
Black pepper fruit extract - It encourages the nervous system to work.
Suggested usage
Consume 1 serving (1 capsule) daily. The preparation is intended for adults.
Do not exceed the recommended daily allowance. A dietary supplement cannot be used as a substitute (replacement) for a varied diet. A balanced diet and a healthy lifestyle are recommended. Do not eat if you are allergic to any of the ingredients of the product. The product should not be consumed in the case of sedative, hypnotic or antiepileptic drugs, and should not be used in children, pregnant and lactating women. Keep out of the reach of small children.
Nutritional information
Ingredients
Ashwagandha root extract (7.2% withanolides, 1% alkaloids and 0.25% vitaferin A), Asian pennywort extract (2% asiaticosides, 6% madecassosides, 2% asiansosides B), extract from ginkgo biloba leaves (24% ginkoflavonoglycosides, 6% terpene lactones), whole bacopa extract (50% bacosides), Rhodiola rosea root extract (1% salidrosides), L-theanine, black pepper fruit extract (95% piperine), capsule shell ( bulking agent: hydroxypropyl methylcellulose).
Product may contain milk (including lactose), soy, peanuts, other nuts, sesame seeds, gluten-containing cereals, eggs, crustaceans, fish.
Nutrition Facts
| Active ingredients | Per portion |
| --- | --- |
| Ashwagandha root extract (7.2% withanolides, 1% alkaloids and 0.25% vitaferin A) | 135 mg |
| Asian pennywort extract (2% Asiaticosides, 6% Madecassosides, 2% Asiansosides B) | 130 mg |
| Ginkgo biloba leaf extract (24% ginkoflavonoglycosides and 6% terpene lactones) | 120 mg |
| Whole Bacopa Plant Extract (50% Bacosides) | 100 mg |
| Rhodiola rosea root extract (1% salidrosides) | 100 mg |
| L-theanine | 100 mg |
| Black pepper fruit extract (95% piperine) | 5 mg |
Product reviews
0
opinion
Questions and Answers
Add a question about this product