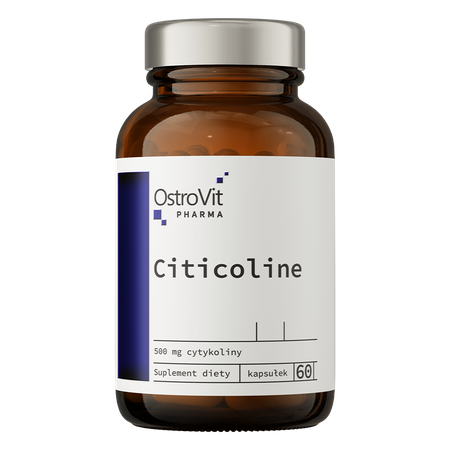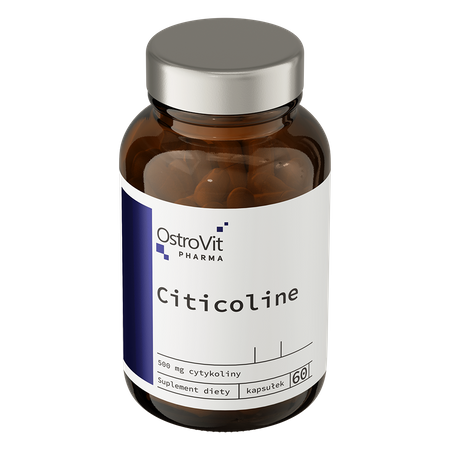 OstroVit Pharma Citicoline 60 caps
Customers recommend!
Rating 5/ 5
13,44 €
OstroVit Pharma Citicoline 60 caps
OstroVit Pharma Citicoline is a dietary supplement which can help you take care of your nervous system and brain efficiency. Citicoline included in the supplement is perfect in all people who do mental work and study. When combined with inulin, it also has a positive impact on functioning of your liver and metabolism. Are you looking for the supplement which can foster memorizing and concentration as well as improve your mood? You have to try OstroVit Pharma Citicoline.

What is citicoline and to whom we recommend it?
Citicoline, that is CDP-choline, occurs naturally in human and animal tissue cells, and is responsible for synthesis of phosphatidylcholine which serves as a main material of cell membranes. Citicoline may boost reduction of disorders in the blood-brain barrier and sodium-potassium pump, thanks to which it can improve your cognitive capabilities. Also it may have a positive influence on functions of your digestive tract as well as health of your upper respiratory tract.
Properties of the ingredients contained in OstroVit Pharma Citicoline:
STIMULATION OF NERVOUS SYSTEM – Citicoline supports functions of the nervous system. It can help you better concentrate and memorize important things faster. The item is recommended to all those who put an intensive mental effort on a daily basis.
IMPROVED MOOD – Our dietary supplement may positively influence your mood and general life satisfaction. In addition, during its use you can have more energy, which will directly make you have more desire to act.
PROTECTIVE IMPACT – As the supplement is rich in inulin, it provides even more prebiotic power. Active ingredients of the product support proper gut microbiota and liver functions.
EASY USE – OstroVit Pharma Citicoline dietary supplement is available in the form of easy-to-swallow capsules. One package of the product is enough for a month-long supplementation. Take a daily dose of the supplement after having a main meal.
Suggested usage
Take 1 serving (2 capsules) daily after a main meal.
Do not exceed the recommended daily dose. Food supplements should not be used as a substitute (replacement) for a varied diet. A balanced diet and healthy lifestyle is recommended. Do not use if you are allergic to any of the product ingredients. Product is not intended for consumption by children. Keep out of reach of small children.
Nutritional information
Ingredients
Citicoline, capsule shell (filling substance: hydroxypropylmethylcellulose), inulin.
The product may contain milk (including lactose), soy, peanuts, other nuts, sesame seeds, cereals containing gluten, eggs, shellfish, fish.
Nutrition Facts
| Active ingredients | Per portion |
| --- | --- |
| Citicoline | 500 mg |
| Inulin | 100 mg |
Product reviews
1
opinion
What customers say about this product
Questions and Answers
Add a question about this product